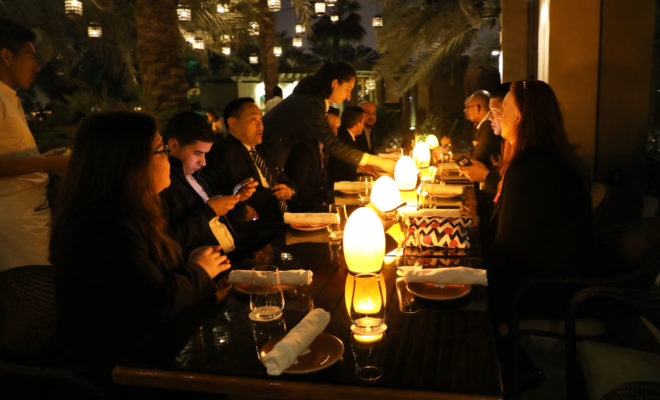 Events
Ritz-Carlton's Culinary Journey with Bahrain Hotels Concierge Group
By
|
Habibti Magazine was recently invited to join the Senior Concierges of Bahrain Hotels Concierge Group, while they explored the culinary delights of Ritz-Carlton Bahrain.
It is warming to see when hotel concierges come together to share information and knowledge for a greater purpose, that of the hotel guest, and this is exactly what the BHCG endeavour to achieve by meeting every month.
This meeting in particular was hosted by Ritz-Carlton, where Senior concierges from Four Seasons, Ritz-Carlton, Sofitel, Jumeirah Royal Saray, Wyndham Grand, The Gulf Hotel and The K Hotel were taken through a culinary journey, by dining and menu sampling at six out of eleven of the hotels restaurants; starting at the Thai, Cantina Kahlo, Primavera, Nirvana, Plums and ending the night at The Ritz Gourmet Lounge.
Each restaurant showcased their best dishes as well as giving the opportunity for the concierges to familiarise themselves with the restaurant and menu. And each restaurant managed to wow their Concierge guests by serving delicious dishes with exemplary table service.
Khalil Al Yaman is the Chief Concierge Four Seasons Bahrain Bay and is also the man behind Bahrain Hotels Concierge Group, Habibti Magazine spoke to him about the purpose of the evening, "as concierges, our number one priority to be able to accommodate every guest request, where possible. We pride ourselves of having the best inside information of Bahrain, to advise guests on restaurants, nightlife, sporting and theatre  events, sightseeing tours, shopping, and so much more.
If we cannot accommodate our guest's requests at our own hotel, we take it upon ourselves to find the best alternative for our guest, even if that means sending our guest to another hotel. We have built a very strong network of concierges in Bahrain, to ensure that guests' demands are met. And with this strong support network it is ultimately the customer who wins."

It is indeed the customer who wins, and we applaud the initiative taken by the BHCG and each of the Hotels to further enhance this beautiful Islands reputation.
For more information, please visit www.facebook.com/bahrainconciergehotelsgroup