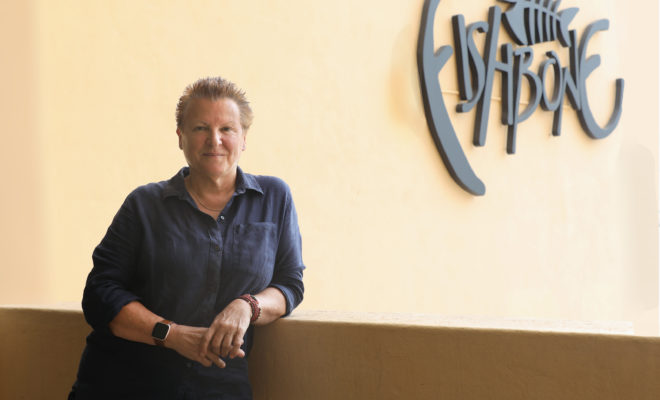 Food
Fishbone by Chef Susy Massetti
By
|
For those who reside in Bahrain and the surrounding region, the name Chef Susy Massetti needs no introduction. Chef Susy has become synoumous with the GCC food scene, whereas her journey started many years before in her hometown in Italy.

Fast forward to present day, we caught up with Chef Susy for a second time, to talk about her latest venture, Fishbone. Located in the picturesque location of Novotel, Al Dana Resort, the restaurant over looks the beach and ocean.

Open daily from 12pm to 12am; one could quite happily spend a leisurely lunch, which starts at midday and ends long after dusk, overlooking a stunning view.

Chef Susy is the life and soul of the restaurant and as we exchange hellos and hugs, we feel like we have come to Suzy's domain, her castle – her home.

With an option of indoor and outdoors seating, the restaurant is spacious, bright and airy with floor to ceiling windows letting in the Arabian sun, yet it has managed to achieve a warm inviting ambience, as if you have walked into a dear friends veranda for a celebratory lunch.
The table is set and we tuck into a hearty meal of Gambas al Verde, delicious prawns in a delicate butter and garlic sauce, Fishbone's Poke Bowl, tuna, onions and coriander, bursting full of flavours, followed by Chef Susy's Pumpkin Cappelletti, pumpkin, parmesan cheese and black truffles filled deliciousness and Catch of the day, baked fillet fish with vegetables.

Gambas al Verde

Poke Bowl

Fish of the day

Pumpkin Cappelletti
As we eat, we talk more about Fishbone and the desire to showcase as well as preserve what Bahrain and the local region has to offer, supporting the local fishermen, farmers, and merchants.

Chef Susy is a restauranteur and chef by passion and profession and has brought her years of business experience and culinary master skills to Fishbone, starting from the inside out.

Having recently opened the restaurant in October of last year, Chef Susy has implemented many of her key principles, the first being having the right team; 
''your team is your most expensive yet most valuable asset.  I hire people for similarity and an affinity to the cause. I don't hire people for competency, that I can teach them.  The challenge is having the right team with you, and building a team that can carry you forward.  You're only as good as your weakest link, and for me it's important to hire people who have a strong connection to who I am and I want my restaurant to be.  I wouldn't be where I am without the people who have been part of the team. Nobody is good alone.''

Another principle she has implemented to the restaurant is her preference to support and buy local which means Chef Susy has been able to keep the restaurant menu modestly priced;
"I kept the menu modestly and honestly priced, which is something I'm passionate about, and I believe it pays off. With the current economic situation, we're all conscious of the money we spend, so the more we make our restaurant affordable, the better it is for everyone. How you do that is use what you find locally.
Why should I buy produce from Europe when there is beautiful produce available locally, whether it is fruit, vegetables or fish; Bahrain and the local region have plenty to offer. Sourcing locally rather than importing should be encouraged and is the best way to invest in the local economy.
We also need to move away from the notion of having everything available all year round. We need to get back to the ways of certain produce being seasonal and not being available everyday and every month of the year.''

Those who know Chef Susy may know that she was the one of the pioneers in organic gardening and promoting local produce in Bahrain.
"The reason I started organic gardening here in Bahrain was, apart from the basic fruit and vegetables, I couldn't get certain things here, for example baby carrots, turnips of different colours, golden or yellow beets. It was a trial and error process, learning to work with the climate of Bahrain. Now, we have great variety locally, and it makes me so happy to be a part of that.

I believe in self-sustainability; that was the way I was raised, it was the way of life. I'm looking forward to the seasonal approach to food, which in turn means buying locally. And buying locally helps everyone, the farmer, the restaurant, the customer and the economy."
The meal and afternoon come to an end, but it is a beautiful promising start for Fishbone and another culinary and business success for Chef Susy.
For more information:
Telephone: 13 300077
Novotel, Al Dana Resort, Muharraq
Instagram: fishbone.bh