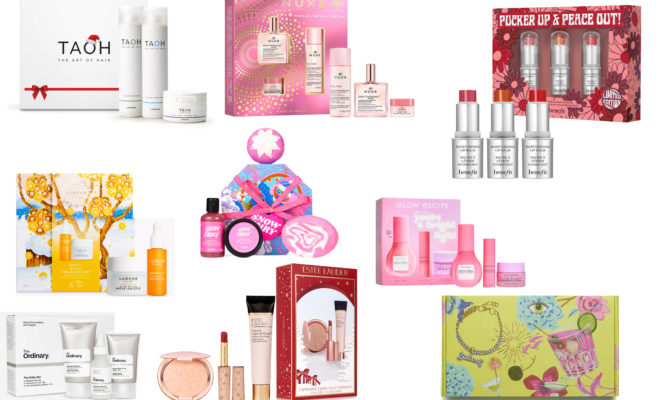 Beauty
16 Gift Sets that they'll love this Christmas
By
|
The best eco friendly gifts from our 2022 sustainable Christmas gift guide.
Take a look at this fabulous collection of beautiful, thoughtful, sustainable gift ideas. From one-of-a-kind candles to glorious clean skincare,  jewellery, gifts for the home and fashion. Everything is manufactured with sustainability in mind and you can order everything from the comfort of your own home.
Dovalls Rescue Ritual Cleanse & Nourish set £56.00
Douvall's limited edition Cleanse and Nourish Rescue Ritual simplifies your skincare routine. Their multi tasking favourites are all you need for your skincare regime. The innovative dual pack includes their best selling argan cream cleanser 100g, Milky Argan active 60ml & organic cotton muslin cloth to reveal glowing, radiant skin.
Packaged beautifully in a luxury eco-friendly gift box.
Available at Douvalls.com, and Feelunique.com,
Debenhams.com, Superdrug.com
SOS Serum – SOS Treasures Christmas Coffret £45.00
Perfect for the one who's always on the go, this handy Treasure Chest has everything you need for Christmas trips and visiting family, and for protecting your skin!
Worth over £71, this Christmas Coffret features 50ml sizes of SOS Serum's cult favourite SOS SPF50 and SOS Cleanse, their SOS Lip, and a 15ml version of their NEW SOS Night, as well as some Ginger & Black Pepper Essential Drops for a long-lasting home fragrance – this kit is the epitome of self-care.
FACE 4WARD DELUXE KIT £99
Founded by men, for men. Shakeup Cosmetics make solution-led products specifically for men's skin type and skin concerns. Packed with skin-loving ingredients, these simple tools are designed to cover blemishes, clear up imperfections, and allow your skin to age healthily and gracefully.
The Face 4ward kit is a luxurious giftset of must-have skincare essentials you need to keep skin looking clear and healthy.
Ruffians Ultimate Hair Survival Set £60
For the hair obsessed, this one is for you. Rufians bring their award winning barbershop to you, in full size, and for all of your hair styling needs.
This Ultimate Hair Survival Set features a volume-enhancing powder, nourishing styling paste, marine salt spray and matt clay.
Nordic-C [Valo] Glow Treasures Set £32.90
Lumene's festive, recyclable gift sets contain their bestselling favourite vegan LUMENE skincare products for all skincare needs.  Nordic-C [Valo] Glow Treasures Set The gift set contains two skincare products for those special pampering moments. Infused with glow-giving Vitamin C, antioxidant-rich Wild Arctic Cloudberry, hydrating Hyaluronic Acid and pure Arctic Spring Water, the Nordic-C products help boost glow and clarify dull-looking tired skin.
Estée Lauder Holiday Glow Makeup Gift Set £69.50
Get ready in a flash with 3 full-size makeup must-haves to look effortlessly glam. Captivate everyone with your holiday glow. Worth £97.
This limited edition collection includes:
Futurist Aqua Brilliance™ Watery Glow Primer, Pure Color Envy Sculpting Blush in Limited Edition Modern Mercury, Pure Color Illuminating Shine Sheer Shine Lipstick in shade 914 Unpredictable.
Taoh Christmas Gift Box £40.00
A range of 10 unique haircare products made with natural seed oils.
The Christmas box contains the Hydrate or Volume  shampoo & conditioner, which is sulphate and paraben free and the Taoh Hair Oil, this Argan, Macadamia & Kukui oil restores the life and shine of hair; promoting scalp health to restore hair growth and vitality. It prevents split ends and calms the hair of frizz, tangles, and dullness.
Benefit Pucker Up & Peace Out Moisturising Lip Balm Trio Set £14.99
Pucker Up & Peace Out! moisturizing lip balm trio
3 MINI California Kissin' lip balms
Peace, love & lip balms!
Glide on 8 hours* of smooth, luxurious lip colour with this trio of MINI moisturizing lip balms in flattering, must-have shades. The California Kissin' Colour Balm formula contains wild mango butter to help moisturize lips and hyaluronic acid to help keep lips feeling smooth & hydrated all day.
Glow Recipe Hey You, You're a Bright Light £44.30
Perfect for prepping pre-party skin. This trio was made to brighten skin instantly, fade dark spots, & plump skin for a visibly firmer & healthier complexion. The kit features the new Guava Vitamin C Bright-Eye Gel Cream that visibly reduces dark circles & depuffs the eye area with 5 forms of vitamin c & tranexamic acid, the Guava Vitamin C Dark Spot Serum reduces the appearance of dark spots, and Plum Plump Hyaluronic Cream to lock in moisture and visibly plump skin.
Baylis & Harding The Fuzzy Duck Men's Ginger & Lime Luxury Grooming Gift Set £20
Designed for men who like to be well-groomed and ready for anything life throws at him, The Fuzzy Duck Ginger & Lime collection is perfect. Playful and modern with a vintage copper twist, this collection uses natural coloured packaging with tonal design details for an authentic feel. The Ginger and Lime fragrance with subtle woody base notes has been carefully balanced to be both refreshing and soothing.
This luxurious gift set contains 300ml Bottle Hair & Body Wash, 300ml Bottle Muscle Soak, 130ml Tube Shower Gel, 150g Soap and 100g Muscle Soak Crystals.
Available at Boots
The Daily Set by THE ORDINARY £15.00
If you're looking for beauty gifts for someone who values scientifically backed, tried-and-tested products, The Ordinary gifts are ideal. The Ordinary skincare gift sets are designed for all skin types and lifestyles, from The Daily Set, which is a simple box of daily essentials, to The Ordinary 5 Piece Retinoid Skincare Set, which is the perfect gift for anyone who swears by their daily retinol regime.
pleasing Super Magic Family Time Nail Polish Set £72
The Super Magic Family Time Set is made up of three vibrant shades and one nourishing base coat of biodegradable 12-free nail polish formula inspired by an alternate, knowingly retro look to a festive color palette.
Included in The Super Magic Family Time Set is Syrupberry, a vibrant pink creme polish; Pea in the Punch, an electric green creme polish; Pinechrome, a yummy teal creme polish, and Bottoms Up, a nourishing base coat. The quartet of polishes are designed to be worn alone, or layered for bespoke results.
Within The Super Magic Family Time set is a full selection of trappings and decals complementing the shades in motifs evocative of throwback celebrations found in The Super Magic Family Time illustrations.
LOOKFANTASTIC x Festive Scent Edit for Him (Includes a fully redeemable £55 voucher)
Not sure what to treat your loved one to this Festive season? Don't panic! With deluxe minature-size scents and products that encapsulates the modern man from Armani, Viktor & Rolf, Ralph Lauren and more…we've got you sorted with a collection of must-have fragrances and skincare, all in one place. Treat him to the gift of fragrance this season! PLUS…with every box, receive a voucher worth £55 OFF the full-size fragrance version on site! *only fragrances within this box.
Snow Fairy Gift Set £27.00
The defining Lush scent of the season, Snow Fairy, is back! As sweet and sparkly as you remember, and now with added silky soft skin for 2022, thanks to the brand new addition of our candy-scented Snow Fairy body lotion. There's no shine quite like Snow Fairy's, and we've got four of your favourites all wrapped up in this gift, designed by Frieda Ruh from Studio Pi.
Available at Lush.
Nuxe Pink Fever Skincare set £22.00
If she likes skincare and she loves pink then this set by Nuxe is the perfect gift.
Discover the 3 iconic 100% pink NUXE skincare products with a floral cocktail to awaken your senses.
The Sustainable Box By Holland & Barrett £25.00
The Sustainable Box by Holland  Barrett makes a wonderful gift for an eco-friendly loved one. Packed with over £54 worth of beauty goodies including
Faith In Nature Dragon Fruit Soap 100g – Worth £2.75
EarthKind Citrus Leaf Shampoo Bar for Frequent Use 50g – Worth £6.95
Ethique Wonderbar Conditioner Bar For Oily to Normal Hair 60g – Worth £12.99
We Love the Planet Lip Balm Velvet Care 5g– Worth £4.49
Magnitone Microfibre Makeup Remover – Worth £8
UpCircle Cleansing Face Balm with Apricot Powder 50ml– Worth £18.99