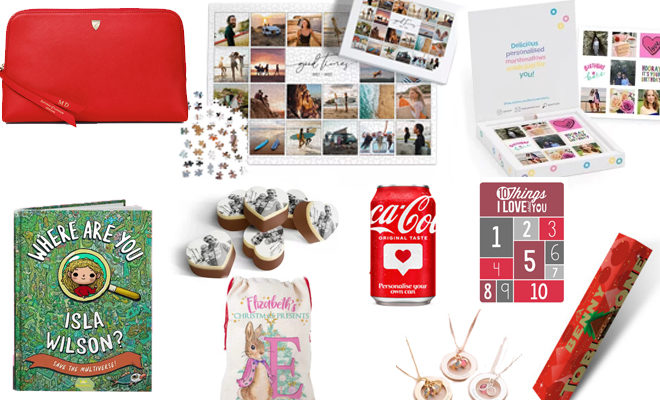 Christmas
A Personalised Christmas – Gifts with a Personal Touch
By
|
If you're looking for a gift with a personalised touch. We have some fabulous choices from books to jewellery and chocolates to gifts for the family to enjoy.
Premium Photo Jigsaw Puzzle from £24.99
Personalised Christmas gifts that celebrate treasured memories
Put the magic into Christmas this year by treating your loved ones to a gift that is completely unique and meaningful to them. Whether you're shopping for a sentimental gift for a partner, something thoughtful for a friend or a fun stocking filler, CEWE has the perfect gift to help them celebrate their favourite memories this festive period.
How about personalising and creating your very own jigsaw puzzle?
COCA-COLA PERSONALISED CANS £5
Looking for a gift for the die hard Coca Cola fan? Or something to mark a special occasion? Well now you can have your favourite Coca-Cola in a personalised can.
PERSONALISED ORIGINAL TOBLERONE 360G BAR £14.99
Personalise your Toblerone bar for a special chocolate lover and makethem smile with this original gift.
PERSONALISED FAMILY TREE DOME DECORATION £38.00
Celebrate the family  by displaying all the family within this beautiful Family Tree Glass Dome Decoration.
Personalised Wonderbly Christmas books to make their day magical
Make your little ones the centre of their own book.
An urgent mission to save the multiverse from an evil criminal mastermind? Awesome! Send up to three children on an epic quest to look for themselves (and save each other) in a personalised search-and-find book.
Personalised Marshmallows £11.99
What's the best gift for someone with a massive sweet tooth, you ask? That's easy – personalised marshmallows: the only gift that makes biting someone's face perfectly acceptable. Go ahead and make any photo or message a tasty delight with our box of nine personalised marshmallows, perfect for even the fussiest of eaters.
Family Eternal Ring and Birthstone Personalised Necklace £24.00
Create a bespoke piece of jewellery for them to wear close to their heart. The Eternal Ring and Family Birthstone Necklace is perfect for pulling the whole family together. Represent loved ones in birthstones and engrave a name or quote around the edge of the symbolic eternal ring. A wonderful Christmas gift for a loving mum or grandmother to represent her unique family.
Personalised 'We Made A Family' Ornament £24.99
A beautiful and modern home décor piece that is perfect for any home. This sophisticated Personalised We Made A Family Ornament makes the perfect gift for any family, that you can even personalise by adding your family name to create a one of a kind gift. The two adult silver pieces come as standard with your option to select additional pieces based on your unique family. Not only an ornament, the lid is removable so you can also use this gorgeous decoration for storage, what's not to love!?
Personalised Photo Chocolates – Hearts £15.99
Who doesn't love chocolate? Your personalised solid chocolates are bound to be a hit. Perfect as a gift for your lovely mum, proud grandma or chocoholic best friend. Add the photo of your choice to make them truly personal.
These heart printed solid chocolates are made with delicious milk chocolate, with a a white chocolate layer onto which the image of your choice is printed. Edible and in full colour. Your chocolates are placed inside a luxurious gift box, completing the look.
Personalised Rabbit Christmas Sack £14.95
Personalised Christmas Sacks are perfect for the festive season! Whether it's your Child's first Xmas or you want something to pop Grandad's gifts in, Krafts Gifts have got a sack for you!
Buy on Amazon
Personalised 10 Things I Love About You Light Box £39.99
This illuminatingly unique 10 Things I Love About You LED Light Box lets you tell your other half just some of the things you love about them! All you have to do is tell us ten things that make that one person so special to you…
It could be their electric kisses, crazy sense of humour, how they make the perfect cuppa or how they love you unconditionally (despite your bad singing and even worse cooking skills) – whatever gives you that warm fuzzy feeling whenever you think about them!
Personalised cheese bauble bomb, £15
Dragon's Den star cheesegeek has a new bomb bauble in time for Christmas. Made from Lancashire cheese, this is the perfect addition to your Christmas table.
Personalised cosmetics case, £95
This Aspinal of London cosmetics case has been created with personalisation in mind. Handcrafted from the finest full-grain leather, the durable zip opens to reveal a spacious single compartment lined in Aspinal's signature grosgrain. The softly structured design is ideal for fitting neatly into a handbag or suitcase.