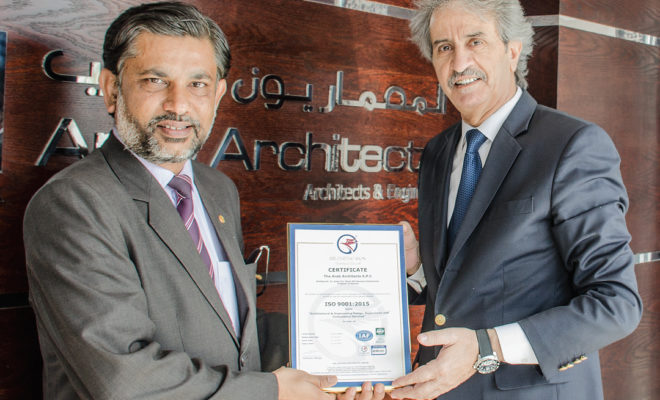 Events
ARAB ARCHITECTS GAIN INTERNATIONAL CERTIFICATION
By
|
Established in 2005, Arab Architects is an architectural and design consultancy firm working closely with clients to develop designs for truly outstanding architectural masterpieces.
Built over three decades of experience and with a deep understanding of Middle Eastern and modern architecture, Arab Architects recognises that design is one of the most powerful strategic tools for securing lasting competitive edge.
To further cement their success, Arab Architects was awarded the ISO 9001: 2015 certification on the 1st of November 2017 in Architectural & Engineering Design, Supervision and Consultancy Services.
Mr. Mohammed Assim from Meridian Consultants LLC handed the ISO 9001: 2015 certification to the Managing Director of Arab Architects, Mazen Araiqat.
ISO 9001 is the international standard that specifies requirements for a quality management system (QMS), a system that Arab Architects developed through an evaluated process. Corporations use the standard to demonstrate the ability to consistently provide products and services that meet customer and regulatory requirements. All departments and aspects of operations were assessed both internally and externally and were examined to ensure that Arab Architects met the necessary criteria to be qualified for the certification.
The ISO 9001:2015 certification demonstrates Arab Architects' consistent efforts to enhance the quality of its services and improve the establishment's work environment. It enhances its professional business culture and helps empower employees thereby improving their efficiency, which ultimately results in high levels of customer satisfaction.
The ISO 9001: 2015 is a noteworthy step forward in Arab Architect's vision. The establishment's future plans consist of exclusive high-rise buildings and expansion within the GCC region in collaboration with prominent developers and international firms.
Mazen Araiqat, the Managing Director of Arab Architects spoke at the presentation "I would like to extend my appreciation to our Arab Architects team that work together as a family and have placed tremendous hard work and initiative into enabling us to achieve this remarkable accreditation. This achievement signifies Arab Architects' determination to be a front-runner within the Kingdom in our field of expertise."
Mohamed Araiqat, General Manager of Arab Architects, further added "This certification is evidence of our continuous effort to develop and enhance customer satisfaction by raising the standards of our quality of services. I would like to take this opportunity to thank all our staff, clients and stakeholders who motivate us to keep striving for only the best and to continue to innovate and improve efficiency with each passing year."
Arab Architects has further been awarded with the Arabian Property Design Award for Al-Tijaria Tower for 2017 and the Arabian Property Design Award for Waterbay and Layan Projects for 2016. 
Pictured: CEO of Arab Architects Mazen Araiqat (right) receiving the certification from Mr. Mohammed Assim from Meridian Consultants LLC (left)
For more information on Arab Architects latest projects, visit arabarchs.com