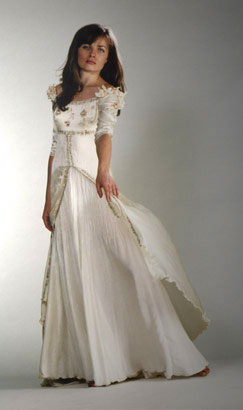 Fashion
New York's Alicia Mugetti exclusive for Blossom Mother and Child
By
|
Blossom Mother and Child is proud to have Alicia Mugetti, leading New York figure in the Art and Fashion World, design an evening wear collection exclusively for Harrods.
With designs inspired by natural elements, such as water, fire, air, earth, Ms Mugetti transforms woman into Goddess. She has developed special techniques to change modern silks, chiffons, rayon and velvets into colours and designs reminiscent of ancient Roman glass, Greek friezes and Boticelli Graces with modern sensibilities. Ms Mugetti's designs serve women through all their transformations making them feel beautiful and feminine, a perfect synergy with Blossom Mother and Child.
According to Ms Mugetti, 'I developed styles that could stretch and shrink to accommodate the changes, and also provide women with clothes that they can wear at any moment in their lives. Blossom's mission is to honor the woman's body before, during and after pregnancy, a very meaningful transformative time, and a change for which my clothing is particularly appropriate.'
From modern and dramatic styles to softer, more tailored fashions, she has designed for many artists and celebrities, including fashion designer Betsey Johnson, Isabella Rossellini, Macauley Culkin's wife Rachael Miner, Argentina's president Cristina Fernández de Kirchner, among many others, and now an exclusive selection for Blossom Mother and Child.
 The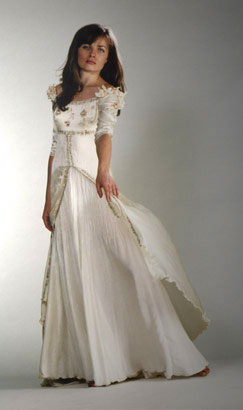 bespoke collection includes the:
The Angel Dress – Hand painted Angel sleeve blue cocktail dress
The Bias Dress – Hand painted full length gown dark green
The Isadora Dress – Hand painted earthy panels khaki cocktail dress
The Victory Dress – Hand painted full length purple gown
prices range from £1700 – £2200
If you're looking for something that extra bit special, we've found it at Blossom Mother and Child. The first independent boutique to combine maternity & non-maternity brands, Blossom reflects the way today's woman shops. All items marry comfort with the latest runway trends, combining high fashion with maternity for pre, during and post pregnancy.
Blossom UK store locations:
Walton Street, London
Harrods, London
Marylebone High Street, London