Christmas
Advent Calendars that Kids will Love 2022
By
|
From toys to stationary, as well as chocolate advents to suit all  budgets, we've searched for the best Advent Calendars to get kids in a festive mood.  Check out what's on offer and where you can get your hands on them.
Advents The kids will love
Pokémon Holiday Calendar £29.99
Featuring 16 2-inch Battle Figures and eight accessories, this 24-day calendar holds a holiday-themed Pokémon toy for each day. All Battle Figures have a sparkly finish that's exclusive to this calendar. Play with a new figure or accessory each day and display the entire set at year's end.

Available to buy from: Smyths, Amazon, Argos, Studio, Selfridges, Hamleys
Age: +4
toucanBox Very Merry Advent Calendar £35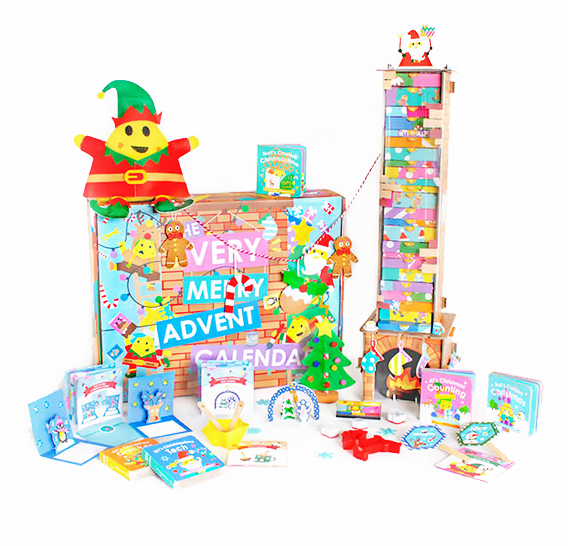 One NOT to miss for the children this year. 
The toucanBox Advent Calendar is for children aged 2-8yrs and the perfect gift for all, from friends and family. 
From multi-award winning children's craft company toucanBox, The Very Merry Advent Calendar is stashed with 24 boxes of festive fun. Featuring exciting Christmas crafts such as a snowball juggling bear bauble and snowman puppets, scrummy recipes for gingerbread reindeer, hot chocolate spoons and more, plus five enchanting STEAM inspired story books.  
Disney board game calendar, £16.55
The Official Christmas Disney Board Game!
Collect your 24 surprises each day with this Christmas Advent Calendar, featuring 16 of your favourite Disney Characters.
Piece together your puzzle to reveal your board game to play on Christmas Day!
Move your set of figurines around the board and guide them into their rightful spots under the Christmas tree.
Available on Amazon
Thomas and friends minis advent calendar £20.99
Children can begin the countdown to Christmas with their favourite Sodor Railway pals with the Thomas & Friends Minis Advent Calendar from Fisher-Price. From December 1st to the 24th, young conductors can open a new window to reveal a surprise toy inside.
By Christmas Day, they'll have a whole railway of miniature toy trains, rail vehicles, and other push-along characters from the Thomas & Friends show to create their own exciting Sodor stories!
 Available at all leading outlets.
Beary Merry Advent Calendar £38
CeleBEARate Christmas with your own Beary Merry Advent Calendar! Behind each of the windows on this festive winter house is a fun surprise. As the big day gets closer, little ones can make lots of Christmas memories with the furry friends and outfits waiting behind the windows. This advent calendar includes 6 mini plush friends and 19 mini clothing and accessory pieces.
LOL Surprise Advent Calendar £29.99
Mini fashionistas will love this one. There's a limited edition L.O.L. doll – Tricksta BB.
There are 24 fabulous fashion pieces to unbox in total, including fabulous dresses, glam accessories and cute shoes. Unbox 1 surprise every day. Mix and match for endless fashion combinations! Unbox Costume Designer's 24 exclusive L.O.L. Surprise! fashion pieces, including fierce outfits, cute shoes, and glam accessories.
Available at Smyths, Amazon, Selfridges, Argos & Hamleys
Star Wars micro force advent calendar £30.00
Jedi Knights, Sith Lords, Stormtroopers, X-wings, Star destroyers, AT-AT walkers, droids, Wookiees, Rebel heroes, and more! Imagine big Star Wars adventures at a small scale with Star Wars micro force!
Kids can start or add to their micro force collection with the Star Wars Micro force Advent calendar, including 24 figures and 7 exclusive stickers from a galaxy far, far away! Look for the holiday-themed figures and translucent figures! Package also folds down to reveal a Star Wars backdrop, so kids can apply stickers and play with figures on a star Wars-inspired scene!
Available at John Lewis, Amazon, Boots
Crayola Christmas advent calendar
The Crayola Christmas Countdown Activity Advent Calendar inspires creativity with 24 daily holiday crafts to make as they wait for Santa's arrival. Each of the numbered calendar "doors" opens to reveal a fun Crayola item and corresponding activity for kids. The calendar is a wonderful way to keep up the holiday spirit and create mementos to keep or give as gifts.
ages 3 & up.
Available on Amazon
Smiggle Advent Calendar 2022 £35.00
Countdown to Christmas with 25 days of super Smiggle surprises hiding within! Open up each door to reveal limited edition and fan favourite goodies that will fill your December days with Smiggle magic! We won't spoil the surprise, but we'll give you some hints on what you might find inside! Sweet scented stationery, totally poppin' toys and so much more! Plus, experience the magic of the Lucky Ticket – find a winning Lucky Ticket inside your Advent Calendar and win a HUGE Smiggle shopping spree!
Christmas Advent Book Collection
The Work's have expertly hand-picked this Christmas Advent Book Bundle!
Snuggle up warm and enjoy a special Christmas tale on every day in December this year with this new and exclusive Advent Bundle of 24 picture books!
Join Santa, the Magical Snowman, the Brave Little Penguin and many more for amazing adventures in this spectacular Christmas bundle of joy that is sure to have your little ones feeling festive during story-time this year!
Roblox advent calendar, £24.99
Count down the days to Christmas with the Roblox Advent Calendar 2022. Open a numbered door each day to discover a festive surprise every morning.
The Roblox Advent Calendar 2022 brings you holiday twists on Roblox figures and items. Unbox Elf, Christmas Tree, Gingerbread Man, Magical Reindeer, Santa Claus and Snowman Roblox figures.
Each Roblox Advent Calendar 2022 comes with a redeemable code to unlock 2 virtual items on Roblox.
Available at Boots, Amazon, Smyths
Funko Marvel advent Calendar, £44
Bring heroic levels of cheer to your holidays with your favourite Super Heroes and Super Villains. This 24-piece Pocket Pop! Marvel-themed advent calendar brings cheer and surprises every day of December with a different panel to open revealing a different Pocket Pop! Whether you take your new Super Hero buddies caroling and sledding is entirely up to you.
Available on Amazon
HATCHIMALS CollEGGtibles Polar Palace 24-day advent calendar £26.99
An EGGcelent surprise is waiting behind each door in the CollEGGtibles Polar Palace 24-day advent calendar by Hatchimals as little ones count down the days to Christmas. Open it up to discover a scene from the Royal Snow Ball, keep the miniature pets cosy with earmuffs and hats or give them a gift to hold as they taboggan and play. When the big day finally arrives, the calendar transforms into a playset complete with a dancefloor. Let the celebrations begin.
Available on Amazon
Play-Doh Advent Calendar £21.99
Count down to Christmas with the Play-Doh Advent Calendar. Behind each of the 24 doors there's a different surprise, from a snowflake stamper to a tree mould. With a different surprise gift for each day leading up to the holiday, there's no knowing what festive creations you'll be able to shape for the season.
Includes 24 surprises, play mat, and 5 cans of Play-Doh modelling compound.
Elfie's Personalised Christmas Advent Letter - £42.50
Make your Christmas  sparkle with this Gold Award-winning, Personalised Elfie's Christmas Letter Advent Calendar which contains 26  hand-illustrated and eco-friendly elf letters aswell as an extra Extra-Special Letter from Father Christmas!
Each letter is personalised with your child's name (or with all your children's names. Together they form a fun Christmas Story about the Elves' preparation for The Big Delivery on Christmas Eve, all ready to be discovered mysteriously hidden around your home every day of December.
Peppa Pig's Advent Calendar, £24.99
Countdown to Christmas with Peppa Pig Behind each door of the Peppa Pig Advent calendar is a surprise toy.
There are 24 pieces to collect in total including Peppa, George and their friends, and even Santa There's also a host of Christmas accessories, including a Christmas tree
For ages 3 years and over.
Available on Amazon
Charbonnel et Walker Peter Rabbit Chocolate Advent Calendar £24.95
A spectacular Christmas Advent Calendar with Peter Rabbit preparing his Christmas Festivities!
Make it a countdown to Christmas to remember with Charbonnel et Walker's Peter Rabbit Chocolate Advent Calendar. Behind each one of the 25 doors there's a milk chocolate truffle topped with a festive sugar print inspired by the illustrations of Beatrix Potter.
Divine Milk Chocolate Advent Calendar £5.00
Count down the days to Christmas with a fair trade Divine milk chocolate each day. Each mini chocolate shape is made with skilfully harvested cocoa beans from Kuapa Kokoo, a fair trade co-operative of loud-and-proud smallholder farmers in Ghana.
The design is a traditional nativity theme and teaches kids how to say 'merry Christmas' in many different languages.
Hotel Chocolat Up to Snow Good Children's Advent Calendar £8.50
The holidays are coming, and with this Children's Advent Calendar, the countdown to Christmas doesn't come much cuter!
Whether they've been naughty or nice this year, we promise you won't find any coal behind these doors hidden beind the doors are the most loveable chocolate characters for you to delight in, even if they've been up to snow good!
All the 40% milk chocolate characters are modelled on their larger jolly chocolate pals, sketched and sculpted by Hotel Chocolat's in-house Chocolate Sculptress.
Lakeland Santa Milk Chocolate Advent Countdown Slims £9.99
Each numbered and bearing a nostalgic Santa-inspired scene, this charming collection of Advent Chocolate Slims will make December all the sweeter.
Count down the days until Santa's visit with the help of these mini milk chocolate bars. Made by the House of Dorchester, Dorset-based purveyors of fine British chocolates, there's a delectable bar of creamy milk chocolate for every day of Advent, with one to be unwrapped and enjoyed on Christmas morning.
Bearing traditional, vintage-inspired scenes of Santa as he busies away through December, the charming images of him making toys in his workshop and delivering them to the girls and boys on the 'nice list' will inspire a fuzzy festive feeling as you excitedly count down to the big day.
Cadbury 3D Advent Calendar £8.00
Cadbury 3D Advent Calendar is over 40 cm in height! Open the doors on each side of the advent calendar in the countdown to Christmas. Contains treatsize bars including Cadbury Curly Wuly, Cadbury Chomp, Cadbury Dairy Milk Buttons, Cadbury Dairy Milk Freddo, Cadbury Dairy Milk Chunks and Cadbury Fudge.
Let the countdown commence!
Lindt Teddy Adorable Advent Calendar £11.00
Bring home the magic this Christmas with the Lindt TEDDY Advent Calendar – the perfect way to countdown to Christmas.
Discover a selection of festive figures, from miniature versions of their iconic TEDDY to their creamy milk and white chocolate Snowdrops, all made by Master Chocolatiers using the finest ingredients.