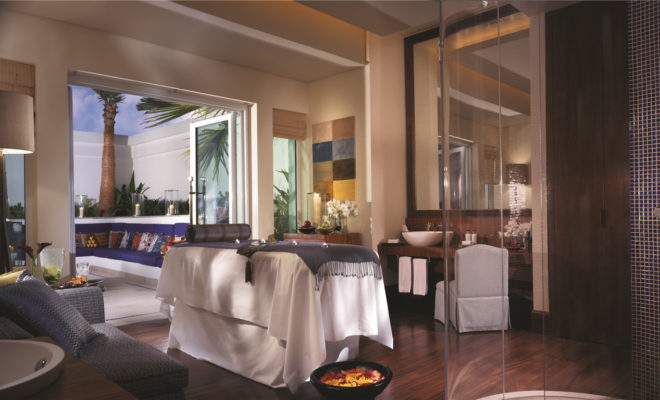 Beauty
The Amara Spa, Park Hyatt Dubai
By
|
When Managing Editor of Habibti Magazine, was invited to experience the Amara Spa in Dubai, we were all intrigued back in our Bahrain & London offices. Read more to find out how she found the experience.
Driving into The Park Hyatt Dubai, you are taken aback at how much land the hotel occupies. It's a long lush-green drive to the hotel main gate and you would be forgiven for forgetting you were in one of the busiest areas of Dubai.
Once at the hotel, I am greeted by an exceptional standard of service.
But unfortunately I am not here to experience the hotel, how I wish I was. Instead, I ask for directions to the Amara Spa.
The Park Hyatt Dubai is twelve years old, but does not look a day over a year. The whole place is extremely well maintained and would easily pass as brand new.
As I am escorted towards Amara Spa, I am led to what I can only describe as a picturesque peaceful garden. A short walk away I enter the Amara Spa whose design is inspired by Moorish palaces of white walls and blue domes.
The spa is calm and inviting, opening out to yet more lush gardens and a swimming pool. The changing area, toilets and shower cubicles are all ample and spacious.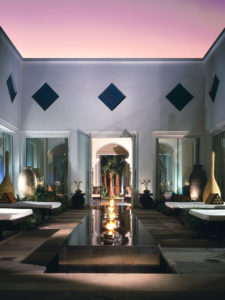 Again I am struck with how uncongested the spa is, considering we are in one of the worlds most busiest and built up cities – and also how well the Amara Spa has been maintained, bearing in mind it is also twelve years old.
Robed and ready for my treatment, I am led to my treatment room, again ample space with it's own private outdoor rain shower, private lavish garden and courtyard garden.
I am led directly outside to the courtyard, where a bowl of warm water diffused with rose petals greets my aching feet, while my hands are massaged with warm towels. I am also given a choice of music to accompany my treatment. Almost giddy with joy by the experience thus far, I vaguely remember choosing the meditation music.
My treatment is the Amara Signature Massage, offered in both 60 minutes and 90 minutes duration. The Amara Massage is a deep tissue rhythmic massage using the Signature Amara Oil; a blend of frankincense, amber and sandalwood. The oil is used warm, to further enhance its soothing properties. The massage technique, combined with the aromatherapy oils, music and overall ambience is almost – dare I say, magical and mystical. Post massage, I am left feeling extremely relaxed, invigorated and uplifted.
Highlights:
A tranquil and serene escape from the hustle and bustle of the city
Open, vast and ample space, where you feel you can breathe
For those who recognize the value of such a rich aromatic blend, the Amara oil is also available to purchase should you choose.
For more information:
Telephone: 00971 4 602 1660
www.dubai.park.hyatt.com
Facebook: parkhyattdubai
Instagram: @parkhyattdubai
Twitter: @parkhyattdubai