Christmas
Best Children's Advent Calendars 2023
By
|
Advent calendars have been a holiday tradition  for decades. Originally, they were simply a paper or cardboard calendar with doors that opened to reveal a small Christmas-themed image or scripture. Nowadays, advent calendars have become much more elaborate and exciting for children.

Children can now look forward to advent calendars filled with toys, chocolate, and even books. Toy advent calendars offer children a small toy or trinket each day leading up to Christmas, while chocolate calendars provide a sweet treat behind each door. Book advent calendars have recently gained popularity, where children receive a new book every day leading up to Christmas.

This change in advent calendars has caused a shift from a simple countdown to Christmas to a daily exciting moment. Advent calendars are now used to not only celebrate the holiday but also create memorable experiences for children.
We've picked twenty of our favourites this year!
National Trust: 'Tis the Season: A Lift-the-Flap Advent Calendar Full of Christmas Poems £18.99
A spectacular advent calendar book filled with festive poems, hidden surprises and a magical fold-out frieze!
Count down to Christmas with well-loved poets, including Ogden Nash, Nikki Giovanni, John Agard and Christina Rossetti and joyful artwork from Richard Jones. Peek inside the windows of the house to find a family wrapping presents, take a look behind a holly bush to find a little mouse and see what's happening in the town behind a glittering Christmas tree!
This classic Christmas collection has a flap to lift alongside a special poem for every day of advent and a fold-out concertina displaying a beautiful snowy landscape. With sturdy flaps, sparkling foil and a ribbon tie closure, this beautiful gift book from the National Trust is designed to be shared together as the days get closer to Christmas – filling your family with festive cheer, year after year.
Playmobil 71348 Advent Calendar Christmas under the Rainbow 24.99
A heavenly celebration awaits the rainbow princesses: shimmering Christmas tree, delicious cookies, great gifts, sweet snowwoman and golden shining Pegasus foal. Includes spinning top plates to make the figures dance. Princesses with feathery skirts. Great extra: charm bracelet with Christmas charms. Have a magical Christmas time with the PLAYMOBIL Advent Calendar "Christmas under the Rainbow"!
In 24 days, an enchanting ball scene comes to life with two princesses celebrating a lavish party together with their prince, the golden Pegasus foal and other cute animals. A decorated Christmas tree with presents and a table with delicious food. While the prince plays Christmas carols on his saxophone, the rainbow princesses dance to the beat on their spinning tops. For jewelry fans, a pretty bracelet with Christmas charms is included that can also be used as a garland.
Welcome to the Museum: A Christmas Pop-Up Advent Calendar £28.49
The perfect gift, spread joy this Christmas with this decadent pop-up advent calendar, part of the bestselling Welcome to the Museum family.
In conjunction with the Royal Botanic Gardens Kew, fans of the bestselling Welcome to the Museum series can now countdown to Christmas with this beautiful pop-up advent calendar. Inside, readers will find a beautiful pop-up tree, alongside a 28 page mini booklet detailing all the wonderful flora and fauna there is to discover during the autumn and winter months, from reindeer to red robins, and pear trees to poinsettia.
Hidden in compartments beneath it are 25 removable and displayable cardboard ornaments – including pine cones, holly leaves, cinnamon bundles and acorns.
This is the ideal sustainable gift, and would look stunning as a centrepiece year after year.
Available on Amazon
Barbie Dreamtopia Advent Calendar £20.99
Uncover magical mysteries with a Barbie Dreamtopia Advent Calendar that offers a Barbie doll and 24 fantastical gifts!
Dress Barbie doll like a royal, mermaid, or fairy with enchanting fashions, and then spark adventures with a tea party set, accessories and pets. With surprises day after day, it's the gift that keeps on giving!
Ages 3+ Available from John Lewis
Peppa Pig Advent Calendar £30
Watch the excitement build on the run up to Christmas Day by opening a window everyday to find a Peppa Pig surprise behind every door. What better way to celebrate the festive season and a healthy alternative to chocolate.
Ages 3+ available from Boots UK
Playmobil 71088 Advent Calendar - Christmas Baking £24.99
The smell of Christmas cookies is in the air! The whole family bakes Christmas cookies together and gets in the mood for Santa's visit. Includes real cookie cutters and cookie stamp to bake and decorate Christmas cookies.
Open the doors for great Advent play fun! The PLAYMOBIL Advent Calendar Christmas Baking provides 24 days of anticipation and brings playful variety to the pre-Christmas season. While mother and daughter are inside baking delicious cookies in the modern kitchen, the son is having fun outside in the snow. He has already built a stately snowman and is now forming snowballs for a snowball fight. After so much snow fun, he first sits down in the pony sleigh and drives a few laps around the festively decorated Christmas tree in the garden.
The playset consists of an Advent calendar with 24 surprises and real cookie cutters for great baking fun at home. In addition to three PLAYMOBIL figures, the set also includes a Santa Claus with sack and presents, a pony sleigh, a kitchenette with two ovens and lots of baking utensils, and a snowman.
The Usborne Advent Bookshelf £19.99
This enchanting advent boxset contains a wonderful, ready-made library of 24 beautifully illustrated storybooks. Count down the days to Christmas with magical tales of princes and princesses, elves and emperors, a puppet and even a dinosaur. A mix of fairy tales, traditional stories and timeless classics, the stories offer something for everyone. As the big day approaches, there are plenty of festive treats to share, including The 12 Days of Christmas, A Christmas Carol and, of course, the story of the nativity. Even after the excitement of Christmas has faded, the exciting stories in the boxset can be enjoyed again and again, for many years to come.
LEGO Friends 41758 Advent Calendar 2023 £17.99
The pets of Heartlake City are celebrating the festive season at the pet playground. Help them count down to the big day with the LEGO® Friends Advent Calendar. Discover a different character, toy or activity behind each door. Decorate the Christmas tree. Then create activities for the pets to enjoy as they explore the playground. Rearrange the builds to create new adventures for the animal friends.
Available at John Lewis
Childrens Fidget Toy Advent Calendar 2023 £19.99
24 DAYS OF FIDGET FUN | Open a new surprise each day during the countdown to Christmas. You'll receive a variety of fidget toys to keep your fingers busy and entertained.
Dive into a world of tactile wonders with the fidget advent calendar. From push poppers to springy toys, squidgy figures to spinners, you'll find 24 different toys to keep your fingers happily occupied.
Childrens Magical Disney Advent Calendar Kids Mickey & Friends Playset Calendar £36.99
This Magical Disney Christmas Advent Calendar is a whimsical journey through 24 enchanting doors, each unveiling a delightful surprise that will fill your little one's heart with joy.
Discover beloved Disney characters and festive decorations behind 24 doors with our Advent Calendar. From Mickey to Simba, and snowmen to candy canes, experience the magic of the season.
Children's Wooden Peter Rabbit Playset Countdown To Christmas Advent Calendar £31.99
This delightful Peter Rabbit Advent Calendar has a surprise behind every door! Featuring all your favourite Beatrix Potter characters including Peter Rabbit, Jemima Puddleduck, Lily, Benjamin, Mr Fisher and more.
The 24 doors of this Christmas Advent Calendar each contain one wooden piece, creating a charming Peter Rabbit playset to treasure for years to come
Thomas The Tank Engine Minis Christmas Advent Calendar £29.99
Transport your young conductor to the enchanting Island of Sodor as they embark on a delightful countdown to Christmas.
From December 1st to the 24th, the journey unfolds, leading to a collection of 24 mini push-along trains, including exclusive holiday-themed characters.
Transform each calendar door into a charming Christmas tree bauble, adding a touch of festive cheer to the holiday season.
Funko Pop Super Heroes £62.95
The Funko Pop Superheroes Advent Calendar 2023, is an exciting holiday-themed gift featuring a collection of mini Pop! figures from the world of DC Comics. It offers 24 days of surprises, with each day revealing a unique mini-figure to collect.
Mr Men Little Miss Advent Storybook £13.99
Countdown to Christmas with the Mr Men and Little Miss! Join your favourite Mr Men and Little Miss this Christmas for some storytime fun with this fantastic advent calendar featuring 24 individual stories.
Reveal a special storybook every day during the Christmas countdown. The perfect gift for you or kids to enjoy during the festive season and beyond.
Amazing Magic Advent Calendar £29.95
Discover the ENGAGING & INTRIGUING Magic Tricks advent calendar!
Open up the big box to reveal 24 smaller boxes. One box for each day before Christmas. Each box contains 1 unforgettable magic trick. The countdown to Christmas is going to be so much fun.
Magic tricks from various magic fields such deception (e.g., the magic rope trick), vanishing tricks (e.g., the magic vase trick), transformation tricks (e.g. money maker machine), several card tricks, and even mind reading tricks (number telepathy trick) and SOOOO MUCH MORE.
Fortnum's Children's Chocolate Advent Calendar £25.95
Filled with as much festive cheer as Father Christmas's sleigh, our Chocolate Advent Calendar is laden with 25 premium milk chocolates. This advent calendar is perfect for children.
so look behind the doors of Fortnum's Piccadilly home to discover creamy milk chocolate presents, trees, teddy bears and even Father Christmas himself, each made lovingly in the south of England from sustainably sourced cocoa. There's an extra-special surprise on Christmas Day – but don't go peeking before the big day arrives, or you might find yourself on the Naughty List…
Available from Fortnum & Mason
The Gruffalo and Friends Advent Calendar £7.50
Count down to Christmas with this advent calendar collection of twenty-four mini activity, song and rhyme books, based on the bestselling picture books by Julia Donaldson and Axel Scheffler – with brand new content for 2023!

Enjoy a book every day with this fantastic festive collection, including activities, crafts, colouring and recipies based on the family-favourite picture books, The Gruffalo, Room on the Broom, The Snail and the Whale and more. Plus lots of family fun with songs and rhymes to enjoy together!

With twenty-four mini books collected together in a beautiful presentation case with tie ribbon, The Gruffalo and Friends Advent Calendar Book Collection is perfect for sharing together every day of advent.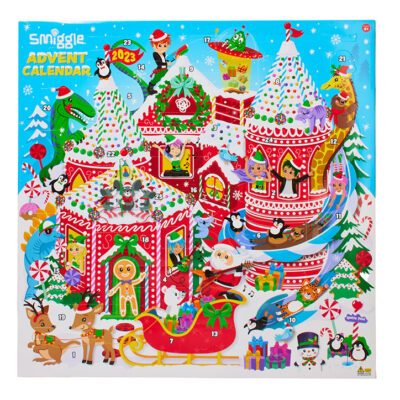 The countdown to Christmas has begun! Make the days more exciting with 25 days of super Smiggle surprises hiding within our Advent Calendar. Open up each door to find 60+ pounds worth of limited edition and fan favourite goodies to fill the December days with Smiggle magic! Find sweet scented stationery one day and totally poppin toys the next, the Christmas countdown has never been more Smiggle-tastic! Plus when you purchase any Advent calendar there's the chance to win a £250 Smiggle shopping spree! Simply open the envelope on the back of the calendar and see if a Lucky Ticket is hidden inside. There are 25 Lucky Tickets to be found!
Lindt Teddy Advent Calendar £15
Story of Lindt advent calendar… It was on a Snowy night that the Lindt friends gathered to sing their favourite carols. The Lindt Gold Reindeer spoke softly "If we sing sweetly enough, and clearly enough, do you think that the Lindt Bear will answer the door" Excited with anticipation the friends stood by the Advent House and began to sing. The sang beautiful. The Lindt Bear peeked out through the window, then the door began to open. The Lindt Bear happily joined the group and all the friends sang together.
Melissa and Doug countdown to Christmas wooden advent calendar £18
Add some kid-friendly holiday cheer and a charming yuletide ritual to your home with this wooden magnetic holiday tree! The set includes 24 unique magnetic ornaments plus a shining star for Christmas day–all of which fit neatly in the attached box at the base of the tree. Kids can pick a favourite design to place on the tree each day, following the numbered outlines to fill the tree right up to Christmas. They'll also love to switch, move, and rearrange the pieces to customize their very own tree countless times!