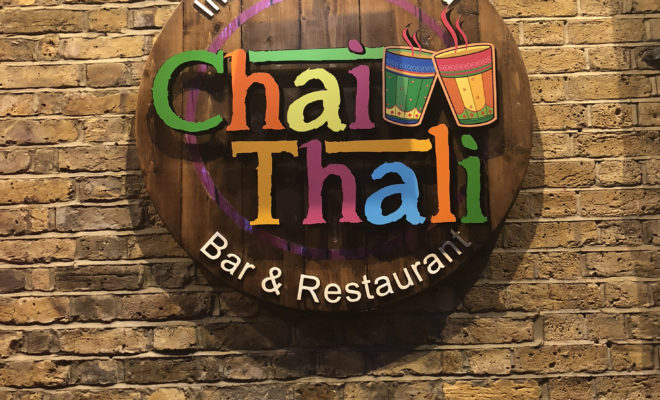 Food
Chai Thali Bar & Restaurant
By
|
Since it's start in 2017, Chali Thali's Bombay café inspired restaurant has quickly become a favourite hangout for delicious Indian Cuisine among Londoners and visitors.
The restaurant is homage to India's street food; bringing the flavours, colours and aromas of India to London with traditional and modern regional street food specialities, complete with a contemporary fusion.
With two branches; one being the flagship restaurant in Camden and the second in Fulham, Habibti Magazine visited the Chai Thali and were greeted with a quirky take on India's street dhaabas and authentic Indian Cuisines.

We started the evening with a chaat to share, bursting with different textures, crunchy and creamy. While flavours of sweet and spicy played a beautiful Bollywood melody in the mouth.
We followed this with Gol Gappa shots,  balanced carefully on imli filled shot glasses. This was accompanied by a platter of mixed pakoras; piping hot and fresh from the kitchen.
We then ordered the chilli paneer with was succulent until the last bite, no rubber paneer here!
Our main dish was the classic butter chicken, rich in taste with the right amount of kick, which was divine paired with fresh naan.
For dessert, we opted for the chocolate filled samosas, these were heaven and we are so glad we took our waitresses recommendation.
To finish off our lovely meal in true Indian style, we indulged in a fresh sweet pan, bursting with sweet syrup and chaalia.
We'll be visiting again soon!
For bookings call 020 7383 2030
www.chaithali.com
Instagram: chaithalirestaurant
Facebook: ChaiThaliIndianStreetFoodBarAndRestaurant