Fashion
Four highlights from New York Fashion Week
By
|
It amazes us how clothes sometimes are able to make more of a difference than humans. With the political dilemma of the United States faces, as a figurative back drop, New York Fashion week is somewhat of a breath of fresh air.
From celebrating plus size models, technological advancements, to self proclaimed drag kid Desmond Napoles, this season of New York fashion week ends, and we're all left with the sweet taste of content and reassurance.
Here are our four highlights from the Fall Winter 2018 collections:
The Bigger The Better:
From Christian Siriano's embellished black gown and full skirts, to Oscar De La Renta's flower prints and embroideries, featuring rich textures, the dresses this season were all built for the red carpet, and for those statement-making moments that 2018 is bound to have.

Co-op Has Left The Building:
Announced last fall, Alexander Wang is no longer the CEO of his brand, but Lisa Gersh, formerly of Goop, is now assuming the position. Apart from that, this collection was Wang's last during New York fashion week, as he'll present his collection in June, and December, to align more closely with the pre-collection schedule.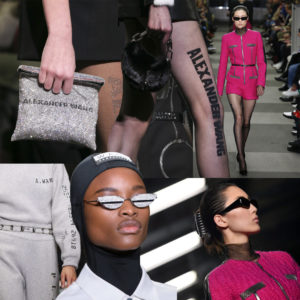 His Fall 2018 collection represented a new executive approach to dressing, call it a sarcastic remark on the oh so glorified "power suit", and conservative dressing. The small accents within the garments, referred to elements within the corporate world, from credit card digits, to having "CEO" monograms on a sweater.
Bad & Bougie:

It's keeping it at an all time 100! Designers that dress daring celebrities are mostly recognised when looked at a celeb's style history. From The Blonds bejewelled and studded red suit, that kick started their Fall 2018 show, to Tom Fords boogie throwback, where he had multi coloured, leopard printed jackets, with diamond encrusted, kitten heels.

Romanticism:
The streets of New York will forever be seen with rose tinted glasses (at least to us). Call us oblivious to the fact of reality, but looking at how designers infused that particular lens onto their collections, it's more likely to happen. Imagine this, Jason Wu's enigmatic pleats, with crystal embroidery, alongside Tory Burch's indie like looks on one sidewalk? Now you're talking.

As this season comes to an end, and the tides are picking up in London, the fashion folk rapidly migrate to an ostentatious scope. Stay tuned for our review on the Fall 2018 collections, showcased in London Fashion Week.