Gift Guides
Gifts for Puzzle & Board Game Enthusiasts
By
|
From board games to puzzles we've got some super fun and enteratining gifts that will keep the whole family entertained this holiday season.
Light Up the Night Christmas Limited Edition Puzzle £17.50
A word game trivia mash-up! You'll be asked five questions, but you only need to write down the first letter of your answers before unscrambling those letters to make a 5-letter word… will you be the first player to call out the correct word? Combining fun general knowledge skills with a 'Countdown' style conundrum, Ansagrams is the perfect game for older children, teens and adults. It can be played in small or large groups, or in teams. Ansagrams is suitable for 12+.  available from Amazon, John Lewis and Waterstones and Blackwells.
The 2021 limited edition puzzle is Light up the Night, depicting a whole town getting ready for Christmas. The 1,000-piece jigsaw is packaged in a shiny, eco-foil gold box, and comes with a special serial numbered certificate, making it the ultimate collector's item. Suitable for age 12+ and available from Gibsons, John Lewis, WHSmith, Waterstones and Amazon.
Merry Mischief Jigsaw Puzzle Advent Calendar £30
CreArt Festive Friends £9.99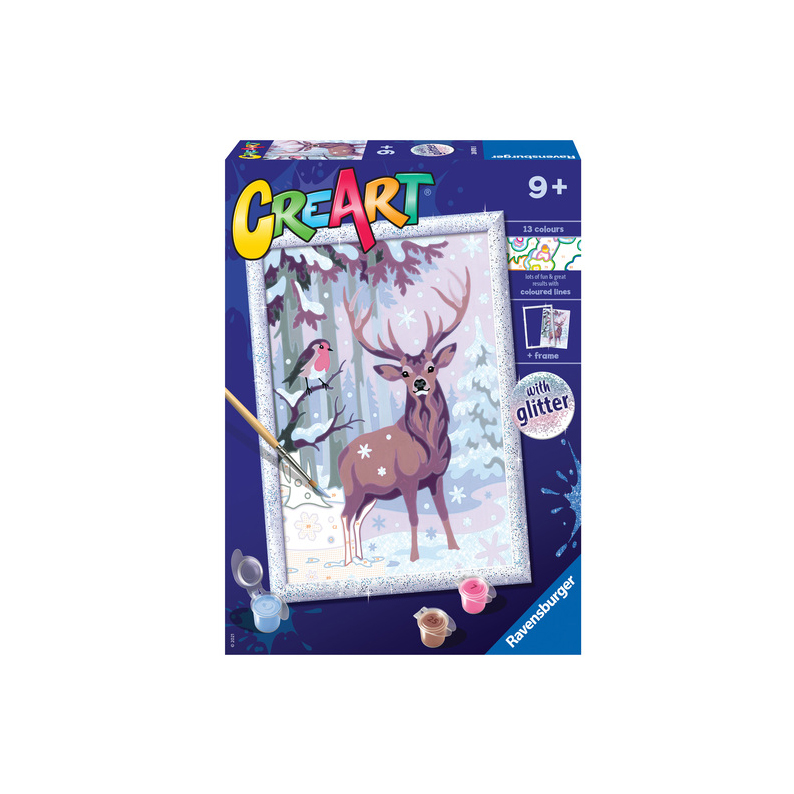 An arts and crafts jigsaw puzzle advent calendar. Behind 22 of the doors you'll find a festive shaped puzzle (snowman, tree, bauble, stocking). Each design features a mischievous animal getting in the Christmas spirit. And behind two doors are puzzle glue and ribbon so you can craft your own decorations. Suitable for age 8+ and available from Gibsons, Selfridges and Amazon.
Immerse yourself in this beautiful wintery wonderland featuring a striking stag and his beautiful robin friend. Enjoy painting this lovely snowy scene, perfect for getting into the festive spirit! This colourful painting by numbers activity is sure to relax and satisfy you as each section is completed with a lick of paint. Coloured guide outlines distinguish between each colour, ensuring a picture-perfect result. Includes high quality thick painting canvas and 13 acrylic paints in numbered pots, easel to hold the pots, fine point durable paintbrush for detail painting, easy to follow guide sheet, glittering presentation frame to display finished artwork and glitter to scatter over the masterpiece. For ages 9+.
Available at Hamleys, John Lewis and Amazon.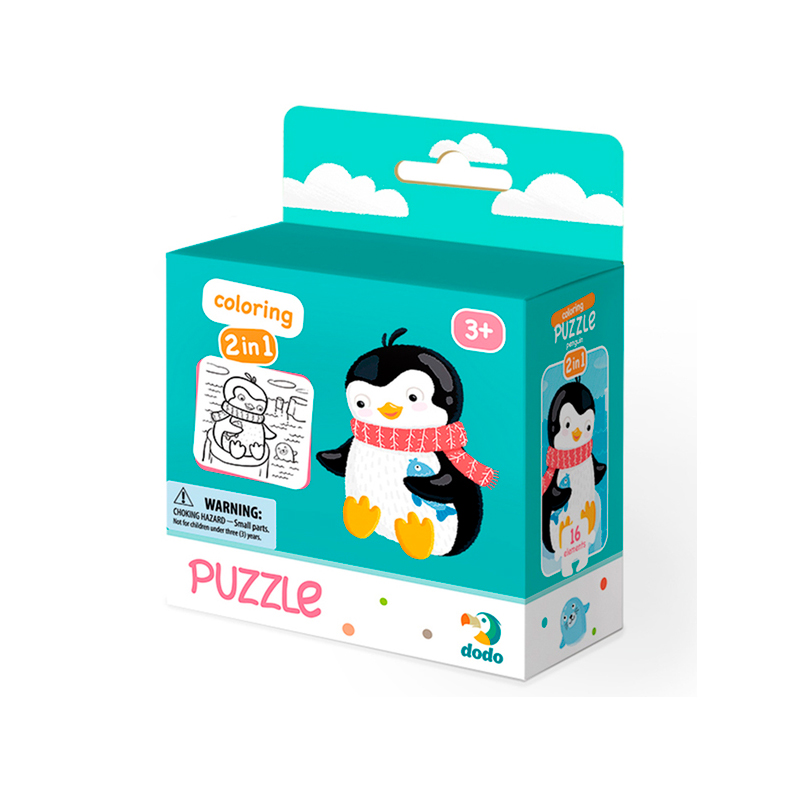 The Dodo range of vibrant, colourful games and puzzles offer educational and developmental benefits, ensuring that these are the perfect gifts to help children learn whilst having fun. The Dodo Colouring Puzzle 2 in 1 Penguin is an exciting double-sided, 16-piece puzzle. On one face there is a cheerful penguin design, whilst on the reverse children will find a penguin outline, perfect for colouring in their own puzzle creation! With four different designs to collect, these are the perfect collectable treat. SRP £2.99 | Ages: 3+
Belchingly good fun after dinner, this fast paced, festive family word game is a best seller. Play in teams, answer the question and pass the pud on for the next team to answer, in a race against the jingling pud timer to beat the pud burp! New eco-friendly packaging. Suitable age 8yrs+ and available from Gibsons, John Lewis and Amazon.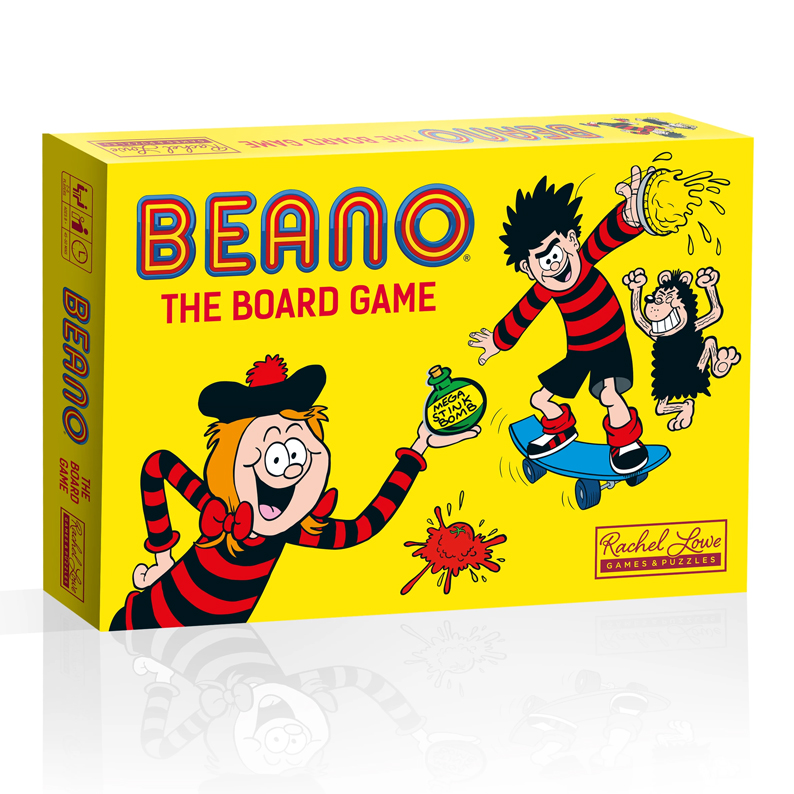 scientist-approved edition exclusive to the Natural History Museum – Guess Who Animal Travel the rainforest, savanna and oceans to discover the world's favourite exotic mammals, birds, insects, reptiles and marine life. With 24 different characters to discover, Guess Who Animal makes an incredible introduction to the diversity of wildlife for kids. Can you guess your opponent's mystery animal?
Released by award-winning board game creator Rachel Lowe and licensed by Rocket Licensing on behalf of Beano Studios, the new Beano game is being released to celebrate the 70th anniversary of Dennis first appearing in the comic.
The game focuses on an average day in the school playground when the gang decide that it is time to play some pranks. Players take turns to journey around Beanotown and try to complete pranks whilst avoiding being caught by the teacher. Perhaps a whoopie cushion will be dropped at Mount Beano or a custard pie will splat the walls of Bunkerton Castle. The player to prank six different locations first will win the game.
Top of the Pops - Party Game £20
A Game of Cat and Mouth By Exploding Kittens £24.99
Hey pop-pickers, get ready to play a throwback music party game based on all the music you tuned in to watch and listen to on Top of the Pops. This isn't a trivia game, so you don't need to know obscure facts about Boney M's back catalogue or anything like that. Just form two teams and prepare to take each other on across two pop-tastic rounds: The Head-to-Head Showdown and Triple Charades Jeopardy.
Get your quarantine buddy off the couch and dive into the rainbow splattered, intensely competitive, ball-flingin' world of Cat & Mouth! A fiercely competitive, wickledly fun hands-on pinball'ish game from the creators of Exploding Kittens. It's like playing pinball with slingshots – there's Kitty Paw Flickers, ball flinging and Rainbow Ralphing cat. 7+, 2 Players, 
Available on Amazon
With a strapline of "Betray your friends. Try not to explode" and a call to adopt cruel strategies in order to win, we defy anyone not to be curious. This is a game for two to six players and you essentially have to avoid being blown up. Don't worry, we'll explain…
In the deck of cards lurk exploding kittens. If you draw one of these cards you "explode" and are out. There are, however, other cards that help you avoid drawing an exploding kitten – such as "see the future" or "skip". You win the game by being the last person not to have blown up.
This giftable Rummikub  collector's edition – featuring a sleek all-black aesthetic including tiles and playing mat.   Packed in a stylish display tin with the same great gameplay. The set is perfect for a Rummikub fan or anyone looking for a coffee table take on a classic board game. Suitable for age 7+ and available from Amazon, Grattan and Toymaster.
Richard Osman's House of Games Board Game £20
The super-simple, shouty-outy quiz game that does things differently. Firstly, it's a doddle to learn: 2 minutes and you're off and running. It's quick too, takes 30 minutes to play. There's no twiddling your thumbs waiting for your turn either because everyone plays every card. Win enough letters to spell Linkee and you've won the game. Simple.
The shouty-out quiz game with four little questions and one big link!
Work out what links the four answers and yell Linkee before anyone else!
1400 new questions.
Available at Argos
Based on the hit BBC2 show hosted by Richard Osman, the House of Games board game is the ultimate test of knowledge and skill. Enjoy some of your favourite challenges from the show in the comfort of your home. Team up to tackle some trivia or face off against each other in the iconic Answer Smash. Who will be the House of Games champion in this competitive compendium of games?
Features 10 games from the show.
Includes a winner's trophy.
Available at Argos & Amazon
The Christmas House Limited Edition 2021, 1000pc £13
Merry Moonlight Skaters 500 Piece Foil Puzzle £14.50
The owners of The Christmas House love to decorate their home during the festive season, and visitors of all ages come from far and wide to enjoy the wonderful display! The historic house is dripping in lights, garlands are wrapped around the porch and Christmas Crackers, stars, garlands and a large Santa in his sleigh adorn the front of the building. In the garden there are super-sized gifts and baubles, Nutcracker figures stand guard, alongside an angel, another Santa, sleigh and lots of brightly-lit trees. Beyond the house, we can see the lights of the pretty village and church, and distant, snow-covered hills. But wait! It looks like the display is so bright, that even Father Christmas has come to take a quick look! This is the 25th Limited Edition Christmas design developed by our UK-based team. Includes printed box base with extra puzzle image and artist information. Great for Adults and ideal puzzles for Children 12 years old and up.
The Merry Moonlight Skaters 500 Piece Foil Puzzle from Galison features a festive city scene with ice skaters, skyscrapers, and snow. The shimmery lights of the city come alive with shiny gold foil accents.
500 Pieces
Beautifully packaged in a sturdy illustrated box, perfect for gifting
Completed puzzle size 20″ x 20″, 50.8 x 50.8 cm
Includes puzzle insert with puzzle image
Not suitable for under 3's due to small parts
The Nutcracker Jigsaw Puzzle £12.99
Professor Puzzle Obscurities Mini Puzzle Games £20
The Enchanted Nutcracker Puzzle has 500 jigsaw pieces made from 90% recycled paper, it features a whimsical illustration by Joy LaForme of the beloved ballet The Nutcracker. The puzzle is packaged in a colourful sturdy box which is made from 70% recycled paper, perfect for gifting, reuse, and storage.
Put your problem-solving skills to the test with this eclectic mix of 10 pocket-sized puzzles.
From the Rings of Fire to the Trapeze, each matchbox contains a different little brainteaser to solve. Once you ve mastered them all, see if you can use the wooden sticks to solve the 50 matchstick challenges listed on the cards. It's the ultimate in brain bafflement!