Gift Guides
Gifts every Harry Potter fan needs this Christmas
By
|
Who can believe it's been twenty years, since the first Harry Potter Movie 'The Philospher's Stone' was released?
For two decades we have seen a continuous rise in Potter fans, as each new generation discovers whether they're a Gryffindor, Hufflepuff, Ravenclaw or Slytherin. This year we've rounded up some of the best gifts for Harry Potter Fans of all ages.
BrainBox Harry Potter £14
Harry Potter Hogwarts 3D Puzzle, 540pc £79.99
The 10-minute brain challenge apparates into the Wizarding World! Relive the Harry Potter film series and see if you've got what it takes to be top of the class at Hogwarts. Study a card for 10 seconds then test your memory on what you saw. Suitable for age 8+ and available from Amazon.
Ever imagined puzzling The Great Hall at Hogwarts? Here it is in its entirety, 540 pieces complete with tower pieces to top off this masterpiece. Immerse yourself in the World of Wizardry as you puzzle this impressive building in 3D! As an official Harry Potter licensed product, this detailed building is a must for any Harry Potter Fan.
Harry Potter Magical Infinity Box Advent Calendar £39.99
harry potter lumos wand £14.99
The award winning way for every one in the Muggle World to countdown to Christmas. It truly is magical with its unique moving design. The two towers both rotate fully, by 360 degrees, revealing hidden drawers, from which you will conjure up an exclusive Harry Potter gift for each day of December, leading up to Christmas Day. Not only will these items never be available elsewhere but you are getting incredible value for money as the retail value exceeds £100! You get special soft toys to one-of-a-kind collectable there really is something inside for every Harry Potter fan.
The perfect Harry Potter COLLECTOR QUALITY gift for kids and kidults alike! • PAINT WITH LIGHT – Download the spellbinding free Wow! Stuff Light Painting App (iOS and Android) to recreate wand battles or spellcasting scenes from the films or create stunning light pictures and capture them on your smart device or phone – Share your images from your phone or upload them instantly to social media. Get creative with duelling wand spells or craft Patronus images as seen in the Harry Potter films • Hand painted and cast in a high-grade resin, not plastic, and featuring a super bright LED Lumos light-up tip to create charming magical spells!
Harry Potter 2022 Calendar and Diary Gift Box Set £19.99
Coach Tour from London to The Making of Harry Potter Studio Tour for Two £175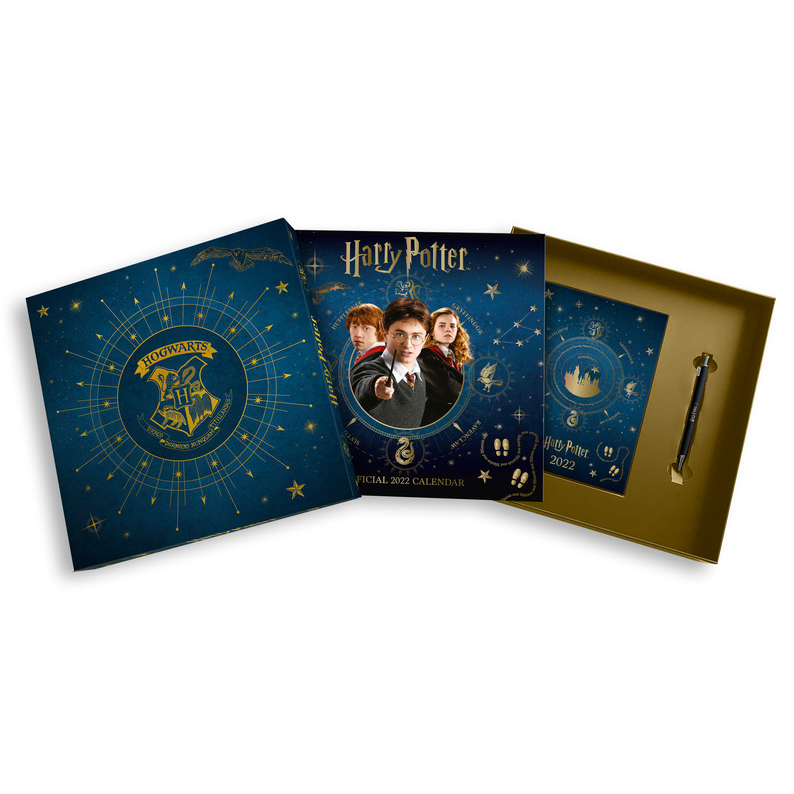 A gift set box full of items including an iconic 2022 calendar, diary, pen & keepsake box a perfect collection for a fan of Harry Potter. With Harry Potter characters and icons printed on the items, this is an iconic gift for your Potterhead.
Available on Amazon
Enter the magical world of Harry Potter during this mind-blowing experience made for Harry Potter enthusiasts. From Victoria Coach station, head to the Warner Bros. Studio Tour London in Leavesden on a luxury coach to explore the success of the Harry Potter film series. Step inside the Great Hall and discover unheard anecdotes about the Harry Potter film series from the expert guides before taking a unique walking tour that takes you behind-the-scenes and showcases a huge array of sets, costumes and props. It gives an excellent insight into the cutting-edge technology, talent and pure imagination used to create cinematic magic. Explore Dumbledore's office and even step onto the famous cobbles of Diagon Alley and Gringotts Wizarding Bank!
Harry Potter Snitch Heliball £25
Harry Potter Wizarding Quiz £29.99
The brand leading miniature droid LED Heliball has been transformed into the ultimate Quidditch accessory for Wizarding World fans. The Golden Snitch Heliball not only flies but it allows the user to customise its flight pattern from random directional flight to near vertical flight by adjusting the angles of the wings, making it perfect for Seekers in training.
Available at Debenhams
Think you know all there is to know about Hogwarts?This new arrival to TOMY games is a magical quiz, perfect for the Harry Potter enthusiasts! Pick up your wand and defend the colours of your house as your knowledge is tested on over 1,000 questions by the virtual quiz master, but be careful, if you're wrong, you can lose your house points.
Who will be Head Boy this Christmas?!
Harry Potter Self Stirring Cauldron Mug £10
Professor Snape's Potion Bottles Mood Lamp £24.99
Add a touch of magic to your day with this Harry Potter Self Stirring Cauldron Mug.
Sit back, relax and wait for this magic mug to stir your favourite beverage for you. This amazing Harry Potter mug features a magical cauldron design, perfect for any Witch or Wizard.
A wonderful collectable item and a great gift for any fan of Harry Potter!
Available at The Works Buy Here
lluminate your room and become a potions master. Place all potion bottles onto the tray to activate this amazing multi-colour light show. Inspired by the potion bottles in Severus Snape's potion room cupboard in his classroom at Hogwarts, each potion bottle is a miniature replica and uniquely labelled (with such delights as 'Bulbadox Juice' and 'Weedosoros') and is the perfect gift for all Harry Potter fans, kids and adults alike! The multi-colour lighting can be operated under 3 modes: A steady warm glow ideal for use as a bedroom night light or a feature table lamp, Random mode where the bottles alternate with a gently increasing glow and a Fast Flicker mode that produces an amazing multi-colour light show. The lamp is powered by batteries.
Available at Amazon Buy Here
Harry Potter Hogwarts Castle for Teens £349
Harry Potter Hogwarts School of Wizardry Snow Globe £36.99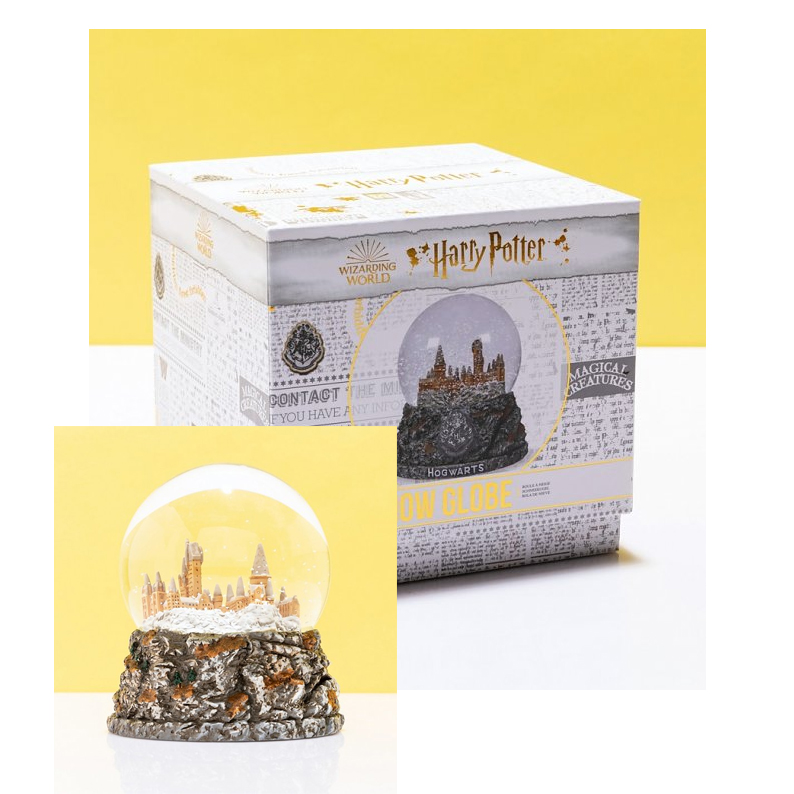 This highly detailed LEGO Harry Potter Hogwarts Castle (71043) toy featuring several builds will enthral fans of Harry Potter! With this rare LEGO set, you can create moving staircases of the Great Hall, Hagrid's hut with buildable pumpkins, and the Whomping Willow. It also includes rare Harry Potter LEGO characters: Dementors, Aragog the spider and Basilisk, as well as a buildable Harry Potter dragon figure.
Discover the Potions classroom with racks of jars and the Defence Against the Dark Arts classroom with potion jars, a gramophone and the Boggart closet. Seek the Philosopher's Stone through the Chessboard Chamber and the hidden Devil's Snare room, then explore the Chamber of Secrets, where the Basilisk and Tom Riddle's Diary await. The LEGO Harry Potter Hogwarts Castle features the Room of Requirement with vanishing cabinet and Goblet of Fire, Professor Dumbledore's office with Griffin statue and Memory cabinet, Professor Dolores Umbridge's office, the Gryffindor common room and the Library.
Available from Harrods
Good wizards and witches will love finding this Harry Potter snow globe in their stocking this Christmas. Packaged in a gift box, this spellbinding snow globe features a polyresin sculpture of Hogwarts Castle, rock-shaped base and Hogwarts school crest. Shake – or use a weather-modifying charm if you know one – to make the enchanted snow fall.
Harry Potter Hogwarts Castle Collection £21
Harry Potter Gift Trunk £200
Show your school pride with the HARRY POTTER™ HOGWARTS™ CASTLE COLLECTION.  inside you will discover the HARRY POTTER™ GOLDEN SNITCH™ Highlighter Palette featuring four beautiful shimmering highlighting shades and two of the HARRY POTTER™ Cosmetic Brushes to use with it. Drop the HARRY POTTER™ GOLDEN SNITCH™ into your bath to immerse yourself in a fizzing bath experience, fragranced with notes of lemon, melon and sandalwood. To enhance your bathing experience you can light your HARRY POTTER™ HOGWARTS™ candle and the velvet  HOGWARTS™ Eye Mask and Scrunchie are the perfect accessories. 
Keep your treasures safe inside the shimmering HARRY POTTER™ HOGWARTS™ CASTLE COLLECTION Tin.
Available at Boots
Celebrate your Hogwarts pride with this bespoke Harry Potter Gift Trunk, perfect for aspiring witches and wizards to add to their collection. This trunk has been specially designed to resemble the trunk that students would take on their travels on the Hogwarts Express. Explore the exclusive souvenirs and unique collectables, the ultimate gift experience for every Harry Potter fan.
Harry Potter Gift Trunk contains:
Hogwarts School Trunk
Personalised Hogwarts Acceptance Letter
Harry Potter 'H' Replica Jumper
Hedwig Soft Toy – Medium
The Golden Snitch Keyring
Chocolate Frog – with authentic film packaging
Gryffindor Embossed Notebook
Bertie Bott's Every Flavour Beans
The Marauder's Map – Replica
Gryffindor Knitted Crest Scarf
Gryffindor Knitted Hat
Gryffindor Knitted Mitten Capped Gloves
Gryffindor Pin Badge
Gryffindor Pen
Harry Potter Collectible Wand
Available at The Harry Potter Shop
Fabric Flavours Kids' Harry Potter Hogwarts Crest Hoodie £22
Official Harry Potter Polyjuice Potion Lamp £29.99
A must-have for the little Potterhead in your life, this jumper is woven from 100% cotton and showcases the iconic Hogwarts crest at it's centre.
Transform your living space with the magical properties of this fantastic official Harry Potter Polyjuice Potion Lamp! With its charming colour changing light, this unique lamp is the perfect way to add some ambience to your room and flaunt your status as a devout fan among Muggles!
H&M Jacquard-knit Jumper £9.99
Cotton Blend Harry Potter™ Bedding Set from £14.50
Show off your love for the magical world of Harry Potter™ with this 'Team Hogwarts' cotton-mix bedding set. The duvet cover has a metallic print of the school crest on one side, a cheerful tartan on the reverse, and a zip fastening. The pillowcase reads 'Hogwarts' above a letter 'H'.