wellness
Navigating the Menopause with Jackie Lamyman, Founder of Made of More
By
|
Jackie was caught off guard when perimenopausal symptoms hit her in her early 40s. Among the myriad of disruptive symptoms, troublesome skin became her worst nightmare, with sensitivity, rosacea, breakouts, and dryness wreaking havoc simultaneously. Feeling overwhelmed, she yearned to retreat from the world, seeking solace under the covers.
"When I hit midlife, I did not like what I ran into. Not one bit. I couldn't understand what was wrong with me – mentally, emotionally and physically. It was a scary time because I didn't recognise the feelings I was having and I couldn't understand why I felt so 'meh'. When I looked in the mirror I didn't recognise myself. After wallowing in it for a bit I decided enough was enough and I took control of the situation. I started to go and find the answers as to why I was feeling the way I was, researching all the (48!) symptoms, understanding hormones and why they were affecting me, speaking to doctors and specialists, figuring out how I could take back control of my own body!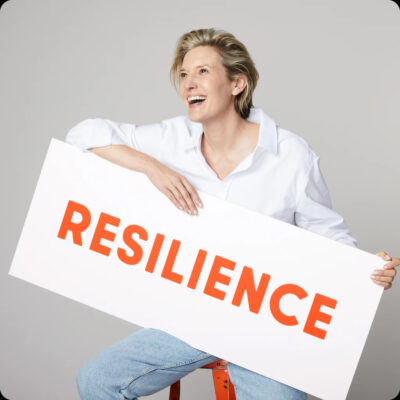 I find daily exercise really helps clear my head and focus my brain but the exercise I now take is very different to what I used to do. Gone are the gruelling HIIT workouts and punishing regimes. Instead I now prefer to walk outdoors and in nature, with no distractions. I add leg and arm weights and do some lunges on the way around; I've found that since hitting perimenopause I've had to change my exercise routine because I no longer enjoyed the regime I used to do.
Every morning I take probiotics and a concoction of aloe vera juice, lemon juice, warm water and Celtic sea salt for electrolytes. I also add MCT powder to my coffee for brain energy and nootropics.
Before bed I ensure I have taken some magnesium, I have done some box breathing, have taken stock of my day and how I want to feel the next day.  I also sleep with ear plugs, mouth tape, blackout eye mask and pillow spray close at hand to combat the dreaded 4am wake up. I also find using a weighted blanket is super helpful and would highly recommend getting one.
My biggest tip would be to track your periods using an app or notes in your diary. I use the Flo app but there are plenty out there. Understanding your cycle and your feelings/symptoms around it is so helpful for you but also any health consultant. It's an essential piece of the jigsaw. I also highly recommend having a blood test – there are plenty of online companies that offer the service but I used Omnos – to see if you are deficient in iron, B vitamins or anything else that you can help alleviate with supplements and check your thyroid function. Again a helpful piece of the puzzle.
For years I was blessed with normal, well-behaved skin but, all of a sudden at the age of 42, my skin stopped playing by adult rules and threw an enormous teenage-style tantrum. It was Hello to redness, sensitivity, severe dryness and spots – a symphony of symptoms that decided to have a field day with my usually uncomplicated face. My skin felt so sore it was painful to smile and painful to touch. Any skincare I applied would pill and sting immediately which is why it became so important to me to create a skincare range that really focussed on midlife skin. Our HC+ Complex™ is clinically formulated to meet the key challenges of fluctuating hormones from mid 40s and beyond (including all stages of the menopause), each Made Of More product is supercharged with a unique blend of powerful ingredients that give our skin exactly what it needs.
Top Made Of More product tips…? If your skin is really dry or tired try layering the Salvation Rescue Balm over the top of the Resilience Night Souffle before bed to help seal in all the actives. I always think better skin when you wake up is a brilliant start to the day!"
Jackie Lamyman, Founder Made of More
To discover the range and learn more about the brand visit www.madeofmore.co.uk