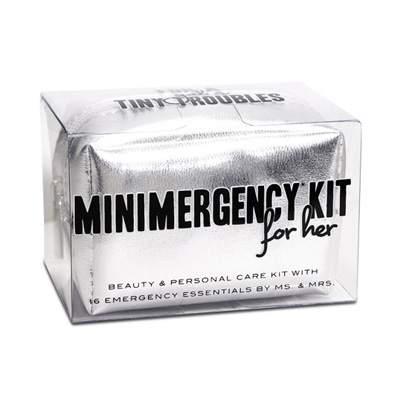 Beauty
Party Survival Kit
By
|
So as the Party season kicks in we all know there's a plethora of beauty disasters just waiting to happen. Prepare for the festive season with our Christmas party Survival kit.
1. Solid perfumes and handbag sprays definetely a handbag essential, whether you're freshening up before those after-work drinks or planning on partying through the night. A handbag version of your favourite scent is a must. Apply it on your wrists, elbows and collarbone. www.chanel.com
2.  With mini make-up brushes you can go from 'drab to fab' with a stroke of a brush. All the brushes you need to create and touch-up in a handy little pouch. www.ecotools.com
3. If you're a fan of false lashes, lash glue is an absolute must. 'Apply mascara once you have applied your false eyelashes this will bind your real lashes together with the falsies. Always carry glue with you just in case the lashes start to detach slightly. You don't need to pull them off, just apply a small amount of glue on the end of a cotton bud to the affected area, push down to your lash line.
4. Correct and Conceal – This concentrated, creamy concealer brightens and camouflages in one easy step! Targets dark circles, discoloration and imperfections. Has brightening melon undertones to suit every complexion. Also fab for the morning after!! www.benefitcosmetics.com
5.  Face palettes are ideal for touch ups as well as creating your initial look and are incredibly space saving. Some are even customisable with your own products. www.bobbibrowncosmetics.com 
6. If you're a fan of killer heels, cushioned foot pads could be a life saver this party season. Made from ultra soft gel they are designed to help reduce friction and protect sensitive areas from rubbing shoes. www.scholl.com
7.  'Dry shampoo is the must-have product to carry in your handbag this party season –  perfect for when your hair needs instant revitalisation and oomph.  Great for busy girl's on-the-go. www.batistehair.co.uk
8. When going out, always carry blotting tissues. These little miracle tissues blot away oil and sweat while leaving your makeup intact. www.shiseido.com
9. Snapped fingernails come with the territory when it comes to party season, which is precisely why a nail file is one of the most important handbag essentials. 'If you do break a nail, gently file any jagged edges – filing in one direction only. Also, use the other hand to hold your drink if you're sitting at a dinner table.
10.  Breath Freshening spray can often be a life saver, especially after a heavy meal and before that un-expected party smooch.