Gift Guides
The best Advent Calendars for Him & Her
By
|
From beauty to food, we've searched for the best Advent Calendars to get you in the festive mood. So whether your looking for him or her, or for both of you. Check out what's on offer and where you can get your hands on them.
Share the Joy Advent Calendar £70
Disney Mickey Burgundy Advent £14.99
Count down to Christmas Eve with the Body Shop's  Share the Joy Advent Calendar.   Discover 24 little treats such as Bath Bubbles.  Body Butters, a Sheet Mask or two, hand Cream, Lip Butter and lots more.
Give yourself or someone else the ultimate indulgent treat with this 12 day beauty calendar featuring a bath and body treat for each day. Whether you take a relaxing bath or give yourself a mini-mani, this set will have you feeling as good as new, and party ready in no time!
Feelunique advent calendar £95 -worth over £385
Kiehl's advent calendar £99 worth £245
This gorgeous advent calendar is one of our favourites this year. Filled with full-sized favourites and super samples.  Count down to Christmas with these gorgeous pastel pink drawers, this calendar is going to be a sure hit with beauty lovers.
A Dreamland of Giving awaits inside Kiehl's Limited Edition Design Advent Calendar. Featuring holiday-inspired designs by artist Marylou Faure, this collection houses customer favourite skincare products behind each door for the ultimate gift that keeps on giving! The advent calendar is fully recyclable, made with PCR paper and zero plastics.
Charlotte Tilbury Beauty Dreams & Secrets advent calendar £150
Molton Brown Advent Calendar £195
Discover a magic makeup or skincare icon in every jewel-handled drawer! This treasure chest of beauty secrets includes 3 full-sized, and 9 travel-sized products so you can create a full look!
Count down to Christmas with our glorious Advent Calendar, a celebration of fragrances, body and home delights, hidden behind our original salon doors. Charmingly illustrated by Rebecca Williams, you'll find exciting new treats and much-loved favourites to make you smile as the big day draws near.
12 Days of Liz Earle Beauty Advent Calendar £60 worth £149
ESPA Hidden Treasures advent calendar £160 worth £389
Take a journey of surprise and delight this festive season with our luxurious advent calendar. The perfect opportunity to explore the radiant treasures of our range, you'll find both full-sizes and miniatures of our best-loved skincare, ready for you to discover glowing skin that feels balanced and nourished.
Explore ESPA's precious advent calendar. Hidden within each magical drawer, you will find a hand-selected edit of both brand new, and classic ESPA treasures for the skin, body and mind. Experience the jewels of nature within as you embrace our most loved formulas, each day before Christmas.
The Ultimate Craft Beer Advent Calendar £69.95
Gramophone Musical Advent Calendar £24.99
24 premium craft beers from 24 different breweries, showcasing multiple styles to take you on an insane craft beer journey throughout December!  Take a journey across the UK and Europe featuring some of the hottest breweries about!
Available at The Bier Company  Buy Here
Jingle all the way to Christmas with this delightful gramophone musical advent calendar by Alison Gardiner. Beautifully designed, it comes with 24 mini vinyl records, each with a different Christmas tune – serving as a perfect build up to the big day.
Available at Fortnum & Mason Buy Here
Tipsy Tree Advent Calendar With Wine £74.95
BARBER PRO 12 Days of Grooming Essentials Advent Calendar £39
This fun Tipsy Tree Advent Calendar With Wine makes a great Christmas decoration! Each number holds a bottle of wine, and once you've counted down the days to Christmas you can refill with your own!
Available from Love My Gifts
The BARBER PRO Advent Calendar is packed with 12 award-winning masks for the face and eyes, as well as a number of luxury grooming essentials. Treat the men in your life to this seasonal gift
Clarins Christmas Calendar for Men £52
Men's Advent Calendar, £215 worth £623
Cleanse, moisturise and energise, the Clarins Men 12 days of Christmas advent calendar provides all, making this the perfect gift or treat.
Available at John Lewis
Let him in on the action with this Liberty all-inclusive advent calendar, armed with an expert curation guaranteed to delight any indulgence-seeking gent. Inspired by their iconic original, the Men's Advent Calendar features 25 Liberty print drawers containing must-have products from our beauty hall and beyond. Expect game-changing skin care from the likes of Augustinus Bader, VENN and Dr Barbara Sturm, grooming essentials from Davines, fragrance from D.S. & Durga and, not forgetting, a signature Liberty tipple. Whether gifting to loved one or treating yourself, it's the ultimate festive countdown for the hard-to-please – so snap yours up quickly to avoid disappointment!
Happy Socks 24 Days of Holiday Socks Advent Calendar £165
Here's a gift that just won't quit giving. This Christmas, give the ultimate odour-busting, scent-enhancing, confidence-boosting gift encapsulated in the LYNX 24-Day Countdown Calendar.
This gift set features 24 individual gift boxes containing 13 LYNX products and 11 gift items – the only way to count down to the big event this Christmas!
There'll be no need to fake happiness when he unwraps this bad boy. Trust us. Every day reveals an exciting new surprise. LYNX Africa, Java and Recharge Bodywashes wash away odour, leaving him to decide how to play his 12 hours of freshness.
Countdown the festive season in style this year with this fun advent calendar from Happy Socks. Great for gifting, you'll find a fresh pair of vibrant socks behind each compartment, leaving you with a new set of 24 socks for your top drawer. Each pair is made from a breezy combed cotton blend which is softer and smoother than ordinary cotton. Plus, they have reinforced heels and toes which minimises the risk of awkward holes. The countdown to Holiday Season is officially on.
Available at John Lewis
007 JAMES BOND Advent Calendar, £199
ATELIER COLOGNE Luxury limited-edition advent calendar £240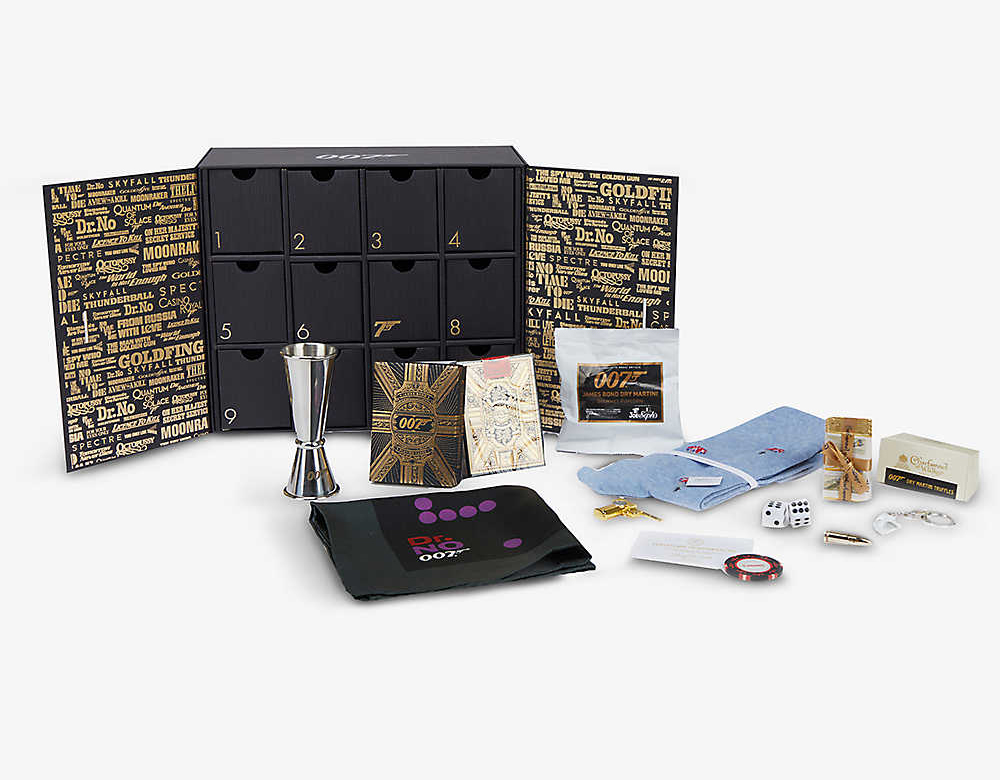 If the man in your life is a fan of 007, he'll love to step into Bond's shoes with 12 gifts hand-wrapped in buckram embossed paper, ranging from a Dr No silk pocket square to a cocktail jig so he can have his martini shaken not stirred.
Includes: Casino Royale prop chip, gold bullet prop replica, 'the agent' 007 socks, Dr. No silk pocket square, Bond chocolate bars, the golden gun magnet, martini cocktail jig, Safin mask keyring, 007 martini truffles, Bond playing cards, dry martini popcorn, Kamal Khan's lucky dice.
Add delight to every day in the countdown to Christmas. Discover the Degusta Box Limited-Edition Advent Calendar: 24 innovative food and drinks products for 24 days of festive foodie fun. Perfect for enjoying at home with your loved ones or as a present for someone special. We've planned every day to provide a different delicious surprise! You'll discover savings too, and spend less than the price of the individual products.
advent calenders for food lovers
Whittard Chelsea The Hot Chocolate Advent Calendar for Two £60
Degusta Box Limited-Edition Advent Calendar £34.99
24 days dedicated to all things hot chocolate. Indulge in 12 delectable flavours, from signature classics to creative, cutting-edge concoctions, with double servings nestled in each drawer. There's 12 delectable flavours to discover, from signature Luxury and Luxury White to creative, cutting-edge concoctions Sticky Toffee Pudding and Peanut Butter.
Showcased in a glamourous star themed patterned calendar, it's a gift that can be treasured for years to come.
Add delight to every day in the countdown to Christmas. Discover the Degusta Box Limited-Edition Advent Calendar: 24 innovative food and drinks products for 24 days of festive foodie fun. Perfect for enjoying at home with your loved ones or as a present for someone special.  Every day provides a different delicious surprise! You'll discover savings too, and spend less than the price of the individual products.
Fortnum's Filled Wooden House Advent Calendar £135
PLAY IN CHOC ADVENT CALENDAR £55
Make every day in December a joy-filled occasion with our Christmas Wooden House Advent Calendar. Behind every small numbered door you will find an array of sweet delicacies and treats galore, including Fortnum's milk chocolate coins, foiled milk chocolate Santa's and snowmen, foiled milk chocolate balls, and natural fruit pectin jellies.
Countdown to Christmas with Play in Choc's famous, eco-friendly advent calendar. Behind each of the 24 windows you'll find a super-cute festive toy plus  dreamy, creamy chocolates and fun facts card. That's three treats every day! Each planet-friendly collectable doubles up as a super-cute decoration. Not-so-secret news; adults love our ethical yuletide calendars as much as children. 
The outer sleeve of the advent can also be opened up into a landscape to play with all 24 toys.
Joe & Sephs Gourmet Popcorn Advent Calendar £25
Artisan Biscuit Advent Calendar £67.50
Behind 24 festive cubbyholes you'll find 19 unique flavours of our award-winning, gourmet popcorn! Including a merry collection of our most popular gourmet popcorn flavours, our festive favourites and several marvellous exclusives. All guaranteed to make December the most wonderful time of the year!
Attention biscuit lovers! 25 delicious organic biscuits in  biscuit advent box.
What better way to count down to Christmas than with a delicious handmade biscuit to taste each day… because Christmas is the time for indulgent tea and biscuits everyday!