Lifestyle
Things to do this Easter in London
By
|
If you're looking for ideas this Easter and you're in London. Check out our guide to the twelve most  eggcellent things to do. With or without chocolate.
2. Cadbury's Easter Egg Hunts
Explore stunning National Trust locations whilst you hunt for chocolate eggs. They're taking place all over the country, in London you'll find them at Ham House in Richmond, Fenton House in Hampstead,  Morden Hall Park, Sutton House in Hackney, Osterley Park in Isleworth, Rainham Hall in Havering, and Red House in Bexleyheath .
  The Cadbury's Hunts take place from Friday 30th March until Monday 2nd April, entrance £2.
  2.  Lindt Bunny Hunt at Hampton Court
Hunt for the infamous Lindt Gold Bunnies around the stunning home and gardens of Henry VIII. Other activities include:
Decorate your own ceramic chocolate cup to enjoy your favourite drink at home.
Concoct your own Georgian style chocolate drink to your taste.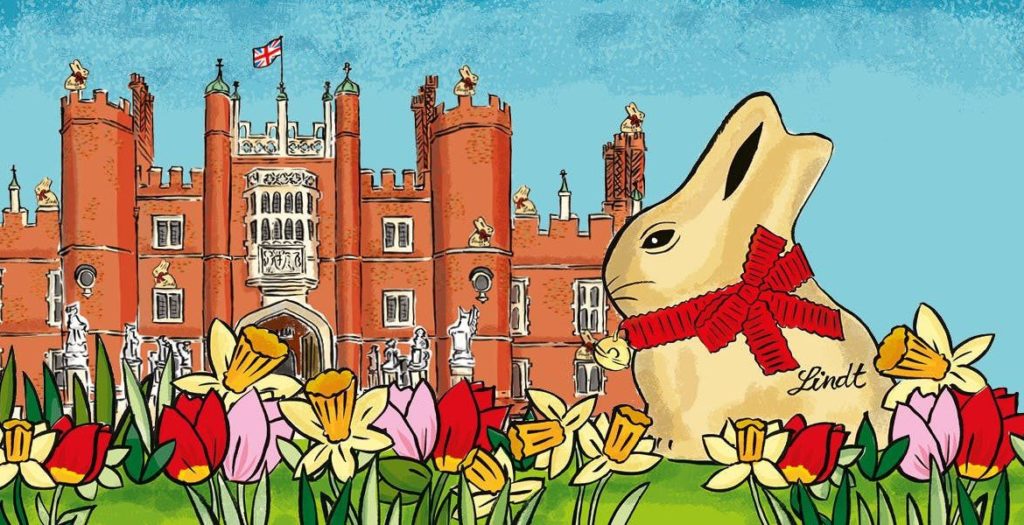 The Hunt will take place between 26th March and 15th April. Egg Hunt is included in the Palace entrance fee.

3.  Deep fried Creme Egg sundaes 
Mac & Wild are going eggstra this Easter with their deep-fried Creme Egg sundaes.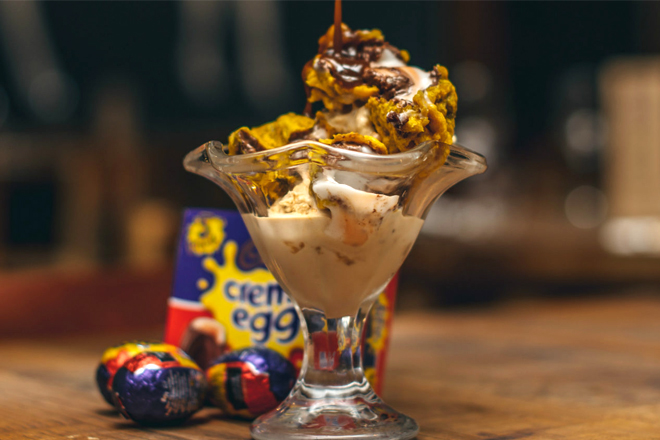 The sundae will be available from Monday 26th March until Monday 2nd April. Find Mac & Wild in Fitzrovia or Devonshire Square. 
4.   Triple Chocolate Egg & Soldiers at Christopher's
Eggy soldiers, which are actually  sugar-coated churros and chocolate eggs filled with lemon and white chocolate, hot milk chocolate and molten dark chocolate.
Available from Friday 30th March until Monday 2nd April. Find Christopher's at 18 Wellington Street, Covent Garden, WC2E 7DD. 
5. Chocolate Afternoon Tea at Lanes of London
If you're after a chocolatey afternoon tea. Head to Lanes of London for Mad Hatter-inspired cupcakes, brownies and chocolate tea cups filled with blackcurrant hibiscus white chocolate cream and so much more.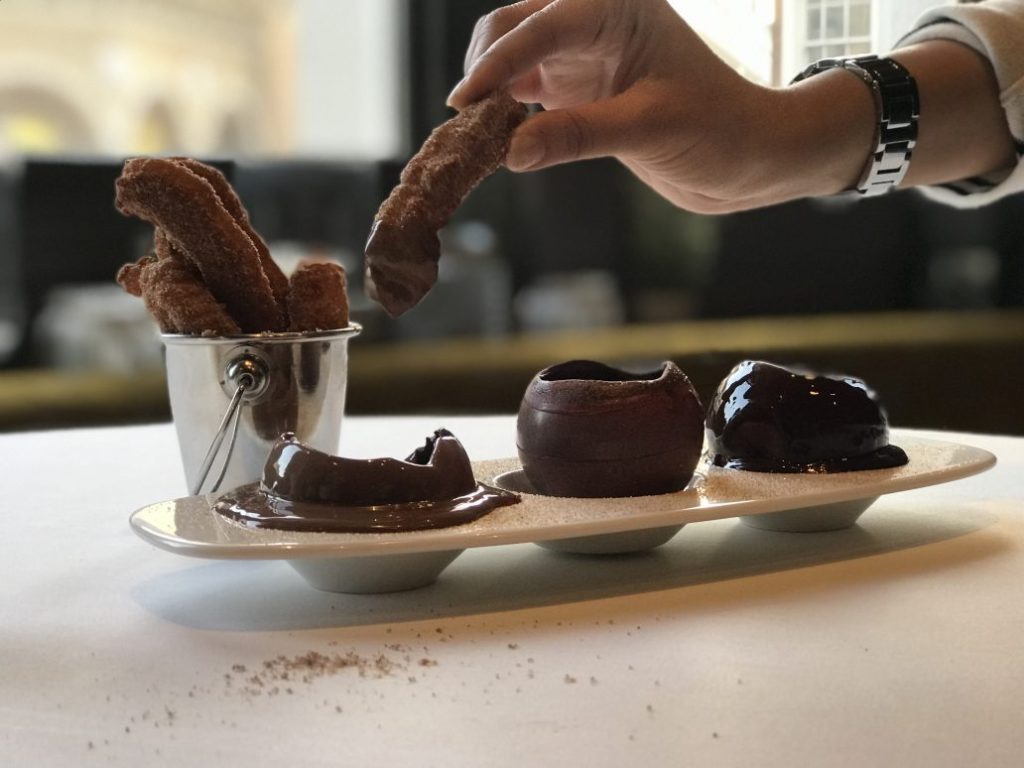 Available between Friday 30th March and Sunday 1st April, from 12-5pm.  Lanes of London is at 140 Park Lane, Mayfair, W1K 7AA.
6.  Bunny cuddles at South Place Hotel
We're not eggsactly sure how bunnies got mixed up with Easter but we love this cute and cuddly Easter symbol. South Place Hotel are borrowing some bunnies from Spitalfields City Farm and they will be available for cuddles throughout Easter Sunday.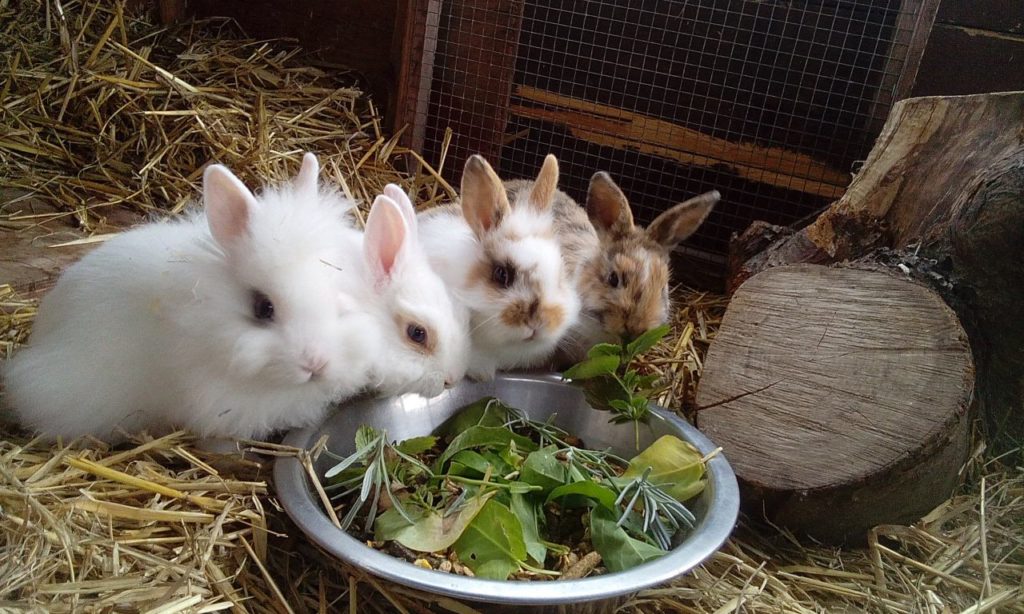 Find South Place Hotel at 3 South Place, EC2M 2AF.
7. Egg-shaped bowling balls at QUEENS
QUEENS have decided that rolling an egg-shaped ball will be a bit of fun this Easter. Battle it out with your friends and family and you could be in with a chance to win a beautiful chocolate Egg made for
champions.
Their Easter Egg-travaganza is taking place over the Easter weekend, naturally. Find QUEENS at 17 Queensway London, W2 4PQ. 
8. Canopy Market Easter Special
Canopy Market in King's Cross is kicking off with an Easter special, featuring hot cross buns, an easter egg hunt and a petting farm, as well as all the regular traders. With appearances from Bread Ahead, Casa Cannoli and Le Jeune Chocolatiers, you're in for an absolute treat.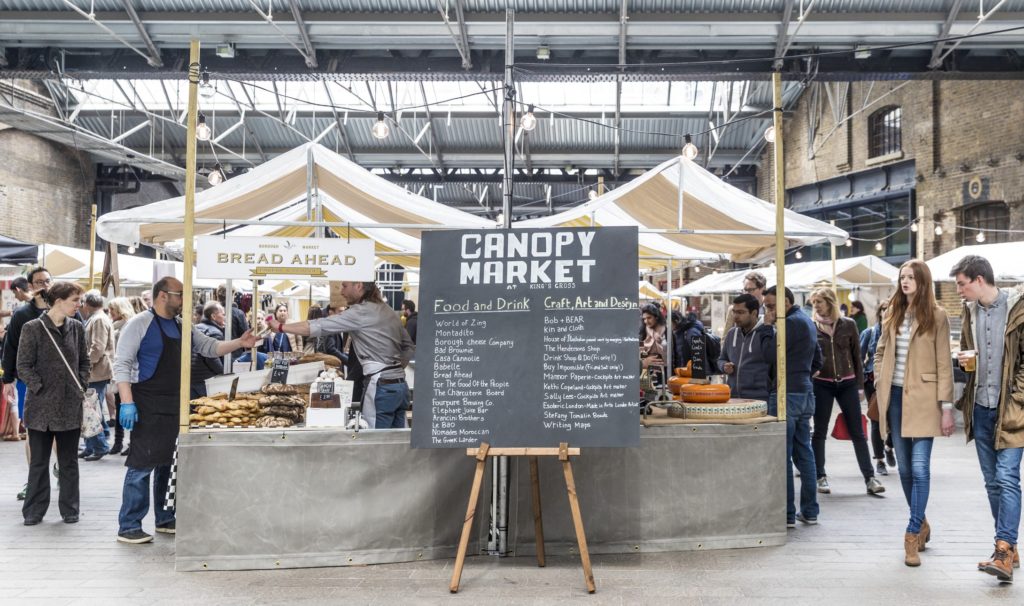 Canopy Market will be open from Friday 30th March until Sunday 1st April. You'll find it at West Handyside Canopy, just off Granary Square, King's Cross, N1C 4BZ.
9. Peter Rabbit-themed Festival at Kew Gardens
Kew Gardens has gone Peter Rabbit MAD, it has all sorts of family-friendly activities throughout the grounds.
The festival is taking place between 30th March and 15th April  you can check out the full schedule of events here.
10.Willy Wonka Party
The World of Pure Imagination is coming to life, prepare for an all-day party with fire-breathers, stilt walkers, Oompa Loompas, karaoke and a photo booth. Get your golden ticket here. tickets for the all-day party are just £8.
The Willy Wonka Brunch Party takes place on Friday 30th March. Find Bunga Bunga Battersea at 37 Battersea Bridge Road, SW11 3BA. 
11. Easter Egg Pizza at Bunga Bunga
Bunga Bunga is already pretty legendary on the pizza front, but this Easter  they are launching The Eggs-troadinaire Pizza, topped with all things Easter. A custard base topped with Creme Eggs, Mini Eggs, Lindt Chocolate Bunnies and more.
Available from Friday 30th March until Monday 2nd April. Find Bunga Bunga at 167 Drury Lane, Covent Garden, WC2B 5PG (only available at the Covent Garden branch).
12. Honey Bee Afternoon Tea at Dalloway Terrace, Bloomsbury
Dalloway Terrace has been transformed with a bee inspired interior. The terrace has been reimagined by master florist Nikki Tibbles Wild at Heart and is adorned with an abundance of wild English flowers creating a kaleidoscope of colour, with oversized bees laced within the meadow styled blossom.
The exceptional 'Honey Bee Afternoon Tea' takes inspiration from the humble bee. Highlights include; honey roast ham and English mustard mayonnaise sandwiches served on wholemeal bread, Vanilla scones and Morello cherry scones served with clotted cream, raw honey and homemade jam and Lemon shortbread served with lavender honey and blueberry cream crowned with a blueberry glaze. £35 per person.
16-22 Great Russell Stree, Fitzrovia WC1B 3NN; dallowayterrace.com