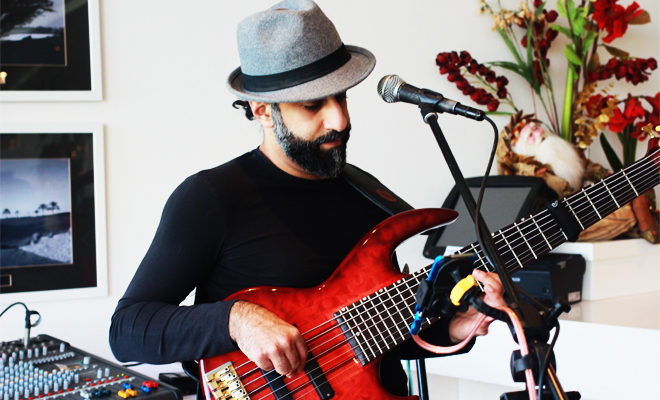 Celebrity
Ahmed Al Qasim – Bahrain's Jazz Maestro
By
|
A lazy Friday afternoon, soft chatter, clinking of glasses, velvet sounds of jazz and blues and a honey syrup voice that misleads you to think you are in a different time, a different country.  But you are still very much in Bahrain – and you are in auspicious company, with one of the most talented musicians and singers that Bahrain has produced.
Meet Ahmed AlQasim, the man responsible for confusing your senses and melting your very being with his musical and singing talent.  We sat down with Ahmed over coffee and asked him about how it all started:
1 – How long have you been playing the bass guitar?
I've been playing the bass guitar for the last eighteen years.
2 – How long have you been singing?
I have always loved singing along with music since childhood. And singing came very naturally when I first committed to learning an instrument. My family used to ask me to sing at gatherings back when I was quite young and I'd always be excited to oblige. However, I only started singing as a lead vocalist in 2004.
3 – What was the first instrument you ever picked up / learned?
I first took piano lessons at a young age and later started participating in musical activities playing the piano, but not singing. After dropping the piano for several years, I picked up the classical guitar in 1996 because I wanted to play the chords to popular songs with all my other friends in the neighborhood.  Coincidentally, the members of the Arabic band I used to play with, Al Layali, recommended that I learn how to play the bass guitar because it will help improve the sound of the band. So I ended up learning the guitar and the bass guitar almost at the same time, and started performing live shows playing the bass in 1998.
4 – Why Jazz & Blues? Who and what was the reason you got into this style of music?
 I'm not sure I can explain why I love a certain type music, in this case Jazz and Blues, but I fell in love with it the moment I heard it. And that love grew the more I dived deeper into them as genres. The two people that first introduced me to Jazz back in 2000 were my band mates, Nabil Engineer and Mirza Al Shareef.  Because of the age gap between us, they had much more experience when it comes to music and who to listen to.  One thing that attracts me to Jazz is that you have to be pretty good at playing your instrument if you even want to attempt playing Jazz. It's a very demanding and challenging style, so you when you hear real jazz artists, you know for sure that they KNOW what they're doing. The other thing I love about Jazz is the freedom and space that it gives the musician for improvisation and musical expression. Blues is a different story. It's funny how most blues songs talk about heartache, pain, sorrow and regret, yet nothing puts a smile on my face as much as good blues music does.
5 – What is your personal favourite song to perform?
There are quite a few, but my recent favourite is Kurt Elling's version of Nature Boy. I had to practice a lot to get it right because it's quite challenging, since it's much faster than the original version and has a section purely for scatting (singing improvisational phrases without the use of words). It always surprises and certainly pleases the crowd.
6 – If you could meet any of the artists you play, who would it be?
Unfortunately, in the world of Jazz, most of the greats are no longer with us like Frank Sinatra and Nat King Cole to name a few. But I would certainly love to meet any of the three modern jazz vocal geniuses: Kurt Elling, Al Jarreau, and Bobby McFerrin.
Ahmed AlQasim's Jazz Experience is a unique solo jazz music show created in 2013, with Ahmed singing, playing his 7-string bass guitar, and controlling the music programming.
The show mainly combines jazz, swing, and blues music where Ahmed performs various classics of Frank Sinatra, Nat King Cole, George Benson, Ray Charles, and B.B. King, along with modern hits of artists such as Michael Buble, Diana Krall, Norah Jones, Gregory Porter, and more.
He also performs jazzy twists of classic songs of non-jazz artists like Lionel Richie, Sting, Michael Jackson, and The Beatles, as well as improvisation pieces on his bass guitar.
Ahmed is currently the resident performer at Links Restaurant at the Royal Golf Club every Friday during brunch and dinner for the past two years. He is also a regular performer at Café Amsterdam, Polo Gastropub, and the Capital Club.
Words/Pics: @onemorehina