Beauty
Beauty Brand of the Week – Dr Russo Sun Protective Skincare
By
|
What do we love more than skincare here at Habibti HQ? Skincare that is smart! and Dr Russo Sun Protective range is exactly that.
With 25 years of clinical expertise, the Dr Russo Sun Protective Skincare range has been created to prevent the ageing effects of UV rays, the primary cause of premature skin ageing.  Cosmetic Surgeon Dr Luca Russo MD, developed his innovative daily skincare regime featuring four, easy to use products that help prevent skin ageing. Focused on daytime SPF protection and night time repair, the range is packed with ultra-potent antioxidants and introduces breakthrough innovative Wash-onTM SPF 30 technology. We love that it is perfect for the extreme daily sun exposure in Middle East.
SPF 30  SUN PROTECTIVE  DAY CLEANSER £48
This SPF cleansing milk leaves skin clean, fresh and glowing and is water resistant up to 80 minutes, the QuantasphereTM encapsulated active ingredients and  UV filters minimise absorption and brighten skin.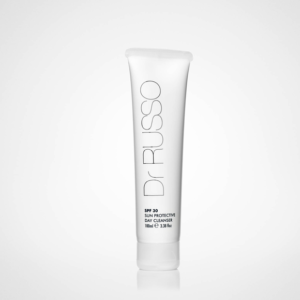 SPF 30  SUN PROTECTIVE  DAY MOISTURISER £95
This advanced moisturiser contains a potent antioxidant multi-vitamin ACE complex, retinol, pentapeptides and hyaluronic acid to fight premature skin ageing. This high performance day moisturiser plumps the skin, increases collagen production and restores the natural moisture balance, while providing SPF 30 protection.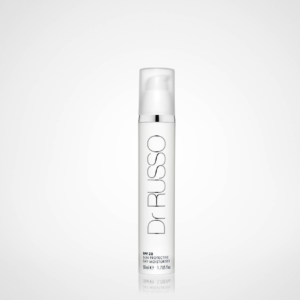 NIGHT REPAIR EXFOLIATING CLEANSER £48
This advanced cleanser melts into pores, transforming into a milk for effective removal, leaving clean, fresh, glowing skin and at the same time, gently exfoliating damaged cells. A delicious soufflé balm that works deep into the pores to combat daily grime and lift out impurities. Micronised organic pearls for mild mechanical exfoliation. An Advanced blend of alpha hydroxic acids (glycolic, azelaic, malic, citric and lactic acid) exfoliate and stimulate cell renewal.
NIGHT REPAIR FACE SERUM £128
This multivitamin, high performance face serum plumps the skin, increases collagen production and restores natural moisture balance. A potent antioxidant vitamin ACE complex to fight free radicals. Slow release Retinol minimises potential reaction and increase the duration of efficacy, Hyaluronic Acid  moisturises.
Dr Luca Russo can be contacted via http://drrussoskincare.com