Food
Edible Eid Gifts
By
|
With Eid just a little over a week away, we've rounded up some fabulous alternative edible Eid gifts. So whether your looking for dates, cookies or hampers, read on to discover some of our favourite hand picked gifts.
The Kristy Kreme Dozen gets an Eid Makeover.
Celebrate Eid al Fitr with their decorative doughnut dozen. Featuring their purple icing brownie batter filled doughnut with edible moon and stars sugar plaque, gold ring doughnuts that are hand-piped and decorative green sparkle rings.
Available for delivery between 29th April and 6th May (excluding 2nd May).
Cutter & Squidge
Inside their Eid Mubarak selection box you'll find the daintiest baby Biskies in flavours including Strawberries & Cream, Blueberry Cheesecake, Salted Caramel S'more, Billionaire Dreambar, Brownie Caramel, and our Classic S'more.
As well as baby Biskies, there's a selection of mini cupcakes and macarons.
The Eid selection box is packaged with a bespoke Eid Mubarak designed sleeve.
From £21.99
Available for next day delivery.
M&S Eid Gift Bag
This gift bag is a wonderful present for friends and family celebrating Eid. Inside the reusable gold and black juco bag they'll find a range of sweet treats to enjoy. It includes a jar of organic Zambian honey with walnuts, a selection of chocolate-coated Medjool dates, liquid salted caramels and a selection of white and milk chocolate coated caramelised nuts.
£35.00
Order now for delivery from 26 April
Natalie Eid Mubarak Chocolate Selection, Box of 12, 140g
This celebratory 12 piece gift box contains an assortment of premium Belgian chocolates.
Milk, white and dark chocolate fillings include buttery caramel fudge, hand-piped creamy gianduja, nutty pralines and more. Finished with a beautiful, hand-tied ribbon and tag.
£8.50
Available at John Lewis
CocoaPod Chocolates have created The perfect gift for Eid, a chocolate gift with solid blocks of milk chocolate.
Each chocolate mosaic block is decorated with colourful patterns.
Add a personalised message with up to 20 words to the sticker on the inside of the lid.
£11.95
Available on Fodabox
Biscuiteers Eid tin is filled with decadently hand-iced lemon biscuits in gorgeous shades of gold, purple, blue and pink and includes a crescent moon, stars and lanterns.
Presented in their famous square-edged keepsake tin.
£35.00
Available from Biscuiteers
They deliver this item 7 days a week. This item is available for next day delivery (order before 1pm) and can be delivered worldwide.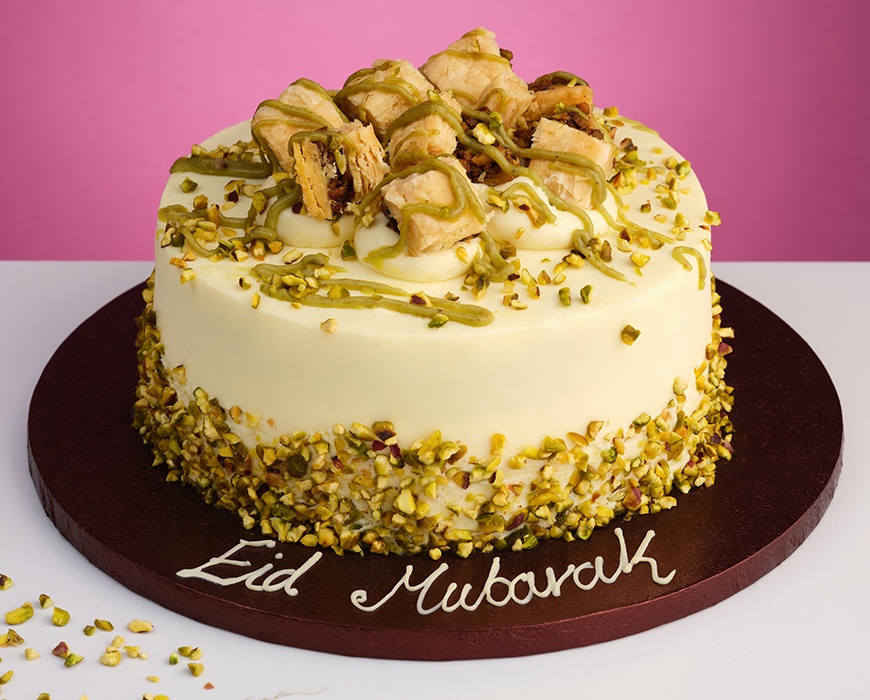 Lola's Cupcakes
BAKLAVA EID CAKE
Lola's Baklava Layer cake is the ideal treat for your family and friends. The layer cake pairs a pistachio sponge with honey mascarpone, and is topped with baklava, pistachio nibs and pistachio drizzle.
Lola's are proud to be donating 5% of their Eid revenues to Sufra, a local Food bank servicing the Brent community near their bakery.
From £22.50
Available from 26 April
Selected Cupcakes and Cakes can be ordered by 2pm the day before desired delivery. All other items must be ordered with 2 days notice before 2pm.
Cassandra Filled Dates Ballotin (1kg)
Delight in the unmatched deliciousness of Bateel's Cassandra collection. The secret behind every date's beautiful sweetness lies in its roots – Bateel's organic date farms, nestled in a fertile oasis in the Al Ghat region of Saudi Arabia, just north of the capital, Riyadh, where the unique terroir lends itself to the flowering plant's inimitable taste.
£80.00
Available at Harrods
Bad Brownie
Eid Brownie Bites Box
Limited-edition Eid Brownie Bites Box is filled with exciting new flavours inspired by Arabic cuisine – think traditional, but with a Bad Brownie twist!
Among these new flavours are Orange Blossom & Pistachio and Rose & Raspberry brownie bites, which are infused with fragrant, floral undertones, semolina cookie-topped Ma'amoul brownie is inspired by traditional ma'amoul biscuits. It also includes their bestselling Salted Caramel flavour.
Plus, each box comes with a complimentary Eid Mubarak gifting sleeve.
£20.00
Available for immediate delivery or preorder. Next working day service for orders placed before 2pm. Orders placed after 2pm will be shipped the following working day.
Raphia
An assortment of melt-in-your mouth Ghriba (Moroccan shortbread cookies). Cracks in the surface of the cookie led to the name Ghriba Behla which loosely translates as "silly" cookies. Here at Raphia we prefer Kooky.
Flavour Profiles: Almond, Chocolate, Pistachio, Walnut
£38.00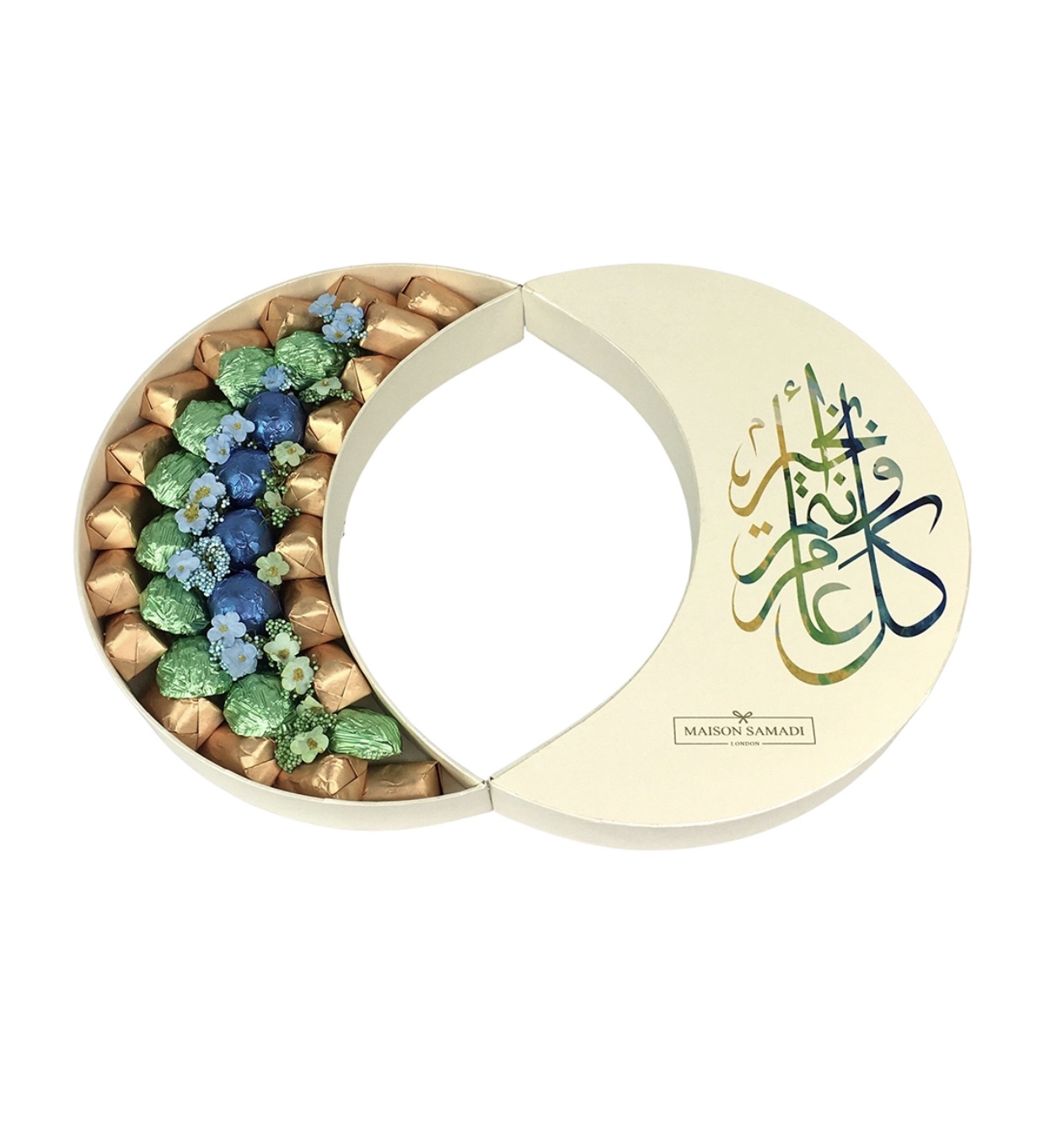 Crescent Ramadan & Eid Chocolate & Truffles Box
A gorgeous gift that anyone would be over the moon to receive. Maison Samadi's Crescent Chocolate & Truffles Box is filled with a selection of blue foil wrapped milk chocolate and salted caramel truffles, green foil wrapped milk chocolates with gianduja and hazelnuts, gold foil wrapped milk chocolates with a strawberry cheesecake filling, and gold wrapped dark chocolates with a pistachio paste centre. And they taste as good as they look.
£69.00
Available at Harvey Nichols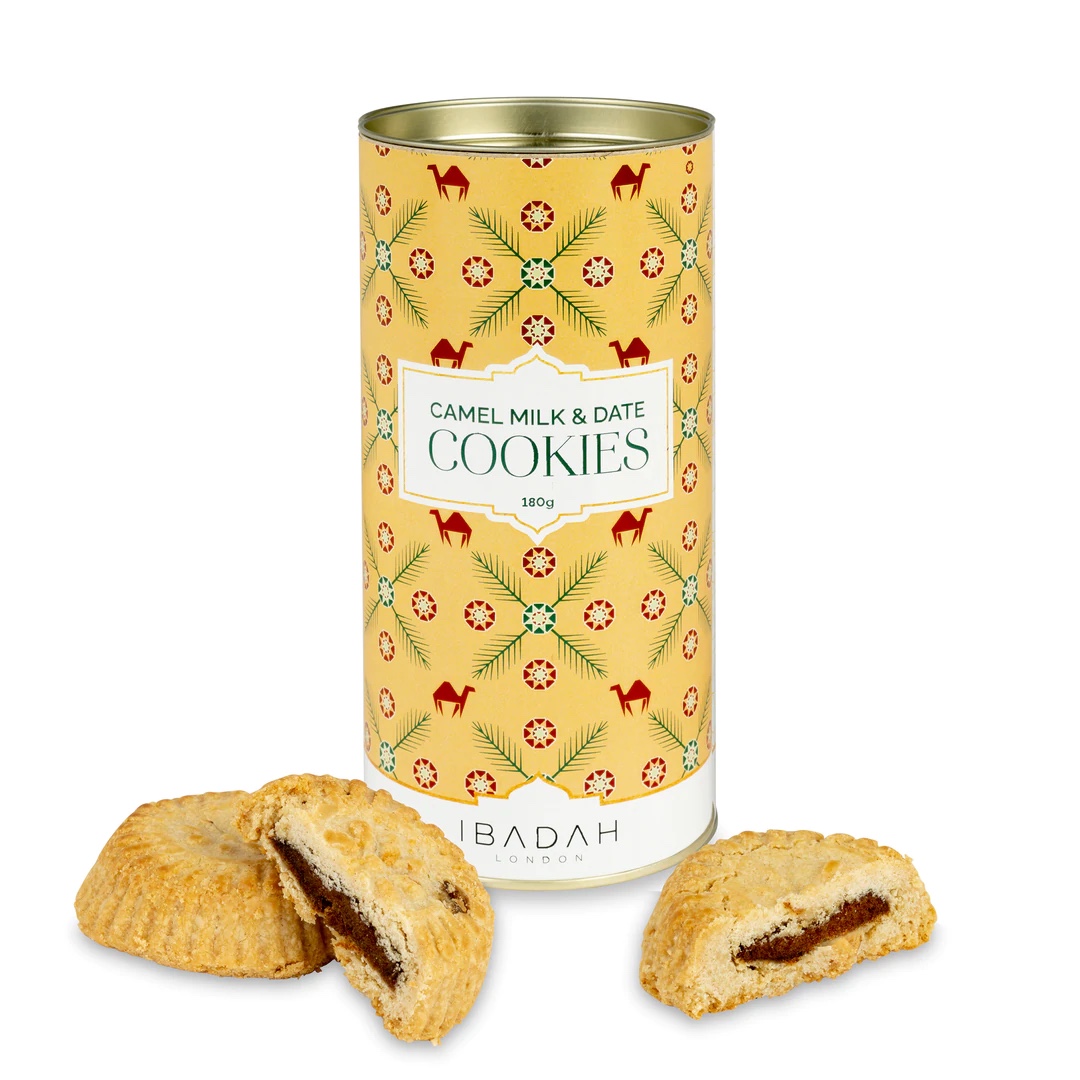 CAMEL MILK & DATE COOKIES, 200G
Ibadah London exclusive.
Cookies made from camel milk (salty) and date paste (sweet). Perfect as a standalone gift or as hamper addition.
£7.99
Available on Ibadahlondon.com
Delivery cutoff for Eid- Tuesday 26th April 2022