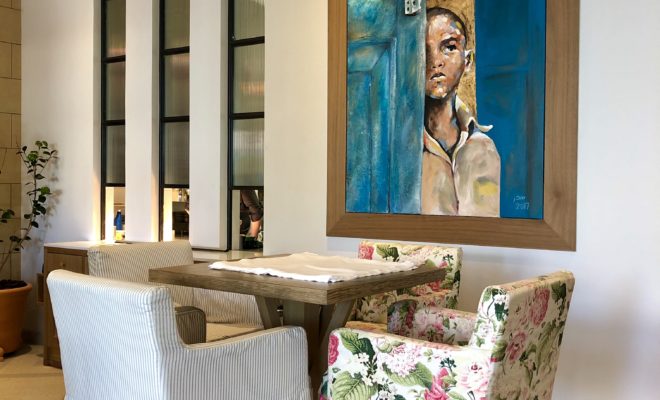 Food
A Friday Brunch like no other
By
|
Habibti Magazine was recently invited to experience The Merchant House newly launched Friday Brunch at their rooftop restaurant, Indigo.
A Campbell Gray Hotel, The Merchant House is Bahrain's first 5 star boutique hotel, located in the heart of Manama.
The hotel itself is spectacular and it deserves a review all of its own.
But for now, we are taking in the beautiful Indigo restaurant, which leads out to an even more beautiful terrace, with cosy seating, luscious plants and a great ambience.
Unlike other brunches, this Brunch is a truly spectacularly lavish and relaxed affair, with a set course of Mediterranean and Asian influenced dishes, being served directly to the table at your own leisure and pace.
The menu has plenty of variety and definitely a crowd pleaser.
Do not let the set menu put you off, you're in good hands as there's something for everyone. Each dish is introduced and explained, beautifully presented and absolutely delicious.
We start with a fresh bread basket with mixed tapenades, followed by breakfast pancakes, poached eggs on smoked salmon and gilled halloumi with smoked chipotle jam and date syrup. This is followed by wafu salad, Sea bass sashimi, and lamb shank tartine.
Now on to the mains, yes we have only just started the mains, with seared scallops and prawns, hearty mushroom risotto, and roast chicken served on sweet potatoes and green peppercorn jus.
Dessert is an equally indulgent affair with chocolate fondant cake as well as lime panna cotta with fresh mango sauce.
Friday Brunch at The merchant House, Indigo is a genuinely lovely and leisurely Friday brunch; not to be missed and highly recommended from the Habibti team.
BD28 for food and non alcoholic beverages
BD38 for food and alcoholic beverages
Children between 5 to 10 years old at 50% off
Children under 4 years old are free
For more information and reservations:
16 671000
www.themerchanthouse.com
@themerchanthouse