Celebrity
Gigi Hadid celebrates the TommyXGigi Collection in Dubai, UAE
By
|
Gigi Hadid celebrates the TommyXGigi Collection in Dubai, UAE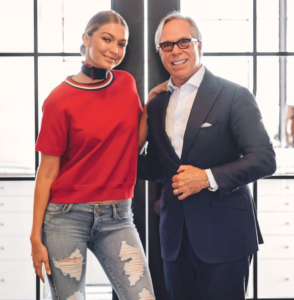 Supermodel Gigi Hadid showcased the 'TommyXGigi' collection in Dubai, UAE on October 10, 2016, coinciding with the end of Arab Fashion Week.
As part of her global campaign for her '#TogetherTour,' the TommyXGigi collection, is inspired by each city's unique twist on the collection's signature style.
Gigi's official Press tour included taking a yacht tour through the city's harbor to see some of Dubai's most iconic landmarks together with six local influencers, who shared their favourite local fashion inspirations and styled the TommyXGigi collection with their own Dubai twist.
In continuation of the official Press Tour, Gigi made an appearance at the "Fashion Catwalk" Dubai Mall, to meet fans.
The TommyXGigi collection features women's sportswear, footwear and accessories, including watches, sunglasses and THE GIRL fragrance. The designs celebrate Gigi's unique take on modern style, fused with Hilfiger's signature "classic American cool" heritage. The look is effortless, youthful and cool – it's Gigi's new take on nautical with a playful, romantic edge.
Gigi's multi-city #TogetherTour kicked-off on September 2nd in Berlin, Germany, where she attended the Bread & Butter by Zalando trend show and premiered the TommyXGigi collection for the first time.
The collection's global premiere on the runway took place on September 9th at New York Fashion Week
She also visited Milan, Tokyo on September 12th and Shanghai on October 14th.
The TommyXGigi collection is currently available at select Tommy Hilfiger stores and online.