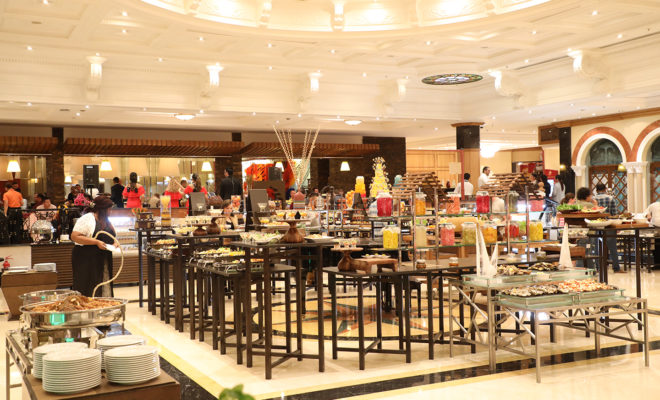 Food
The Gulf Grand Brunch
By
|
Carrying the legacy and pride of being Bahrain's first 5 star hotel, the Gulf Hotel never does anything by half measures; it's history, its legacy wouldn't allow it.
Not only does this hold true for every one of its 10 fine dining restaurants, 4 lounges, cafes and 2 sparkling bars, it holds especially true for The Gulf Hotel's Gulf Grand Brunch at Al Waha Restaurant every Friday.
The Gulf Grand Brunch is exactly that; grand. Spread over the Al Waha Restaurant, the foyer area and spilling into the Margerita Mexicana Restaurant it's a feast for the eyes as well as the stomach.

With over seventeen (that's not a typo) different cuisine stations, each station could quite easily be a stand alone buffet in its own right.
Starting with a huge cheese and salad selection, with local and international style salads, mezzes, dips and cheeses, followed by the soup corner with three different soup selections and a wide range of freshly baked bread, leading on to main course food stations, such as Live Cooking for seafood and meat, The Butchery, Grill station, The Carvery, Mexican Corner, Pork Station, Italian Corner, Chinese Corner, Thai Corner and Japanese Corner with fresh sushi.
For those who enjoy a drink with their meal, have access to the bar, offering wines and selected spirits and beers.
To finish off the brunch are four stations dedicated to your sweet tooth, from the Ice Cream stand to the Pastry Corner serving crepes and a chocolate fountain, and an ample array of cakes, pastries and traditional desserts at the pastry corner. Not forgetting the Chocolate & Fruit room, which also has a selection of freshly squeezed juices.
As well as delicious food and ample variety, The Gulf Grand Brunch has succeeded in creating a lively and enjoyable atmosphere, making it the ideal venue to enjoy a birthday, anniversary or even just celebrate that it's Friday. With a live band, singing throughout the afternoon, you can't help tapping your feet along and even getting up to dance with your friends.
And while you're having a great time, you needn't worry about the children. With a Kids Corner that has a specially created menu for the little ones, from mini burgers, to mini pizzas and chicken tenders as well as children's activities and a clown to keep them entertained, its a brunch that will keep everyone happy.
Editors Tip –
* It's an extremely fun afternoon out; dress up and enjoy the afternoon
* If loud music is not your idea of a fun afternoon out, then be sure to advance book a table away from the band.
More information:
BD32 net per person
Every Friday, 12:30 to 4pm
With free access to swimming pool
For bookings call The Gulf Hotel, 17 713000
Instagram @thegulfhotelbahrain