Fashion
Louis Vuitton Resort 2019
By
|
From the renewal of Nicolas Ghesquière's contract with Louis Vuitton and announcing it on social media with the hash tag #notgoinganywhere, to his collaboration with dear friend and former Vogue Creative Director Grace Coddington – the Louis Vuitton 2019 resort collection was clear imagery and literal representation of eccentricity, executive reform, and a tongue-in-cheek ode to the '80s.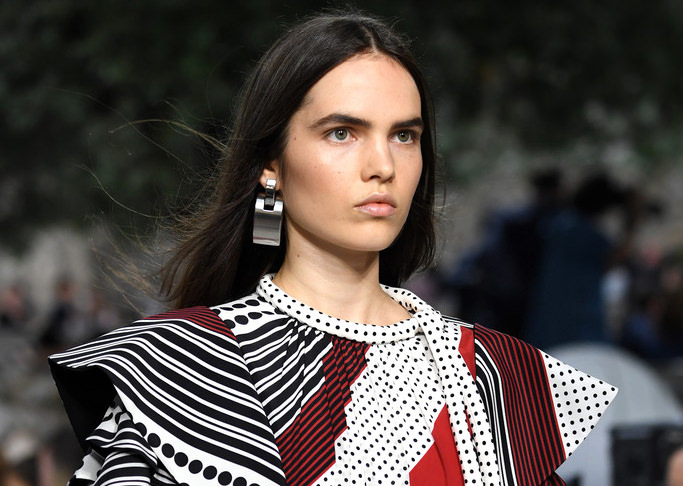 We often talk about the inevitable changes in the fashion industry and the past five months were solid proof to that. From the constant change of designers in fashion houses, to the rapid shift of shopping experiences to luxury goods (leather goods, watches, jewelry, etc.) Ghesquière's announcement was a positive remark amidst these troubling times within the industry and proved that although things are changing, his position & vision for the house of Vuitton are not.
Being his fifth resort collection for the house, Ghesquière held the show at the Fondation Maeght in St. Paul-de-Vence. Looking back at the venues where the shows were held, its recurrent theme seemed to be seeing something new, and going somewhere new – call it a luxurious experience if you'd prefer, but the collection was nothing but that.
Very much inspired by the '80s, the age of excess in both detail and design, each ensemble involved several individualistic pieces that formed a look; one that befitted every possible Vuitton customer, and avid individual-esque fashion enthusiast. From beaded collars, hand-painted acid-washed denim, silk lingerie, to the subtle but not so subtle hints of the LV monograms, the pieces truly pay homage to the '80s in sleekest of ways.
Apart from the garments, Vuitton's accessory game has never been on such a high as this one. From developing it's bags to 5 new forms, each varied in color, shape and monogram, to transforming last season's groundbreaking LV sneaker, and taking it to new heights by making the casual everyday kicks into elevated, over-the-knee statement stunners. Adding onto that, Ghesquière and Coddington's collaboration involved sketches of her beloved cats, Pumpkin and Blanket, and his dog Léon to appear in the shape of handbags and bag tags.
It being the first glimpse into the winter shopping season, and our in-depth insight into the industries prolonging aesthetics, this resort moment is monumental. Ghesquière has delivered once again, and in the current fashion climate of uncertainty Louis Vuitton has never felt more present.