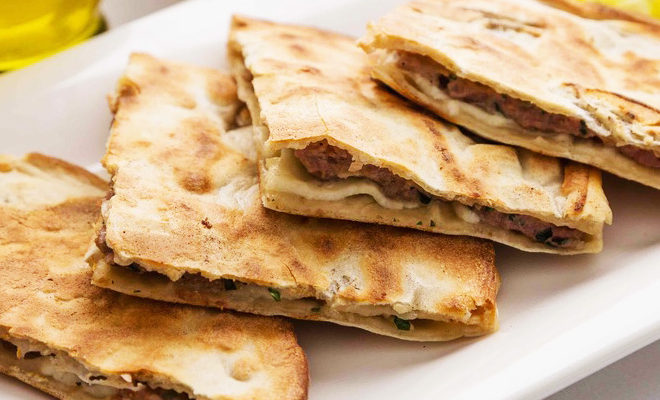 Food
Pitta Stuffed with Meat (Arayes)
By
|
Arayes is a popular market food from the Levant region. A pitta bread sandwich stuffed with minced lamb tomato, onion and spices.
The word Arous (singular of Arayes) was commonly used in the region to refer to all kind of sandwiches.
Ingredients
500 grams minced lamb
500 grams tomatoes, finely chopped
1 medium onion, finely chopped
1/3 cup parsley, finely chopped
1/2 cup olive oil, divided
1/4 teaspoon cinnamon
1/2 teaspoon red chilli pepper
1 teaspoon salt (or to taste)
1/2 teaspoon black pepper
1/2 teaspoon allspice
1 tablespoon pomegranate molasses (optional)
7 to 8 thick loaves pitta bread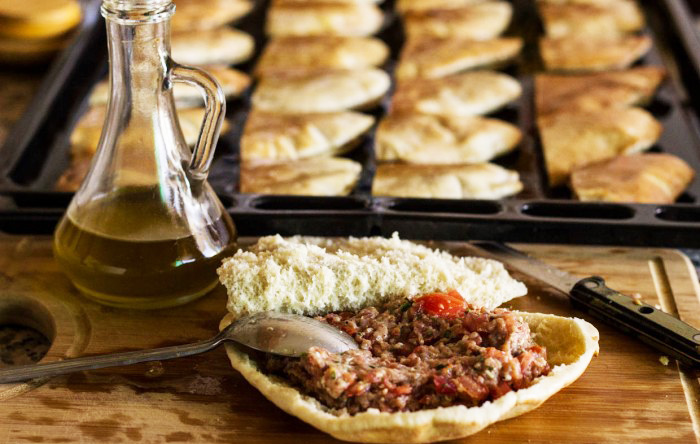 Directions
Preheat oven to 350F.
Mix all the chopped vegetables, herbs & seasoning.
Add the minced lamb and mix till all ingredients are well blended.
Separate bread layers, brush insides & out with seasoned olive oil.
Place meat mix inside and spread on all of the bread.
Top with another bread layer.
Fill Pitta bread the same way.
Place on a baking sheet, and bake till browned and the meat is cooked through.
Can be grilled with an electric grill as well or even on a toaster. The charred lines make it look even better.
Serve hot (whole or cut into triangles) with hummus or yoghurt.