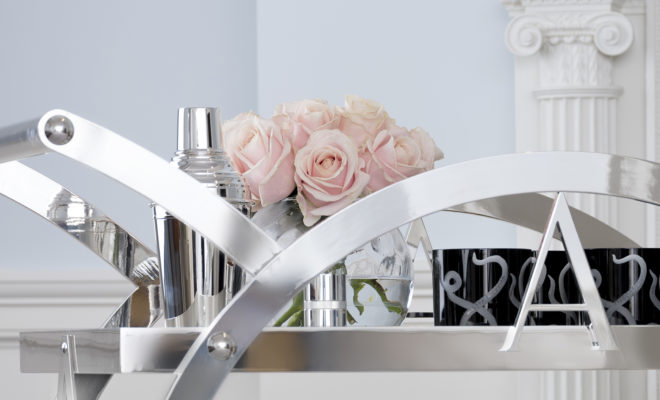 Lifestyle
The Ritz-Carlton, Bahrain Welcomes The Bespoke Asprey Beverage Trolley
By
|
Shaken not stirred, The Ritz-Carlton, Bahrain welcomes the bespoke Asprey trolley for a month-long celebration of craftsmanship between two iconic brands.
Made exclusively for The Ritz-Carlton brand, the Asprey trolley draws inspiration from the most creative and innovative bar designs from the 1920s and 1930s when craft libations marked the height of fashion and when Asprey first started creating beverage shakers.
Celebrating this golden age of unique concoctions and Art Deco glamour, the silver-plated and tempered glass trolley will make its rounds nightly to the resort's award-winning restaurants and elevated Ritz-Carlton Club® Level lounge with a featured menu of craft libations made just for the occasion.

Fitted with the most exclusive of luxury accessories, the trolley features customised ice buckets, beverage coolers, ice tongs, and decanters, in addition to handmade shakers and mouth-blown, hand-engraved glassware, such as a set of 12 tumblers featuring a white engraved octopus motif set against a black background.
The bespoke Asprey trolley will makes its rounds nightly from 7-8 pm at the following restaurants and on Fridays, from 1-2 pm, at La Med's Friday Brunch:
Mondays: Primavera
Tuesdays: Lobby Lounge
Wednesdays: Ritz Gourmet Lounge
Thursdays: Ritz-Carlton Club® Level lounge
Fridays: La Med Friday Brunch (1-2 pm)
Saturdays: Lobby Lounge
Sundays: Plums
Throughout the month, guests can also follow the trolley on Instagram stories @ritzcarltonbahrain.  This exclusive trolley also follows the introduction of Asprey Purple Water beauty amenities in Ritz-Carlton hotels and is available for purchase at http://www.asprey.com/special-commissions.
For more information:
The Ritz-Carlton, Bahrain,
Please call (+973) 1758 0000,
or visit The Ritz-Carlton website at ritzcarlton.com/bahrain