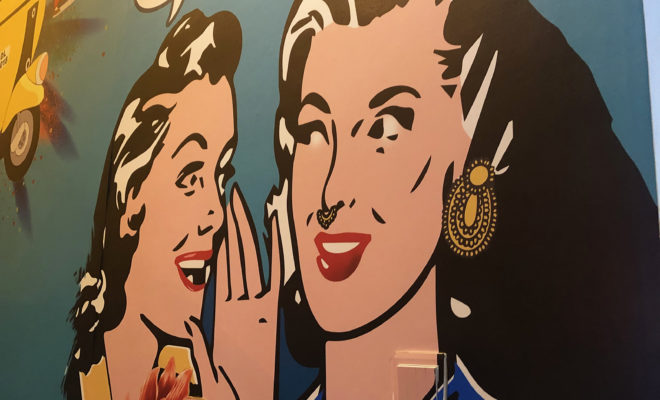 Food
Show Shha Indian Restaurant
By
|
Habibti Magazine was invited to dine at Show Shha Restaurant Juffair, and what a delight it was!  From the moment we stepped into the restaurant, it was like stepping into our favourite aunties house.
The restaurant is quirky, tastefully kitsch and confidently Indian.  With striking pop art scattered around the restaurant, it appeals to the natives and non-natives, with tongue and cheek humour. As well as pop art, the restaurant wall deco design includes big wooden spoons, metal sieves, tea pots, and chopping boards  – everything you would find in your mothers kitchen.

And this is exactly the feel that the restaurant concept is; to feel that you have been invited into the most precious domain of the Indian household – the kitchen. Ruled and commanded by the mother, it is a place where masterful culinary treats are magically created, it is not a place accessible to just anyone.
Yet in this delightful restaurant, you feel you are sitting within the vicinity of were that magic is created.
Piping hot, freshly prepared and aromatic dishes are served to us one after the other. We start with the obligatory popadums or paapad with four different pickles to accompany them with. Swiftly moving on to gol gappe, raaj kachori and mocktails and lassi.

We then move onto chicken tikka ceasar salad, followed by tandoori lamb chops, prawn masala mirch, reshmi kabab, alu paratha and lamb curry, served fresh from the pressure cooker with soft buttery nan. We finish on a sweet note with faluda, and jalebi topped on a glass of lassi.
A fantastic quirky restaurant with a homely feel and amazing food and great service, a must try!
For more information:
Telephone: 13 114556
Social Media: @showshhabh
Bld 1565, Road 2426,
Block 324, Juffair
Opposite Ramee International Hotel