Beauty
Is Silver the new Beauty Gold?
By
|
We've seen gold masks, the obsession with gold serums is now global, and a lot of us have tried gold in face creams. But it's time for a new precious element to take the spotlight.
Silver is known as one of 'the' most mystical of elements. It signifies a quiet power and elegance that comes with no other metal, Understated bling and an amazing flow of energy is what defines this subtle metal.
The benefits of silver in beauty were first discovered in the early twentieth century. Unsurprisingly, it comes with a long list of virtues, antimicrobial, anti-inflammatory, anti-bacterial and anti-fungal. Topically applied silver usually does wonders for everything from burns to colds. During World War I, physicians often used colloidal silver to fight infection.
Silver naturally attacks the cell membranes of bacteria and viruses caused by acne, leaving only healthy skin behind. It also increases cell regeneration and helps renew damaged skin. Now thanks to these beauty brands who are infusing silver into their products, our skincare routine has become a 'little' more luxurious, and a 'lot' more science-based.
Here are some of our favourite products to try.
Dr. Hauschka Renewing Night Conditioner This oil-free night treatment allows your skin to breathe freely. It balances all skin conditions: Dry skin is encouraged to retain oil and moisture, while sensitive skin is soothed and fortified. Oily, blemished skin is calmed and rough skin is smoothed.Silver, extracts of witch hazel and madonna lily support the skin's night-time powers of renewal.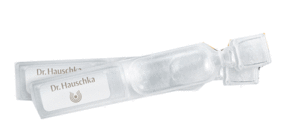 May Lindstrom's Skin Collection May Lindstrom has been called a beauty genius. Her Honey Mud Mask, is a harmonious union of Manuka honey, silver and plant oils infuse your skin with a sheer veil of moisture and practically reverses skin damage.
DHC Platinum Silver Nancolloid Set boosts hydration to reduce the appearance of pores and diminishes fine lines. The set includes Platinum Silver Nanocolloid Lotion toner, Platinum Silver Nanocolloid Milky Essence booster serum and Platinum Silver Nanocolloid Cream moisturiser. Olive oil and Japanese botanicals nourish, Platinum and silver particles hydrate. It brightens, fights wrinkles, minimises pores and smoothes skin.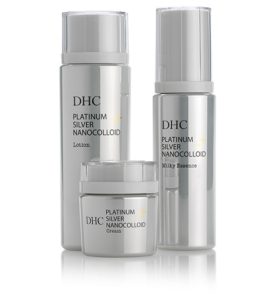 Julisis Silver Night Wash
This mild and aromatic liquid cleanser gently purifies skin from dust, make up-particles, and excessive sebum – without drying. The alchemistic combination of rockrose, aloe, Himalaya salt and liquid silver harmonizes and balances skin and senses – perfect to end the day.