Food
Six delicious Veggie and Vegan Brunch Recipes
By
|
It's National Vegetarian Week, and we've  compiled a list of  delicious vegetarian and vegan brunch recipes that you can create at home.
1. Loaded toast: Avocado, scrambled tofu and tomatoes
Loaded toast is the ultimate brunch option if you're looking for a plant-based dish that requires minimal effort but has maximum flavour. Taking avo on toast to a new level with a fiery tofu twist, this is definitely one to tick off the list this National Vegetarian Week.
Ingredients:
1 garlic clove
2 tbsp olive oil
1 x 280g block extra-firm tofu
2 tsp dairy-free butter
1 tbsp nutritional yeast
1 tsp ground turmeric
1 large slice of fresh bread
Fresh chives
Salt and black pepper
Avocado
Tomatoes
Method:
Start by finely slicing the garlic and adding it to a large frying pan on a medium heat for a minute.
Next, crumble the tofu into the pan along with two teaspoons of dairy-free butter, the nutritional yeast, turmeric and some salt and pepper – cooking for 5 minutes.
Whilst the tofu is cooking, put your slice of toast into the toaster, cut open your avocado and remove the stone, and slice up some fresh cherry tomatoes and chives.
When your toast is ready, spread a layer of avocado on it,  top it with the scrambled tofu and add your cherry tomatoes and fresh chives to finish.
2. Fruity pancake stack
If you've got a sweet tooth, there's no better way to start the day than with pancakes for brunch. These dairy-free pancakes are really fluffy and can be served with a variety of sweet toppings to suit your taste.
Ingredients:
300g self-raising flour
1 tsp baking powder
1 tbsp sugar (any kind)
1 tbsp vanilla extract
400ml plant-based milk (such as oat, almond or soya)
1 tbsp vegetable oil for cooking
1 Banana
Handful of Raspberries
Maple syrup
Method:
Whisk your flour, sugar, baking powder, vanilla extract and a pinch of salt in a bowl.
Slowly pour in your oat, almond or soya milk until you start to get a smooth but thick batter.
Heat drop of the oil in a frying pan over a medium-low heat, before adding two tablespoons of batter into the pan at a time to make small, round pancakes.
Cook the batter for 3-4 minutes until the edges are set, and the mixture is starting to bubble on the surface. Then flip your pancake over and cook for another 2-3 mins until golden on both sides and cooked through.
Stack your pancakes and serve with a drizzle of maple syrup, some sliced banana and a handful of fresh raspberries.
3. Balsamic mushrooms and avocado on toast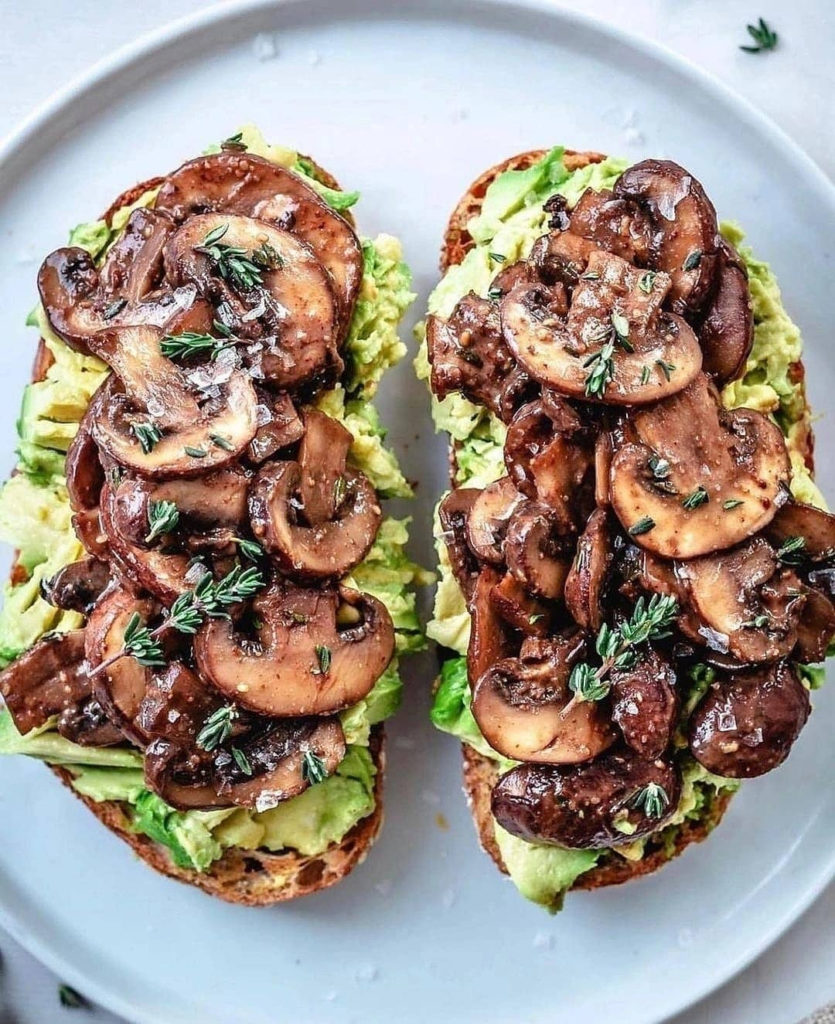 If you're looking for a way to add some real flavour to your veggies, then balsamic mushrooms on avocado toast are a must. This dish is not only extremely filling and tasty, it will also incorporate two of your 5-a-day.
Ingredients:
450g white mushrooms
2 tbsp olive oil
Sea salt
1 tbsp almond butter
3 tbsp balsamic vinegar
1 tsp thyme
2 slices thick sourdough bread
1 small avocado
Method:
Start by slicing your mushrooms and adding them to a frying pan with a drop of oil and some sea salt on a medium-low heat.
Cook your mushrooms for 10 minutes, stirring occasionally until the mushrooms have released their natural water content.
Combine balsamic, almond butter and thyme in a small bowl, mixing together to form a liquid sauce.
Turn the heat up to medium-high and pour the mixture into the pan, stirring until the liquid thickens and the mushrooms are golden.
Whilst the sauce and mushrooms are cooking, toast your slices of sourdough bread and mash your avocado.
Spread your avocado on the toast and top with your balsamic mushrooms, before sprinkling with extra sea salt.
4. Chocolate smoothie bowl
Cure your chocolate cravings with a dairy-free smoothie bowl that is full of flavour and packed with goodness. This vegan recipe is not only quick and easy to make but will also satisfy your hunger and keep you full for hours. If opting for a veggie variation add in your favourite dairy products such as yoghurt.
Ingredients:
1 cup coconut water
1 scoop vanilla protein powder
1 frozen banana
A handful of frozen zucchini
A handful of frozen avocado
1/2 cup frozen cherries
1 tbsp cacao powder
1 tbsp almond butter
Toppings:

Goji berries
Cacao nibs
Coconut shavings
Almond butter drizzle
Method:
Add the coconut water, a scoop of vanilla protein powder, banana, zucchini, avocado, cherries, cacao powder and almond butter into a blender and blitz until you get a thick but smooth consistency.
Pour your smoothie mix into a bowl and decorate with your chosen toppings. This time we used goji berries, cacao nibs, coconut shavings and an almond butter drizzle.
5. Vegan Shakshuka
If you're hosting a vegan brunch for friends or family, shakshuka is a great one-pan dish that can be served straight to the table to share. Eggs have been replaced by tofu as the star of the show in this dish – and it is definitely welcomed!
Ingredients:
1 clove of garlic
1/2 Red onion
1/2 tin of chopped tomatoes
1 red pepper
1/2 Sweet potato
1/2 tbsp harissa paste
1/2 tbsp tomato puree
1/2 tbsp balsamic vinegar
1/4 tsp ground cumin
1/4 tsp smoked paprika
1/4 tsp sumac
1/3 block of firm tofu
Lime wedge
Salt and pepper
Method:
Chop the red pepper and sweet potato into chunks and roast in the oven for 20 minutes at 200C. In the last 10 minutes add in your tofu to give it a crispy texture.
In a large frying pan or wok, saute onion and garlic for 2 minutes before adding in the chopped tomatoes, harissa paste, tomato puree, balsamic and spices.
Simmer for about 15-20 mins, before adding in your roasted sweet potato and red pepper. Add a squeeze of lime and then season with salt and pepper to taste.
Create a couple of wells in the shakshuka and place your tofu into them before putting the pan into the oven for 5 minutes to crisp up the top layer.
6. French Toast
French toast is always a firm favourite at any bottomless brunch event, so it has to make the list if you're looking for a vegan or veggie brunch to recreate at home. You can even serve this sweet and simple recipe to the table with a platter of toppings, so your guests can choose their own.
Ingredients:
1 heaped tbsp of ground chia seeds
1/2 tbsp agave nectar or maple syrup
1 cup unsweetened almond milk
1/2 tsp ground cinnamon
1/2 tsp vanilla extract
2 slices of a thick rustic bread
Method:
Mix the chia seeds, agave nectar, almond milk, cinnamon and vanilla extract together in a bowl and place in the fridge for 10-20 minutes.
Preheat a griddle pan to a medium heat and grease with one tablespoon of vegan butter.
Soak each slice of bread in the batter on each side until it is moist and coated, place on the griddle and cook until golden brown on the side touching the pan. Then flip your french toast carefully and repeat on the other side.
For more info on dining out brunch options visit