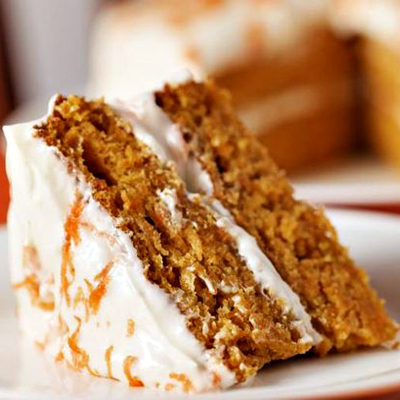 Desserts
Spiced Carrot Cake & Cream Cheese Icing
By
|
What could be better than Carrot Cake? A spiced carrot cake which will surprise your taste buds.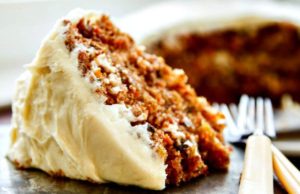 This gorgeous version reveals hints of cardamom and clove.
Makes one 10-inch round layer cake, 16 servings
Cake
Ingredients
2 tablespoons unsalted butter for greasing cake pans
3 ½ cups unbleached all-purpose flour (plus extra for dusting)
2 teaspoons clove powder
1 tablespoon baking powder
1 ½ teaspoons baking soda
2 tablespoons green cardamom powder
2 cups soft brown sugar
9 large eggs
1 ¾ cups vegetable oil
6 carrots, peeled and grated (3 cups)
Preparation
Heat the oven to 350°F degrees. Grease two 10-inch round cake pans. Line the bottoms with parchment paper, and grease the paper and sides of the pans. Dust the paper and sides with flour, tapping out any excess.
In a bowl, sift the flour, baking powder, and baking soda together, then mix in the clove, and cardamom. Set aside.
In an electric mixer on medium speed, whip the sugar and eggs until light and fluffy, about 2-3 minutes. With mixer running, add the oil slowly.
Add the dry ingredients to the sugar, egg, and oil mixture, and mix on medium speed for another 2-3 minutes. Add the carrots and mix for another 3 minutes.
Pour the cake batter into the prepared pans, dividing evenly between the two. Bake for approximately 40 minutes, or until golden brown. Let the cake cool in the pans on a cooling rack for 15 minutes. Run a knife around the edge of the cakes to loosen, then turn them out onto a rack and let them cool completely. Make the Cream Cheese Icing (recipe below).
---
Cream Cheese Icing
Ingredients
(2 cups) cream cheese, at room temperature
16 tablespoons unsalted butter
2 ½ cups icing sugar, sifted
1 tablespoon green cardamom powder
Preparation
In an electric mixer with the paddle attachment, beat the cream cheese and butter at medium speed until creamy, about 2 to 4 minutes. Gradually add the icing sugar and cardamom powcer, while beating at low speed until blended for another 3 to 4 minutes.
Frost the cakes: Using a serrated knife, trim the rounded tops of both cakes. Place one cake, cut-side up, on a serving platter. Spread 1 ½ cups of the frosting over the cake. Top with second cake, cut-side down. Spread 1 ½ cups frosting over cake. Spread the remaining cream cheese icing over the sides. Refrigerate the cake 1 hour before serving.