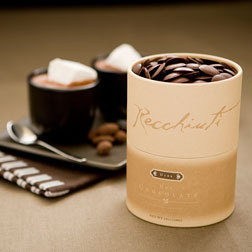 Food
Dreaming in Chocolate
By
|
Nothing warms you up better on a cold winter day than a nice cup of hot cocoa. Cocoa, the dried, fully fermented seeds of the cacao tree, is the basis for cocoa powder, which is used to make the hot cocoa beverage we all know and love. Did you know that monkeys were the first creatures to discover that the cacao plant was edible and quite tasty? Over 1500 years ago, monkeys began to consume the pulp of the plant and spit out the beans. Humans soon began to follow the monkey's example and the rest is history.
Cacao trees are grown all over the world, but it is believed that the first cacao trees grew in South America. Cocoa is similar to wine in that its flavour differs depending on the location where it is grown. It's a good thing that cacao trees are plentiful because approximately 300 to 600 cocoa beans are needed to make just two pounds of chocolate!
To celebrate the long Autumn nights that are beginning to set in.
Here's some lush recipes for making a truly Indulgent cup of Hot Chocolate…
Peppermint Hot Chocolate
Ingredients 1 cup milk, 1/2 cup cream, 1 tablespoon Madagascar vanilla, 3/4 cup granulated sugar, 8 ounces 75-85% cacao chocolate chopped, 1 teaspoon salt, 1/4 teaspoon peppermint oil
Directions: Add milk, cream, vanilla and sugar to a pot and place over medium heat. When milk mixture is hot, add the chopped chocolate and stir constantly. Continue stirring, adding remaining ingredients. When mixture is starting to simmer, take off heat and serve.
Candy Cane Cocoa                                                                                                    
Ingredients: 4 cups whole milk 3 ounces 60-8 5% cacao chocolate, chopped 4 red and white striped peppermint candies crushed 4 small red and white striped candy canes whipped cream
Directions: In a sauce pan bring milk to a simmer. Add chocolate and crushed candies. Whisk until smooth. Divide hot cocoa between mugs and garnish with whipped cream and serve with a candy candy stirring stick.
Eggnog Hot Chocolate What would the up coming holidays be without eggnog?                                              
Ingredients: 1 egg, 3/4 cup milk, 1/2 cup water, 3 tablespoons Unsweetened Dark Cocoa powder, 1/2 teaspoon ground nutmeg Directions: In blender or processor,  combine egg, milk, water, cocoa and nutmeg, blend until well mixed. Transfer mixture to top of a double boiler. Hear stirring occasionally, until mixture is steaming. Do not boil.
Argentinian Hot Chocolate
Ingredients: 4 cups whole milk, 1/4 cup sugar 1 tsp Madagascar or Mexican Vanilla, 4 ounces good quality dark chocolate, broken into 1 ounce pieces
Directions: Heat milk, sugar and vanilla in a pan until almost boiled. Remove from heat and divide  into 4 mugs. Immediately, pop a piece of chocolate in each mug. It will melt and have a fabulous taste.
Mexican Hot Chocolate
Ingredients 5  ounces dark Mexican Chocolate, 2 tablespoons hone,y 1/4 cup hot water, Pinch of salt, 1 tsp instant coffee, 2 cups whole milk, 1 egg (optional) 1/4 tsp Mexican vanilla extract, 1 dried red chilli pepper, smashed Ground cinnamon for sprinkling
Directions: In saucepan over medium-low heat, add Mexican chocolate, honey, hot water, salt, coffee, and chile pepper. Heat, stirring constantly, until mixture just begins to boil; reduce heat to low and let simmer, stirring constantly, for another minute. Carefully stir in the milk and let sit over low heat until chocolate is too warm to touch. In a bowl, beat egg until frothy. Add vanilla extract and beat in well. Pour the hot chocolate mixture over the frothed egg and beat for about 15 seconds. (until you have about foam on top) Pour into mugs. Sprinkle mugs with ground cinnamon and shaved chocolate.
Honey Hot Chocolate  The flavour of your cocoa will change with the variety of honey. Try lavender honey, sage, wildflower.                                                                                     
Ingredients 4 tablespoons cocoa powder, 4 tablespoons honey, 4 cups milk
Directions: Combine ingredients in a medium-size sauce pan. Heat over low heat, stirring occasionally until hot.
Parisian Warm Chocolate         
Ingredients: 1 cup whole milk 1/3 heavy cream, 1/4 cup sugar, 6 oz chocolate- 65-75% cacao chocolate, chopped
Directions: Simmer the milk, cream and sugar together until just boiling. Stir in the chocolate until melted. Don't let it boil. Serve warm in mugs.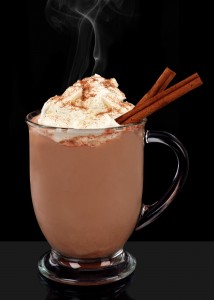 Peppermint White Chocolate Cocoa                                                                             
Ingredients: 8 oz white chocolate, chopped 3 1/2 cups whole milk, 6 hard peppermint candies, crushed fine 1/2 tsp peppermint extract, 2/3 cup whipping cream
Directions: Beat chilled cream with crushed mints until stiff peaks form. Refrigerate for about an hour. Heat milk to a simmer, them mix in chocolate, whisking until chocolate is melted and smooth. Add mint extract and stir through. Pour into mugs and top with minty whipped cream.
If your looking for an easier option try some of these gorgeous cocoa powder blends.