Food
Top Four Gluten Free Spots in Bahrain
By
|
The number of people opting for a gluten-free diet has dramatically risen over the past few years as more people are diagnosed as intolerant , along with a number of alternative practitioners continuing to claim wheat is unhealthy.
While Celiac Disease is actually quite uncommon (it's reported only one percent of the American population has it), the demand for gluten-free food has exploded, even in Bahrain.
So what exactly does 'gluten' and going 'gluten-free mean'?
Gluten is a protein naturally found in grains such as wheat, barley, rye and triticale (a cross between wheat and rye). Many people suffer from celiac disease, non-celiac gluten sensitivity or a wheat allergy. These are medical conditions and types of food hypersensitivities concerning gluten.
Top Four Gluten Free Spots in Bahrain
Sofitel Bahrain
This French five-star hotel also makes an effort to cater to celiac sufferers at all five of their outlets. Italian restaurant Fiamma, Arabic spot Pashawat, all-day dining place Saraya, South East Asian award-winner Wok and the award-winning seaside seafood restaurant La Mer have gluten-free options on and off their respective menus.
Sofitel Bahrain Zallaq Thalassa Sea & Spa

Villa Mamas
Feed your senses with mouth-watering organic Bahraini food that is locally sourced. With inspiration from the owner Roaya's Mother and Grandmother. Food is hearty, healthy and delicious.
Located opposite Saar Cinema.
Kay Kabh The Gluten Free Bakery 
This truly scrumptious bakery in Riyadat Mall offers gorgeous gluten free baked goods, including tons of cupcakes and cakes options. Try their Blondies and Strawberry Mini Cakes! Opened Tuesday to Sunday, yes sadly you can't get a Monday fix here!
Maki Restaurant
Even though Japanese cuisine is mostly gluten-free with the large variety of sushi with pure fish, chicken and so on, the main problem for gluten intolerant diners is the sauces that are paired with these foods like soy sauce, teriyaki sauce, Japanese mayo and others. Some of them usually contain traces of gluten due to natural fermentation process. So they provide special gluten-free sauces.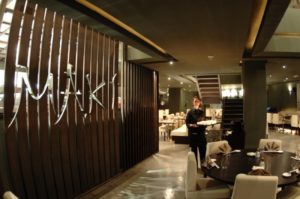 Maki  also went one step further by adding new dishes that will make a gluten intolerant diner happier. Some of these dishes include the mouth-watering prawn tempura and vegetable tempura with special brown rice flour.
Located at Bahrain World Trade Centre, Manama, Bahrain