Events
ART DUBAI 2018
By
|
In the art world there aren't any particular cues, moments or conundrums that initiate the inspiration or spark up the creative flow. When artists create or develop their ideas, they often believe that creativity is instant and that it is inevitably to happen.
The aftermath? The showcasing of their artwork at exhibitions, galleries and events, and following that comes an endless session of praise, oohs and ahhs and constructive criticism (or lack there of) from the public, media members, art buyers, snobbish gallerists and elitist art folk.
Habibti Magazine attended this years Art Dubai, which is a leading international art fair, held under the patronage of His Highness Sheikh Mohammed bin Rashid Al Maktoum, Vice President and Prime Minister of the UAE and Ruler of Dubai, Art Dubai's a preeminent place to interact with art from the Middle East, North Africa and South Asia through a number of high-profile galleries from across the region.
Art Dubai 2018 welcomed 105 galleries from 48 countries across its Contemporary, Modern and Residents sections, including first-time participating countries Ethiopia, Iceland, Ghana and Kazakhstan, marking the fair's most diverse edition to date and reaffirming its position as the most global of art fairs.








106 museums and institutions visited the fair with curators and museum professionals, from, amongst others, The Metropolitan Museum of Art, the Los Angeles County Museum of Art, the Victoria & Albert Museum, the British Museum, the Musée du Louvre, the Centre Pompidou, the Palais de Tokyo, the Museo Nacional Centro de Arte Reina Sofía and the Stedelijk Museum voor Actuele Kunst, as well as a range of UAE-based institutions such as the Louvre Abu Dhabi, Sharjah Art Foundation, Art Jameel and the Guggenheim Abu Dhabi.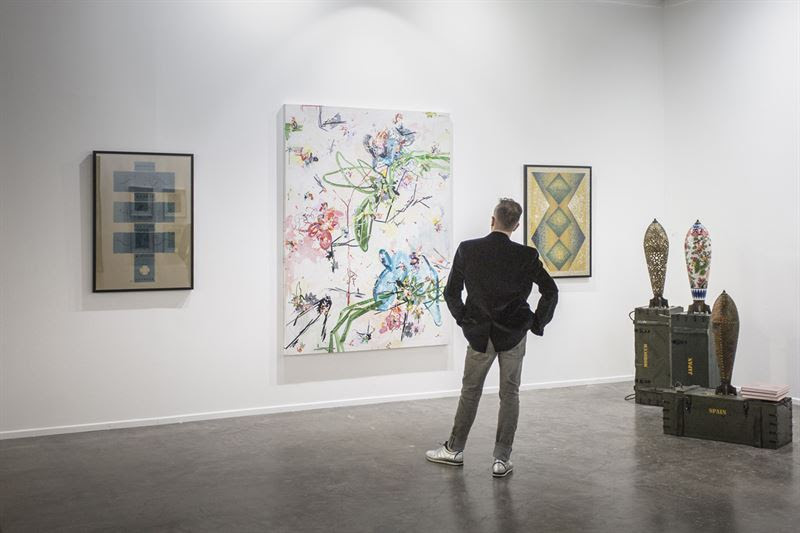 From walking between stalls to halls, attending talks and adoring individuals in their frocks; the guests nor the artwork disappointed. It is quite apparent that art is taking a new form; one that's embraced, appreciated and happened to raise questions. Then again, isn't that what art is supposed to do?
Checkout some of the art pieces that caught our attention, and stay tuned for more posts about Art Dubai on Habibiti Magazine.