Fashion
THE HABIBTI EDIT: 5 highlights from NYFW
By
|
The first capital of the annual spring summer fashion week, also known as the pilgrimage is now over. New York Fashion Week started, and ended on a celebratory note.
Here are our 5 highlights from the Spring Summer 2018 New York Fashion Week collections:
Americana

Fashion reflects on the various occurrences of our times, be it political, or economical. America isn't the most desired place to be in at the moment, but the garments that walked down the runways this season begged to differ – all of what was red, white, and blue was involved.
The Art Amongst The Stitching Dart

Be it paintings, movies, or even typography, the collections this season had splattered paint, embellished typography, and motifs by the renowned Andy Warhol.
New Faces
Apart from the new trends, we were introduced to new faces, Indonesian model Diana Lo made her debut this season, as well as Cindy Crawford's daughter Kaia Jordan.
Labels, Labels, and more Labels

No, we're not talking about categorising people, and putting them into boxes – it's 2017, we're all over that. We're referring to the trend of designers embellishing their names onto their clothing items.
Diversity on full throttle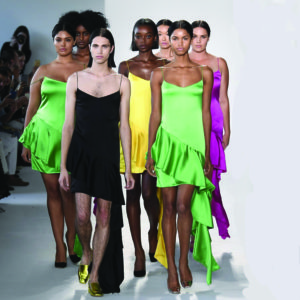 Last season, we had models of various figure shapes walking down the runway, posing for magazine covers, and featured in campaign ads. This season we have all that, as well as various display of dark skin tone models, androgyny, and a hint of genderless garments.