Editor Loves
LFW 2018 Highlights
By
|
A diamond is just a piece of charcoal that handled stress extremely well. It's fair to say the exact same about the designers that exhibited their spring summer 2018 collections during London Fashion Week.
The United Kingdom's been through quite a lot – from Brexit, terrorist bombings, to other political and humanitarian injustices. Despite all that, the collections that walked down the runways proved that whatever the British do, regardless of any inconveniences, they do it the best.
We can endlessly discuss the triumphs of British fashion, so before we get carried away, here are 5 highlights from this seasons London fashion week:
1- For the Love of Pink
We can remove our rose tinted glasses, sure. But we can't exclude the colour pink, and its romanticised appeal out of our wardrobes. The colour, and it's various hues seemed to walk down an abundant amount of shows during London fashion week.
2- Fur Caused Quite The Stir.
About a dozen of anti-fur protesters, gathered ahead of shows including Burberry, this season. Now, everyone has his or her own view, with regards to this matter, but it's always better to go faux, rather than slaughter animals, and ruin mother nature's cycle.
3- Be on Your Guard for The Avant Garde
It's ready-to-wear, we know. Designers however, always find a way of enthralling us with the use of couture, and unconventional techniques, when it comes to their collections.
4- Richard Quinn? I Don't Know Her.
It's quite common, that we welcome new designers every season, and it's quite common, how London, more than any other fashion capital, helps in creating a platform for those upcoming designers.
Richard Quinn, debuted his collection this season, and not to sound too hasty, but it's like he applied other fashion houses aesthetics, onto his, and called it a day (or a season).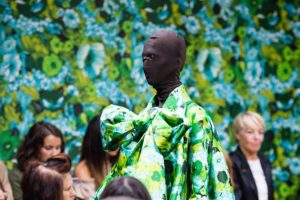 5- Innocence At Large.
From collections based on China dolls, to adapting art & craft's methods into couture techniques, the childhood factor played a major role.