Beauty
Six Fall Fragrances you'll Love
By
|
There's something special about transitioning from summer to winter, from the warm colours of the leaves to the sipping of Pumpkin lattes and Toffee Hot Chocolates.
Autumn is also the best time to switch up our beauty routine. It's time to unleash those berry and terracotta shades, matte down the lips and try out deeper toned manicures. However, one of our favourite switches has to be fragrance.
As we move away from citrusy, floral and sweet scents. Autumn allows us to pause and indulge in warmer woody notes, before heading into spicier more festive scents.
Here's six of our favourite  fall fragrances.
Forest Lungs |  The Nue Co – £85
A unisex anti-stress fragrance supplement that delivers the healing effects of nature on the body using olfactory chemistry and patented technology to bring the outside in. 96% felt less stressed after using FOREST LUNGS. It is said that you feel like you're walking in the woods, surrounded by trees, and  fresh air.
Woody and smoky, with clean resin and tart citrus notes. Vetiver, Cedarwood, Benzoin, Pine, Patchouli + Bergamot.
Chanel Paris-Édimbourg Eau de Toilette Spray £112

An aromatic, woody fragrance that conjures the wild and majestic landscape of the Scottish Highlands, where Gabrielle Chanel found solace in nature.
A powerful burst of juniper berry and cypress evolves into a warm vetiver accord with earthy undertones and smoky accents, for a warm-yet-surprisingly-fresh scent. 
Sana Jardin Sandalwood Temple Eau de Parfum – £95

Sandalwood is often burned in and near holy temples as a way of connecting to the divine and cleansing the spirit. Featuring a rich woody bouquet, this scent sings with Moroccan neroli, wrapped in a warming aura of sandalwood, cedar wood, with verdant undertones of Haitian vetiver oil.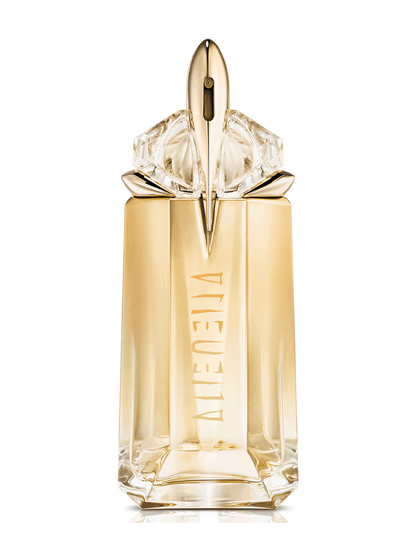 Mugler Alien Goddess Eau de Parfum – £79

Alien Goddess, is the embodiment of mystical femininity bringing hope and positivity to the world.  
An intoxicating an intoxicating gourmand-floral blend of bergamot essence, jasmine grandiflorum, and bourbon vanilla.
A Floral, Oriental, Woody Eau de Parfum, sparkling with luminosity and mesmerising the senses, created around 3 olfactory revelations:
Diptyque Eau Capitale Eau de Parfum £125

A bouquet of roses verging on excess follows fresh bergamot spiced with pink peppercorns. Freedom claimed: this time not moss, but patchouli.
To illustrate Eau Capitale, diptyque and Pierre Marie drew their inspiration from Parisian architecture and iconic Art Nouveau buildings.
Miller Harris Oud Éclat Eau de Parfum £160

Oud Eclat formulates oud within a shimmering structure of sugar and musks. While oud usually takes centre stage in most perfumes, enveloping the wearer in a dark cloak of leathery earthy notes and spices, here it takes a more subtle role.
In Oud Eclat, the oud actually forms part of the top notes blended with cashmere wood, which then warms up to notes of sugar, tagete, balsam and nutmeg for a much more beguiling bouquet. This is underscored by a rich base of moss and musks that deliver a memorable, mellow dry down.