Men's Grooming
Touching base with Abdulla Attiya
By
|
We last met in January 2015, Abdulla was 16 years old, in school and was a rising Triathlete for the Bahrain National Team.
I recently caught up with Abdulla again to see how far this young star has risen. In two years, Abdulla has gone strength to strength, achieving in a short space of time what others would take a lifetime achieving.
Abdullah is as determined, focused and hungry for his goals, yet he is still as humble and gracious as I remember. This is apparent as soon as we greet; I'm in company of a gentleman.
Since we last met, Abdulla has taken a gap year spent travelling and completed schooling with an American Diploma.
He is still very much part of the Bahrain National Triathlete Team, and is under the official sponsorship of Puma Middle East and Red Bull.  Participating in many races, Abdulla has had many achievements, to name a few:
– Titled 2015 & 2016 Arab Triathlon Champion
– Invited to race as the youngest professional with world renowned triathletes at triYAS at the Yas Marina Circuit, Abu Dhabi.
– Once in a lifetime experience to race in the ITU World Cup/ Junior European cup in Hungary.
– Missed school graduation to participate in 5150 Olympic Triathlon in the Philippines.
Every race, every event, has had an impact on Abdulla; 'I've had a lot of good days, and I've had some really bad days which taught me a lot of lessons, I learnt about the sport the hard way and it made me a stronger person in general.'   Here is where I notice the older wiser Abdulla, there's a quiet wisdom about him.
"You can't just look at it as: swim, bike, run – it's also life lessons.
As vitally important school and education is, it makes you book smart, but not life smart. And through the experiences I gained through traveling and the triathlons, I feel I have learned more in the last 2 years than I did in 12 years of schooling.'
Past experiences and lessons learned, we talk about the future.
With plans to study abroad for his degree and aspirations to join an International Squad and train at an international level, Abdulla has a growth mindset, looking at his choices and actions now and thinking about how these decisions will affect his future.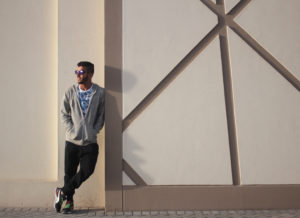 Thinking ahead ten years from now, Abdulla wants to look back with no regrets. He talks about a blame-free outlook in life, where you don't waste time or energy blaming others or circumstances, but rather taking 100% responsibility and ownership of your own decisions, choices and ultimately, your life
He says for him, the most important thing will be not how many medals he has won or how much money he has made, but the people that he has inspired.
Speaking of his own inspirations and role models, Abdulla speaks highly of His Highness Sheikh Nasser, who has been a tremendous support and mentor.
In addition, Yao Ming Chinese athlete and Indian basketball player Satnam Singh Bhamara, both of which were the first of their countries to make it to the NBA, have been inspiring for Abdulla.   Just as Yao Ming and Satnam Singh created a possible and achievable goal for the Chinese and Indian youth, Abdulla also hopes to be able to pave the way for the younger Bahraini generation and aspires to be a positive role model and inspiration to the Arab youth.
An hours' interview has turned to two hours. I've enjoyed basking in Abdulla's positive radiant light and as we say our goodbyes, I look forward to catching up with Abdulla again, but hopefully won't have to wait another two years.
Hina Mirza