Lifestyle
Travel Diaries – Majorca
By
|
With every school break comes that one question… where shall we go next?
Finding places that are going to be both culturally rewarding as they are relaxing is no mean feat. Kids clubs as tempting as they are, are not for everyone and they are especially not for my 9 year old. So when we decided on grabbing a last minute week of sun, we declined offers that promised 'fun for all' in Benidorm and instead decided to take on the Balearics and more precisely Mallorca.
We chose to stay as far away as possible from the infamous resort of Magaluf and opted for Alcudia. Lucky for me, my nine year old loves exploring, so the allure of Alcudia was recieved with much excitement.
MORE ABOUT ALCUDIA  – Alcúdia a town in the north of the Spanish island of Mallorca (Majorca). Known for its Mediterranean beaches, which include the busy Platja d'Alcúdia and Platja de Muro on the sweeping Alcúdia Bay. It is home to the neo-Gothic Sant Jaume church which is built into the town's restored medieval walls. These walls encircle the well-preserved old town, which has quaint  narrow streets and centuries-old buildings.
The 5 mile beach of beautiful white sand, guarantees plenty of space for relaxing on the row upon row of  sun loungers without feeling like you're sardined up with other holiday makers – there's plenty of water based activities, to try out like snorkelling, banana rides, water-skiing or just relax aboard a boat trip.
For those looking for an adrenalin rush head for the go-kart tracks or whizz down the slides at the nearby water park.
Alcúdia covers quite a large area and mainly consists of 3 parts:
Alcúdia Old Town is full of Moorish and Roman influences. Enter through one of the imposing gates and within the massive stone walls you'll find a town full of Moorish history, Roman remains, historic churches and narrow streets – all providing more of a feel for the real Majorca than at the main resort.
Spend the morning exploring the Roman theatre, the 13th century church of Santa Anna, the ancient walls or the small area of the Roman town founded here then do as the Spanish do and enjoy a leisurely lunch in any one of its typical bars.
Ciudad Blanca (or 'The Mile' as it's also known) is probably where most people find themselves on holiday. This is the heart of the main holiday area and has access to the beaches, shops and the laid back nightlife. In particular many of the bars cater for families and make sure the little ones are kept entertained.  There's plenty to do here with all that you have come to expect from a popular holiday resort. The locals tend to refer to this part of the resort as the port, even though the actual port is further round the bay.
Puerto de Alcúdia is a couple of kilometres away at the western end of the bay and is a popular place to be for holidaymakers. It's much more relaxed, you can sit and watch the boats coming and going, or sample the fresh fish dishes served up at many of the restaurants. You'll also find more typical mallorquin dishes here too.
We spent five relaxing days strolling through the old town and enjoyed many a walk along the gorgeous beach front.
Where to stay: 
**** Zafiro Palace Alcudia This hotel is 4 minutes walk from the beach. Offering several outdoor and an indoor pools, Zafiro Palace Alcudia, is located in Port d'Alcudia. At Zafiro Palace Alcudia you will find a restaurant buffet and 4 thematic restaurants; and several bars including 1 pool bar.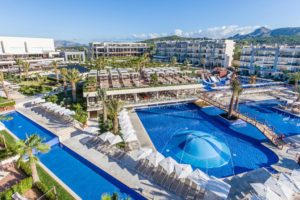 Things to do in Alcudia:

The old town – rambling streets, plenty of history and lots of quaint shops selling local mallorcan produce.

Museu Sa Bassa Blanca – An amazing place, with a magical house, sculpture and art collections. Just the drive there in itself is worth the trip.
Puig de Sant Marti – You can drive all the way up  and trust me when I say the views are breath-taking. You have a full views of Pollensa and Alcudia Bay. If you don't have a car, you can also walk up there, although this will takes around 45 minutes.
Take in one of the many sightseeing excursions and explore the many coves and bays.
By – Zaynab Mirza  @zaynabmirza