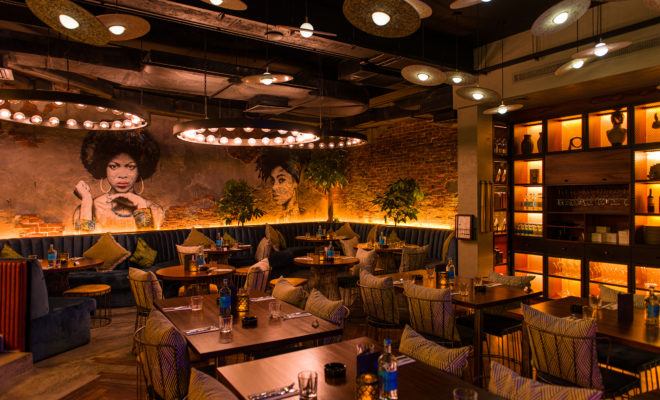 Verano Creatives
Food
Viola, from one Island to another.
By
|
The night scene is Bahrain has been heating up in the last few years, and it is a not an easy task to meet the expectations of the discerning Bahrain market.
When it comes to dining, Bahrain has a lot of choice and places to choose from.
There have been plenty new additions to the array of bars, lounges and restaurants – some are small, cosy and intimate and some are grand affairs, large buildings, doubling up as landmarks to the area   Although many are dotted around the Island, the hub is definitely Adliya, specifically Block 338.
With many new additions to Block 338, it's a challenge to stand out and offer something new and different – yet Viola has managed this challenge spectacularly.
Viola opened earlier this year with a new concept for Bahrain. It's a vibrant, creative and fun bar and restaurant, celebrating Afro-Caribbean cuisine with flair.
The mood is set by dim lighting, and different styles of seating; cute cosy corner seating for long conversations over cocktails, dotted tables and chairs for the socialising meet ups and groups, and the bar for the ones who want to enjoy a drink or two.
The dim moody atmosphere is played off against bold striking murals on the wall, along with brightly coloured art deco giving a relaxed and cool island vibe.
The art is not just reserved for the restaurant design, each cocktail, each dish is a celebration of colours, textures and tastes that compliment each other in perfect harmony. Each dish is presented with impeccable plating skills making each course picture perfect for the gram.
The menu is extremely well thought out, offering an eclectic range of cocktails,  starters such as a cheese platter, salads and bites perfect for sharing. Main's are a good hearty selection of fish, chicken and meat with a few vegetarian options and some solid dessert options.
The Seaweed Salad is our personal favourite and highly recommended; fresh and vibrant with a generous helping of fresh avocado and sweet mango. A great platter for sharing is the Shishito peppers chargrilled with a kick, perfect to accompany cocktails and catching up with friends. Stuffed onion rings are another great choice, perfectly constructed and topped with fresh tomato salsa and cheese sauce.
For mains, we tried the Sticky Jerk Salmon, a generous portion of salmon, accompanied with sweet potatoes, salad and mango salsa. The fusion of the jerk salmon with fresh sweet mango salsa was just divine.
Dessert was Fried Oreos, warm soft and fluffy goodness served with cookies and cream ice cream and butterscotch sauce.
Currently there are three different desserts to choose from, but do not be disheartened – each dessert is a party within itself!
A great addition to the already vibrant scene, but Viola definitely holds its own and promises to become an established culinary delight on Block 338.
For more information:
Block 338 Adliya
Tel: 17 231231
Email: reserve@violabh.com
Instagram @violabahrain