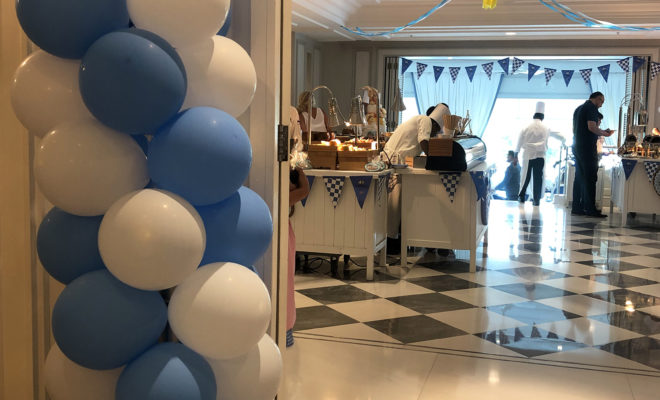 Food
Brunch at The Ritz-Carlton Bahrain
By
|
Recently we were invited to experience brunch at The Ritz-Carlton Bahrain.
As The Ritz-Carlton is synonymous for service, quality and hospitality, we were intrigued to see if these famous attributes of The Ritz-Carlton would translate through to a busy Friday brunch.
We've been to many a brunch, with the loud upbeat music and the high energy, which is great if that's what you're looking for – but never have we experienced such a relaxed, fun and family orientated brunch.
Brunch is set at The Le Med Restaurant, which is bright, open and sunlit with large window walls that overlook the sunny pool deck. With white wooden interiors teamed with cool hues of blue, the atmosphere is vibrant, yet relaxed and intimate.
The brunch is divided into buffet style and à la Carte menu, with the choice of being able to select dishes from other restaurants in The Ritz-Carlton, such as Primavera and Nirvana. A relatively new addition to the brunch, the added à la Carte menu has proven to be popular amongst customers.
The Buffet choice of dishes is ample with international and local dishes, including live cooking, roast cuts, sushi, grills, tortillas as well as curries, rice dishes and a good selection of vegetarian dishes. Desserts are a lavish spread of fresh fruits, all kinds of bite size cakes & pastries, including a crepe stand and smooth, rich ice creams.
Together with the à la Carte menu, we are spoilt for choice and decide a slow and steady approach to the task at hand.   We pace ourselves and take in the ambience and general vibe of the brunch. Staff and servers are extremely attentive, service is flawless and no request is too big.
The ambience is further enhanced by the velvet honey voices of the talented live entertainment. The volume of the music and singing is set at the perfect level – enough to enjoy, without having to shout at each other across the table to be heard. The play list is also a well thought out set, with foot tapping hits and classics ranging from the 1970's to modern day.
Brunch at The Ritz-Carlton is a leisurely affair; ample choice of food, lovely setting, great staff and service, and by far the best live entertainment so far, the Ritz Carlton has ticked all the boxes, with every detail of the brunch has been carefully thought through with the customer in mind.
For bookings:
Website: Ritz Carlton Bahrain
Telephone: 00973 17 580000
Social Media @ritzcarltonbahrain