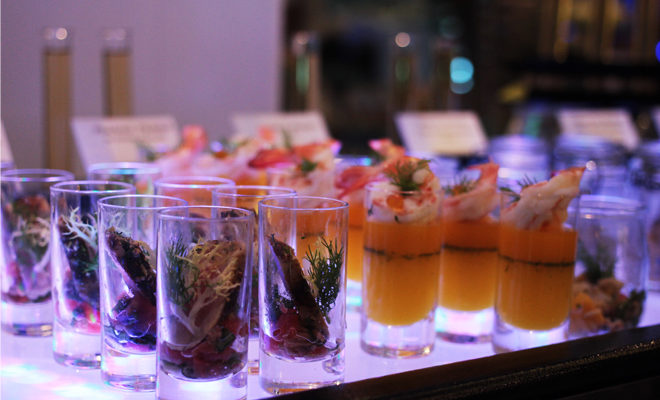 Food
Friday Brunch – The Domain Hotel & Spa
By
|
There's no question about it, brunches are a big deal in Bahrain. Fridays are usually reserved for some serious indulgence at one of Bahrain's many brunch experiences. We've rounded up some of  Bahrain's best brunches and this post is all about our visit to The Domain Hotel & Spa's Friday Brunch at Le Domain & Le Sauvage.
The Domain Hotel's Friday Brunch sits way above the city on their 34th floor. With breathtaking views of the Arabian gulf and vast views across the city, this brunch is worth it just for the views alone.
A dual restaurant brunch, with Le Domain and Le Sauvage teaming up to provide the best of both french and grill style cuisine. This 'brunch for grown-ups' offers a buffet with a special a la carte menu. You can dig in to the appetisers and enjoy the live cooking stations from lobster gazpacho to pan-fried foie gras, while the kitchen prepares your main course to order.
We visited during their busy festive season brunch and well what can we say?! it was 4 hours of non-stop festive party madness! The live band belted out all the usual Christmas songs along with a good supply of Abba Classics, which after a drink a two almost everyone in the room was 'air mic' singing to. The atmosphere was great, and felt like a big office do!
Coming on to the food; the selection was vast and there is definitely something for everyone! Being a festive brunch, there was Turkey with all the trimmings, including for those who 'love' them, roasted brussels sprouts. The Rib Eye Beef was delicious as were the Garlic Shrimps, another favourite were the cute little shawarma parcels. For fish lovers there was an expansive array of appetisers, starters and mains on offer. The fish was definitely a big hit as the fish bar was constantly busy. No meal is complete without dessert and we were not disappointed, from mince pies to christmas pudding and everything in between. Our dessert course alone lasted an hour, we loved the British classics like Apple Crumble, but enjoyed devouring the many mini dessert choices on offer too.
All in all, a great afternoon, with wonderful hospitality from the staff. Our icing on the cake was a one to one with the Executive Chef Dushan Rukmal and a personal welcome by the General Manger, Frank Normann Eikeland.
Available on Friday from 12pm to 4pm and priced at BD19++ excluding beverages and BD27++ inclusive of unlimited beverages.
Images Credit: @onemorehina