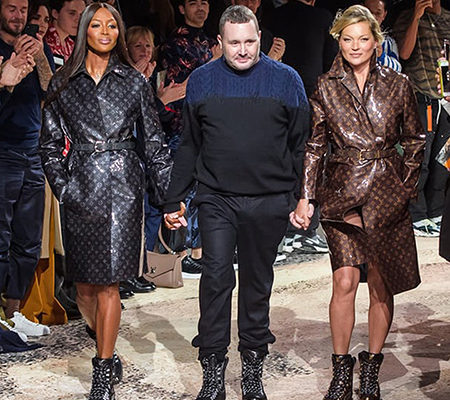 Fashion
4 Highlights from the 2018 Fall Winter Menswear Collections
By
|
As we embark into the new year, we are also embarking on new territories within fashion; what once was, no longer is, and what now is, may not be in the upcoming seasons, which is completely comprehensible in an industry that changes within mere moments.
Kick starting this year's fashion calendar from the forefront lines, are the 2018 Fall Winter Menswear collections. The clothing pieces this season progressed from what seemed to be aristocratic, and unconventional, to pieces that are wearable, real, and have a tongue in cheek attitude.
From sexual symbols, to reforming the attitude of menswear, here are four highlights to pick up on from the 2018 Fall/Winter Menswear collections:
Galliano's First Menswear Collection for Maison Margiela

John Galliano called it "Dressing In Haste". A collection that resembled
Galliano's genius draping technique, with Margiela's structured tailoring aesthetics. From deconstructed coats, puffer jackets, and oversized, padded suits, to sleek leather trousers, and bold coloured shirts.
An emphasis on "real" clothing
This season, a common vision held by designers was indicative of the recent shift we're seeing not only in menswear fashion, but fashion as a whole. It's where tracksuits and "dad" sneakers are becoming a hot commodity even in the high-fashion circuit. Street wear, is the new luxe, and to make it even more appealing, some designers would add elements from cultures, and patterns that resemble several ethnicities, and ritualistic attributes.
Sexual Fetishes Take A Wearable Form

From Jeremy Scott's kinky latex pieces, and harnesses for Moschino, to the literal portrayal of nude prints on t-shirts, and pig like masks, which were innuendos to sexual traits in queer culture at Walter Van Beirendonck. These two designers are the first to recast conventional gender assumptions, or sexual play, but it's evident that the sexual foreplay within clothing is surpassing it's primal aim.
Kim Jone's Last Collection for Louis Vuitton

His departure meant that his final show would be one to remember, and without a doubt, it sure was. Jones's final show at Louis Vuitton was in a round, multi-tiered platform within the inner courtyard of the Grand Palais. Apart from the A list celebrities, and fashion fold, who were all within the first row, closing the show were iconic models Kate Moss, and Naomi Campbell.
Stay tuned for our upcoming review on the Spring Summer 2018 couture shows happening in Paris.